Catherine O'Hara's At-Home Acceptance Speech Could Make the Most Disgruntled Pelican Smile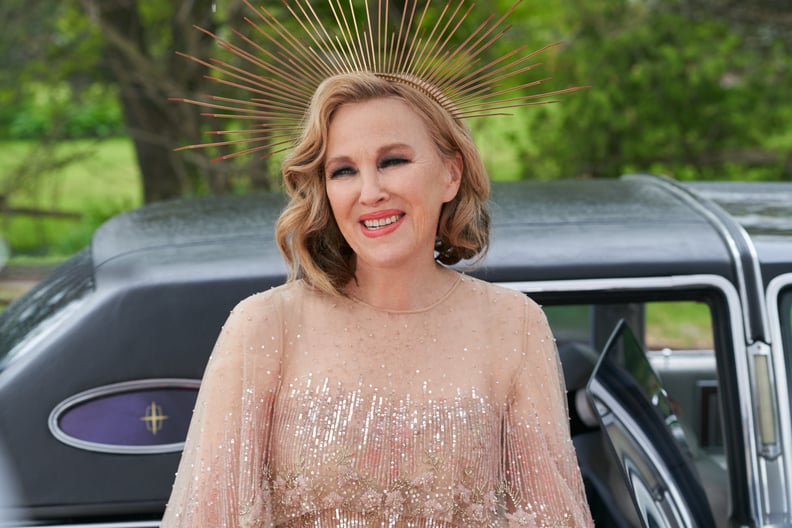 Pop TV
Pop TV
We are not worthy of the heaven-sent gift that is Catherine O'Hara, and yet here she is, blessing us with some glorious content to brighten our week. On Wednesday evening, the Schitt's Creek star nabbed the Canadian Screen Award for best lead actress in a comedy series, and she subsequently delivered a socially distanced acceptance speech skit that could make even the most disgruntled pelican crack a smile. Some may say it was "simply the best . . . better than all the rest."
"Wow, thank you, kind Canadian Screen Academy members. I hope you and your families are well and enjoying the great indoors," Moira Rose — er, Catherine — began in a video recorded in her home. Moments later, orchestral music started playing as if prompting her to wrap up the speech like in-person award shows often do, and Catherine feigned confusion, saying, "What the fu— hell?" She continued by thanking her Schitt's Creek costars and the show's writers until eventually belting out her thank you's in a sing-song voice. Iconic doesn't even sum it up, TBH.
This year marked Catherine's fifth time in a row winning the Canadian Screen Award for best actress in a comedy, and the Schitt's Creek cast and crew scooped up a handful of other accolades during the virtual show. The beloved sitcom earned the best comedy series distinction, Eugene Levy (Johnny Rose) won best lead actor in a comedy, and Emily Hampshire (Stevie Budd) was named the best supporting actress in a comedy, just to name a few. We're more than happy to see the sixth and final season getting the praise it deserves.