Why Euphoria's Cliffhangers Ruined the Season 2 Finale
Hey "Euphoria," Let's Leave Cliffhanger Culture to the MCU
Watch out! This post contains spoilers.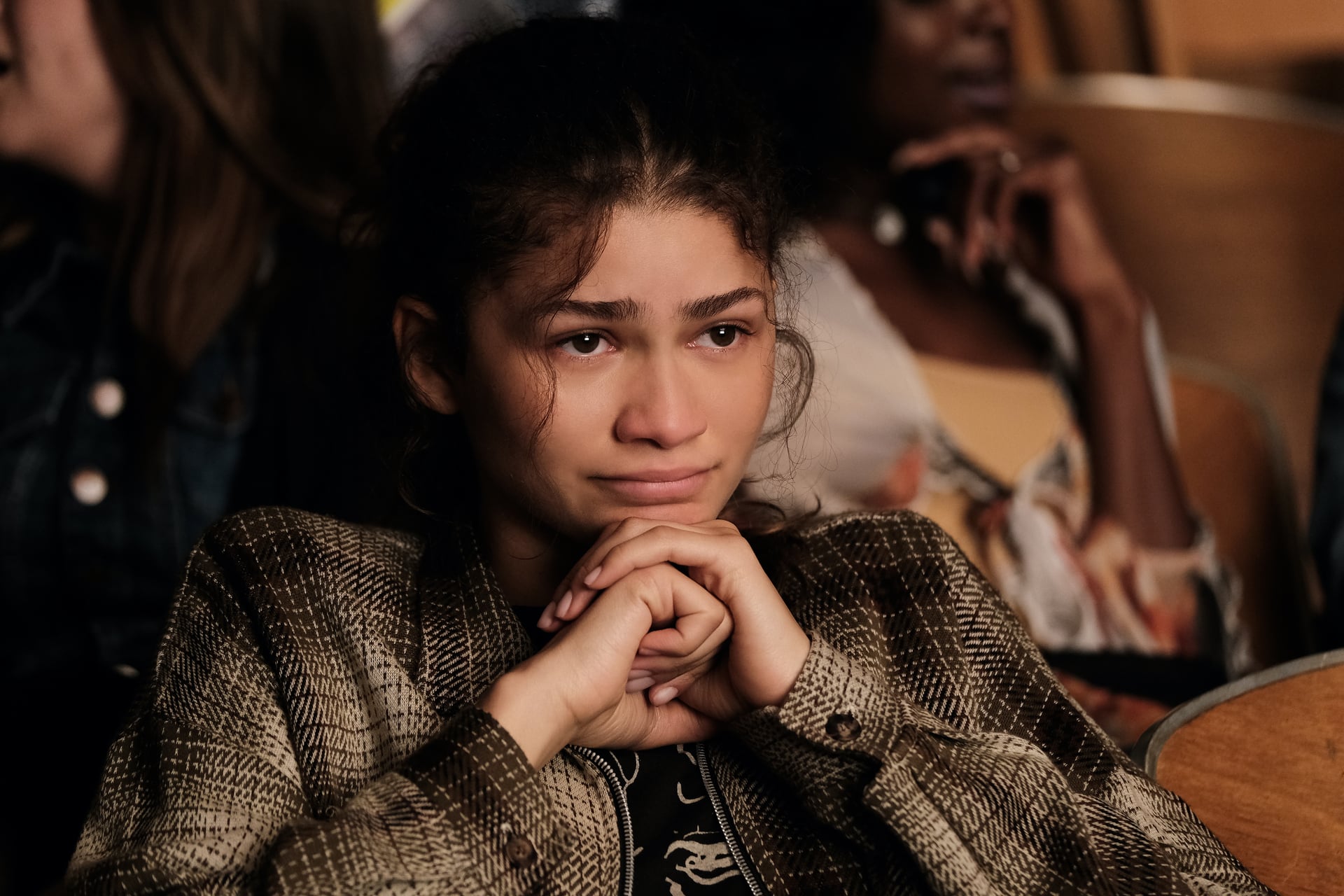 Anticipation for the "Euphoria" season two finale might have broken HBO, but all in all, it was disappointing. Sure, there were a few good moments: the ending of Lexi's (Maude Apatow) play; Cassie's (Sydney Sweeney) onstage meltdown that resulted in a smackdown with Maddy (Alexa Demie); Rue (Zendaya) forgiving Elliot (Dominic Fike) for exposing that she was still on drugs; Nate (Jacob Elordi) calling the police on his dad, Cal (Eric Dane), for recording his sexual assault of minors; and Ashtray (Javon Walton) and Fezco (Angus Cloud) proving to be the actual definition of ride-or-die.
What's alarming is all these intense moments left more questions than answers. There were also cliffhangers from previous episodes that were never addressed. Does Rue ever forgive Jules for sleeping with Elliot? Do Lexi and Cassie mend their relationship? Do Cassie and Maddy make up? How long is Cal going to jail for? Does Fez go to jail? Does Fez die after being shot during the SWAT raid of his home? Does Ashtray really die during his shootout with the police? Do Rue's mom (Nika King) and Rue's sponsor, Ali (Colman Domingo), start dating? Have Gia (Storm Reid) and Rue started to bond now that the latter's sober? Will Barbie Ferreira get more Kat scenes now that she's said her alleged feud with "Euphoria" creator Sam Levinson is "untrue"? And the question we all are wondering: is Laurie (Martha Kelly) going to kill Rue or sex traffic her to recover the balance of $8,000 worth of drugs she was supposed to sell that Jules and Elliot flushed down the toilet?
We're being strung along for no reason — we're clearly fans, so we would continue watching even without ambiguous endings.
Sadly, all these open-ended questions were intentional. HBO announced on Feb. 4 that the popular teen drama had been renewed for season three. In the post-finale explainer, Levinson shares, "My hope for the audience after episode eight is that they feel like they've been through it with these characters and that they love them all despite their faults and flaws." He adds, "[I hope] that they're excited about what happens next."
Those final words are exactly what's wrong with the ending of "Euphoria." Television and movie franchises have become fixated with leaving dramatic cliffhangers to the point where it seems the creators are living in the future and not staying present with the audience. We're being strung along for no reason — we're clearly fans, so we would continue watching even without ambiguous endings. Now, instead of closure, the audience has to remember everything that's happened in earlier seasons or rewatch them because that'll be the only way to enjoy the new season. I'm tired of looking for all the Easter eggs and roaming Reddit, Twitter, and TikTok for "Euphoria" theories when Levinson should've answered those questions in the finale.
I'll continue watching into season three of "Euphoria," which probably won't happen until 2024. But if it's a setup for season four? Whew. Let's just leave the cliffhangers to the MCU, please.