Euphoria Exposes Nate and Cassie's Hookups to Maddy
Rue Exposes Cassie on "Euphoria," but the Confrontation Leaves Fans Divided
Watch out! This post contains spoilers.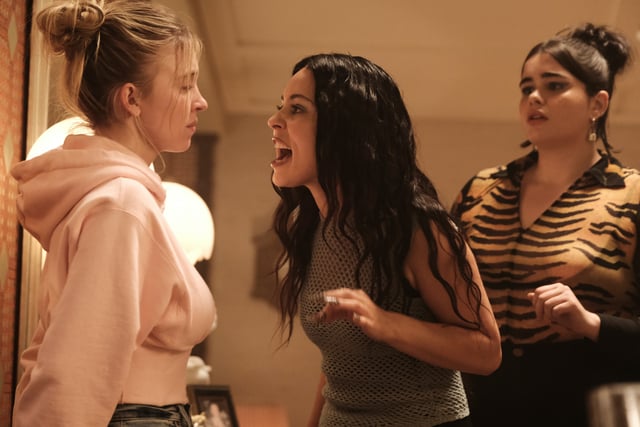 Rue Bennett is on a path of destruction on "Euphoria," and Cassie (Sydney Sweeney) had the misfortune of being in her way. During Sunday night's episode, Rue (Zendaya) escapes her mother, Leslie (Nika King), after Jules (Hunter Schafer) and Elliot (Dominic Fike) reveal to her that Rue's still using drugs. Rue first runs to Lexi's (Maude Apatow) place in hopes of finding more prescription medicine. While she's in the bathroom, Lexi and Cassie's mom, Suze (Alanna Ubach), calls Leslie. Leslie ends up staging an intervention in front of Lexi as well as Maddy (Alexa Demie) and Kat (Barbie Ferreira), who happen to be hanging out with Cassie at the same time.
When Rue expresses that she doesn't think she has the capability to stay sober for a long period of time, Cassie advises, "You don't have to just take it one day at a time." This is when it all goes left. "Hey, Cass? How long have you been f*cking Nate Jacobs?" Rue retorts back in front of Maddy. Cassie attempts to deny it by discrediting Rue's memory due to her addiction. "I don't even know why you're believing her; she's a drug addict," Cassie tells Maddy, who threatens to "get violent."
Rue exposing Cassie for sleeping with Maddy's ex Nate (Jacob Elordi) and Cassie's diminutive response has sparked controversy amongst "Euphoria" fans about who is more in the wrong in the situation. We knew that it was just a matter of time before the truth about Nate and Cassie came out, but Rue didn't have to be the one to expose them. On the other end, Cassie continues to victimize herself by crying in front of Maddy and instantly flipping from being loving towards Rue to being volatile.
Another side of the argument about the showdown is that Maddy shouldn't have continued to yell at Cassie amid what was supposed to be Rue's intervention. Their screaming match becomes a distraction and Rue's perfect opportunity to escape. While it's easy to place blame here, Cassie is the common denominator. Our not-so-hot take? Everyone's in the wrong — except Maddy.