Prime Video's Harlem Cast Talk Season 3 Hopes
The "Harlem" Cast Tease a Potential Season 3: "We Done Heard Some Things Already"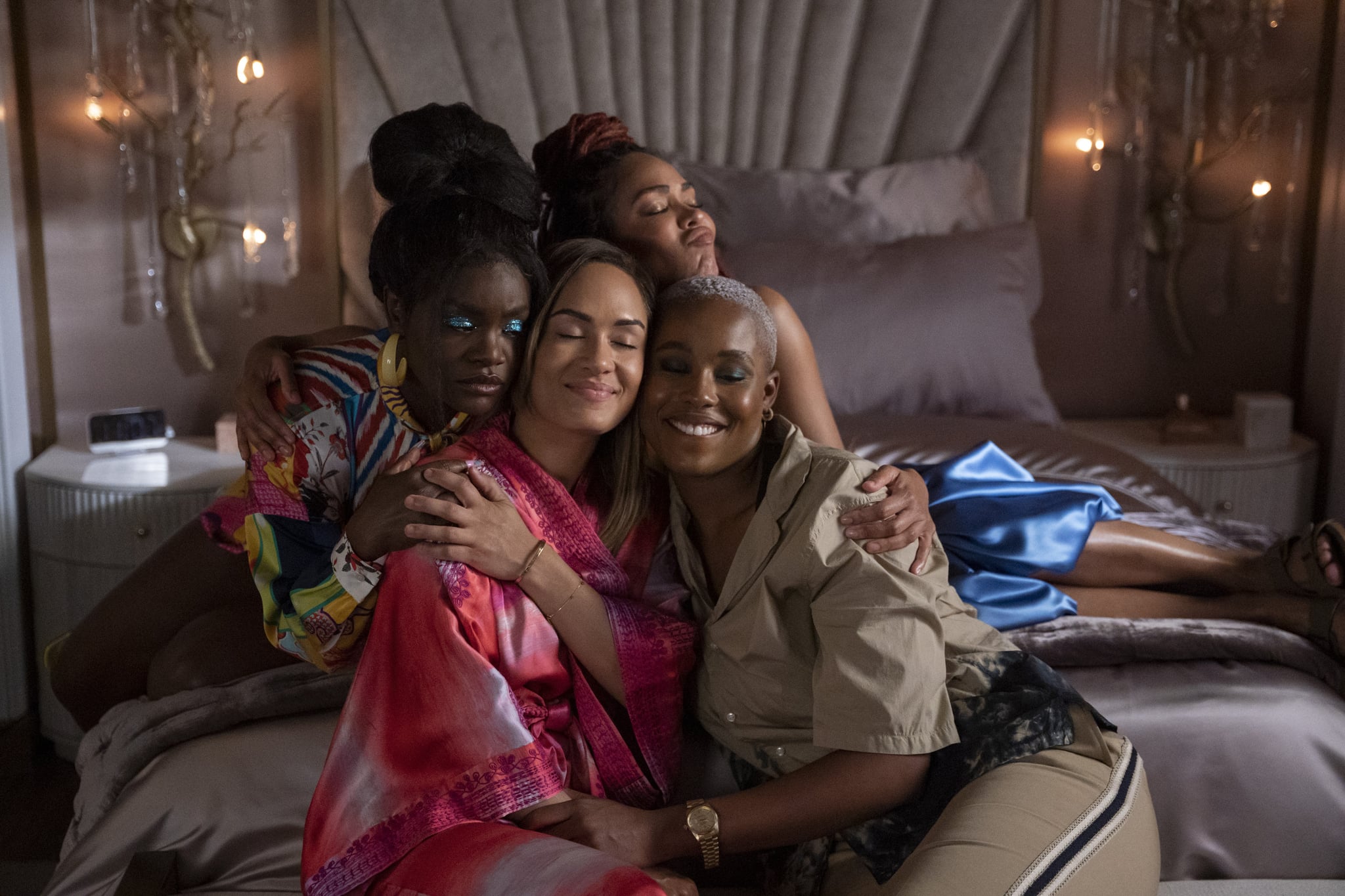 Prime Video's "Harlem" is back for season two, following the latest misadventures of our favorite core four: Camille (Meagan Good), Quinn (Grace Byers), Angie (Shoniqua Shandai), and Tye (Jerrie Johnson). The dramedy's second season, which premiered on Feb. 3, picks right back up where the season one finale left off with Camille and Ian's (Tyler Lepley) epic reunion as a couple. This season, the show explores more happenings in the girls' careers, love lives, and everything else in between. But viewers are already asking for another season. And quiet as it's kept, so is the cast.
"We done heard some things already," Good tells POPSUGAR. Even creator Tracy Oliver teased some tidbits about her plans for a third season, which has yet to be green-lit. "We started the season three writer's room this week," she says days before "Harlem"'s return. "Fingers crossed, if it gets picked up, you guys will get to see these ideas."
One thing Oliver says she's excited to explore if/when "Harlem" gets renewed for another season is "the idea of being a single mother by choice" — which is hinted at with Tye, who embarks on her egg freezing journey in season two. "I feel like there's just a growing number of women that are not waiting for the right situation or the right man or woman to come in their lives," Oliver explains. "They're just like, all right, I can provide for a kid. I'm ready for it. I'm just going to go about that journey on my own. I think that there's something really powerful about it, and I'm excited to maybe explore that next season."
According to Oliver, she approached season two by both listening to audience feedback from season one — "because I think it's important as an artist" — and drumming up storylines that "I like and that make me laugh." But her ultimate goal for continuing "Harlem"'s reign, which doubles as advice for fellow creators, is to "take risks and go with your gut."
Even though "Harlem" hasn't gotten a season three renewal yet, the cast and crew have already been discussing ideas, though Good says she can't speak to them just yet. "What we actually talked about are things that I would like to see, so I can't actually [answer that]," she shares.
However, Johnson says, "I ain't talk about nothing with nobody, so let me give you the list!"
"I would like to see Tye go to Paris [and] I would like to see Tye's family," she shares. "Who is Tye's mom? Angela Bassett, you free?"
Considering "Harlem"'s star-studded season two cameos — which include Sherri Shepherd, Rick Fox, Rachel True, Lil Rel Howery, and Countess Vaughn — a guest appearance from Bassett doesn't seem impossible.
"Harlem" season two premieres new episodes every Friday on Prime Video.