How Bridgerton References Jane Austen's Books
Have You Noticed All the Jane Austen References in Bridgerton? Here's a List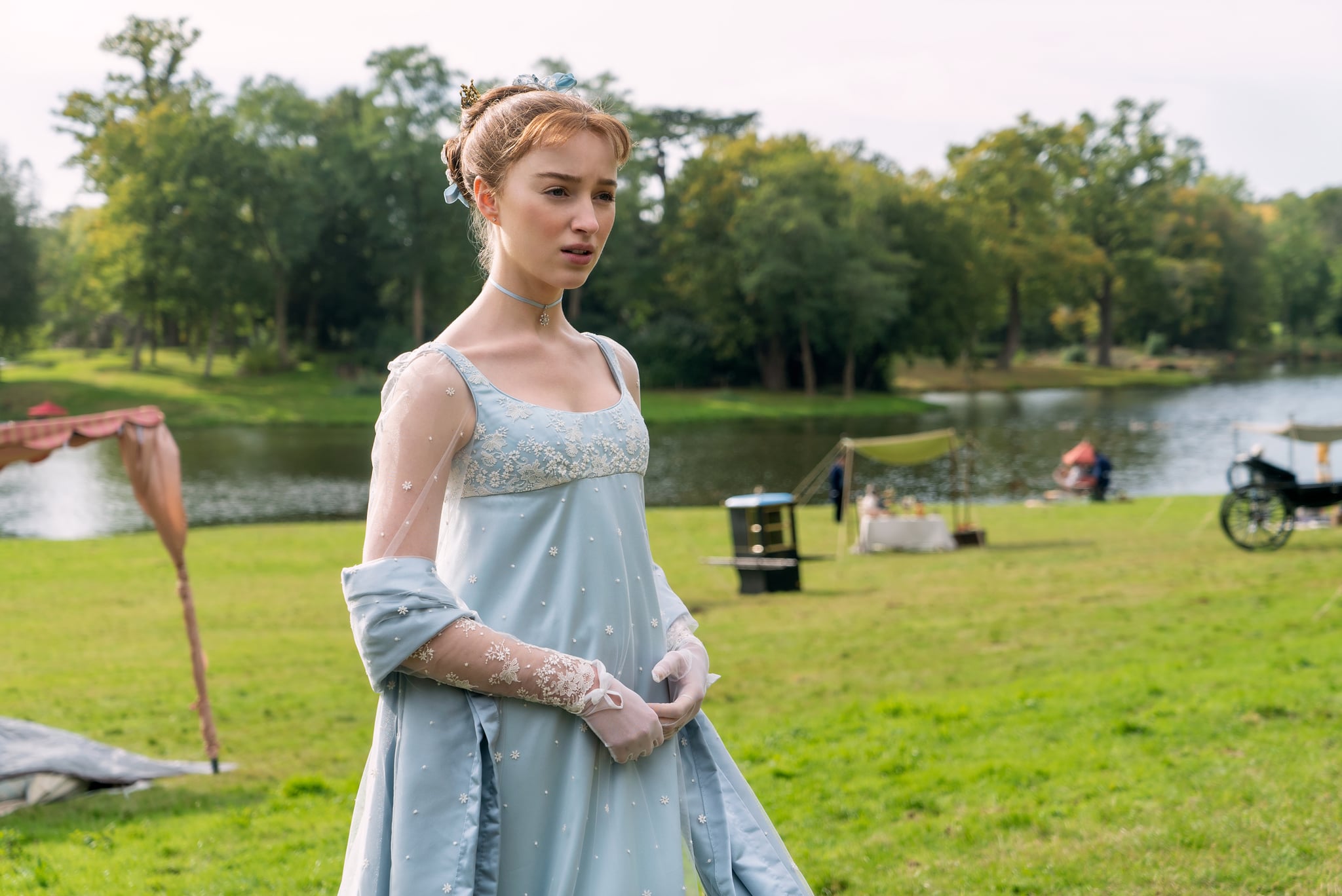 In the Netflix smash hit Bridgerton, the not-so-polite London regency society serves as the backdrop for a whole lotta drama. Adapted from Julia Quinn's novels, Shonda Rhimes's show offers an inclusive twist on the whitewashed period dramas of Jane Austen's time. The essence of Austen's writing — the wit, the snark, and the undercurrent of knowing — is present, too, in Rhimes's series. Astute viewers can locate all six of Austen's works in Bridgerton's themes and characters. While the late Ms. Austen might have blushed at some of the (ahem) positions in which Rhimes's characters find themselves, there's no denying her influence.
How Bridgerton References Sense and Sensibility
In Sense and Sensibility, sisters Marianne and Elinor differ in almost every way. Elinor is reserved, polite, and introspective. Marianne is fiery and prone to the occasional social faux pas. Similarly, Daphne, the diamond of her social circle, is the epitome of grace, while her sister, Eloise, wants nothing to do with London's matchmaking season. Though the sisters differ, readers and viewers are encouraged to root for each woman as she navigates her distinct desires.
How Bridgerton References Pride and Prejudice
Bridgerton's Mariana Thompson is poor, unmarried, and (gasp) pregnant. Though less damning, Austen's Charlotte Lucas is "old" (27 years, to be exact), plain, and lacking a suitable dowery. Through Mariana and Charlotte, both Rhimes and Austen explore how savvy women climbed the social ladder in a patriarchal society situated against them.
How Bridgerton References Mansfield Park
Viewers who gasped at Lord Hasting's harsh treatment of young Simon Basset would take similar umbrage for one of Austen's most heartbreaking characters, Fanny Price. As a young girl, Price endures physical and emotional abuse from multiple relatives, most notably Aunt Norris. In Bridgerton, Simon's abuse incites his vow never to have children. Fanny and Simon carry their childhood trauma into adulthood, but both find trustworthy people who teach them the meaning of love and family.
How Bridgerton References Emma
"Emma Woodhouse, handsome, clever, and rich, with a comfortable home and happy disposition" — sound familiar? One of Austen's most polarizing characters would find her match in Daphne Bridgerton. Young, beautiful, and wealthy — both Daphne and Emma are womanly perfection incarnate, and yet they still struggle in their own ways. The women's stories underscore the sexist realities even the most privileged "diamonds" face, despite their gleaming potential.
How Bridgerton References Northanger Abbey
Bridgerton and Northanger Abbey both satirize pop culture — Bridgerton the Gossip Girl-esque drama of the early aughts, and Northanger Abbey the once-popular Gothic novels. What's more, Lady Whistledown's most fervent reader is not a lady or a lord but a queen. Queen Charlotte devours Whistledown's columns like Simon devours that damn spoon. The queen's obsession with the gossip's prose harkens back to one of Austen's most beloved bookworms, Catherine Morland. The young protagonist is obsessed with Gothic novels and finds herself swept away on several occasions. Through the wit and satire of Austen and Rhimes, Catherine and Charlotte learn to cope with difficult, real-world circumstances.
How Bridgerton References Persuasion
A heart-wrenching romance between two people — one at the top of the social ladder and the other at the bottom of it — is apparent in Bridgerton's Anthony and Sienna and Persuasion's Anne Elliot and Frederick Wentworth. Early in Persuasion, Anne's wealthy family dissuades her from marrying Captain Frederick Wentworth. Similarly, Anthony Bridgerton's family pushes him to find someone, anyone, besides opera singer Sienna. The lovers suffer, and so do we! A society that emphasizes a person's social standing over feelings pulls the two couples apart, sexy chemistry be damned.