Why Lauren Speed's Role in Love Is Blind Is So Important
Fan-favorite Lauren Speed may have proved that love is blind, but her role in season one of the Netflix show displayed so much more. From Issa Rae on Insecure to Kat Edison on The Bold Type, we are seeing more accurate portrayals of Black women on TV than ever — and it's so important. In this case, Lauren's positive representation on Netflix's reality show emphasizes that Black women being their true and authentic selves is beautiful and desirable — despite how we may have been previously portrayed on reality TV.
Without even trying, Lauren's presence on the show acted as a mirror for our own dating experiences as Black women. We see ourselves in moments where she wakes up next to her now husband, Cameron Hamilton during their honeymoon, bare-faced and wearing a bonnet. She explains to the camera how important it is for Black women to wrap their hair up at night. Even though Cameron believes she is beautiful in her "bonnet beret," this sweet reaction hasn't always been the response from romantic partners on reality TV.
Let's look at Love Island UK: Yewande Biala, a contestant on season five, was notably the last to get picked during the "coupling" ceremony. The year prior, Samira Mighty was also the last to get picked at the ceremony during her time as an Islander. The previous Summer, Marcel Somerville was also picked last. Even though the producers attempted to provide representation, the diverse cast members not being first picks contributed to the perception that Black people are not desirable. This is why it's so refreshing to see Lauren be the first on Love Is Blind to receive a marriage proposal — as well as being in one of the only couples to make it work once the cameras stopped rolling.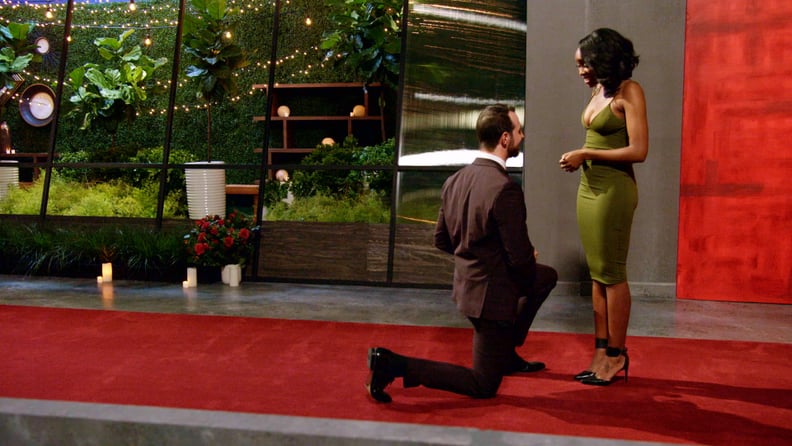 Although Lauren's appearance is inarguably wholesome, stereotypes about Black women are still very present in reality television. In fact, in a genre of TV where drama is encouraged to boost ratings, Black women frequently get lost in stereotypes. Even though Love & Hip Hop is a show I find myself binging on the weekends from time to time, its storylines often center around multiple women battling it out over one of the male characters or fighting to be loved the way they deserve to be.
It's easy to get sucked in by the unfolding drama when tables are getting flipped over and words are getting bleeped out. But the truth is, these storylines add to the problematic idea that Black women are aggressive. It is crucial to look past this "angry" archetype in order to be seen for who we are: whole people who are worthy of love and affection.
Even Rachel Lindsay, the first Black Bachelorette to lead the franchise, believes she was mislabeled during her season on the show. Rachel expressed her concerns in a blog post for US Weekly as she recapped Becca Kufrin's season each week. She felt her finale spent more time sympathizing with her runner-up Peter Kraus than congratulating her engagement to Bryan Abasolo — not the case for other contestants, including Becca.
"Let's just be honest, Becca did not have the finale that I had. There was no controversy and she was not put in a position to face any," Lindsay wrote in US Weekly. "She was protected and I was placed on display for three hours and labeled an angry Black female. And there will always be that stigma attached to my finale because it has been said that when truth is blurred by misinformation, perception becomes reality and all is lost."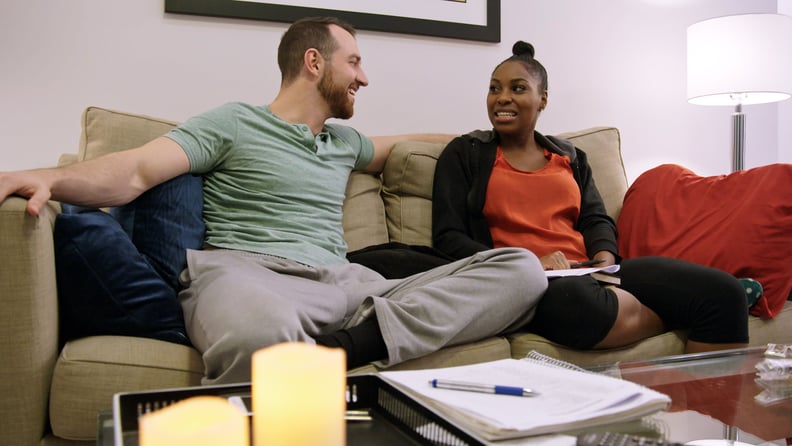 Lindsay's season provided the opportunity to give viewers a chance to understand the realities of Black women's experiences in relationships, but her happy ending was overshadowed (and somewhat invalidated) by the heightened drama of other cast members. On Love Is Blind on the other hand, Lauren's father seizes his opportunity to ask real and necessary questions that Black viewers were not only anticipating all season, but have lived through ourselves. He's a reminder that there is a world outside of the cameras and once they stop rolling, the couple will have to face society and how it views their relationship.
Ultimately, he gives his blessing and assures Cameron that he will not judge him for anything beyond how he treats his daughter. This conversation is essential for viewers watching at home because it confirms that regardless of race, Lauren, as well as any other Black woman on or off screen, is deserving of being loved wholly.
When it comes to dating shows (and really, any type of visual media), casting women with a wide range of skin tones is only a start. Lauren's role on Love Is Blind exemplifies what we need to push for — a more accurate narrative of the dating experience as a Black woman. With casting underway for season two, we can only hope the new contestants will help continue to rewrite the narrative.