Is Miley Cyrus's Muddy Feet About Liam Hemsworth?
Miley Cyrus's "Muddy Feet" Lyrics Might Hint at Her Split From Liam Hemsworth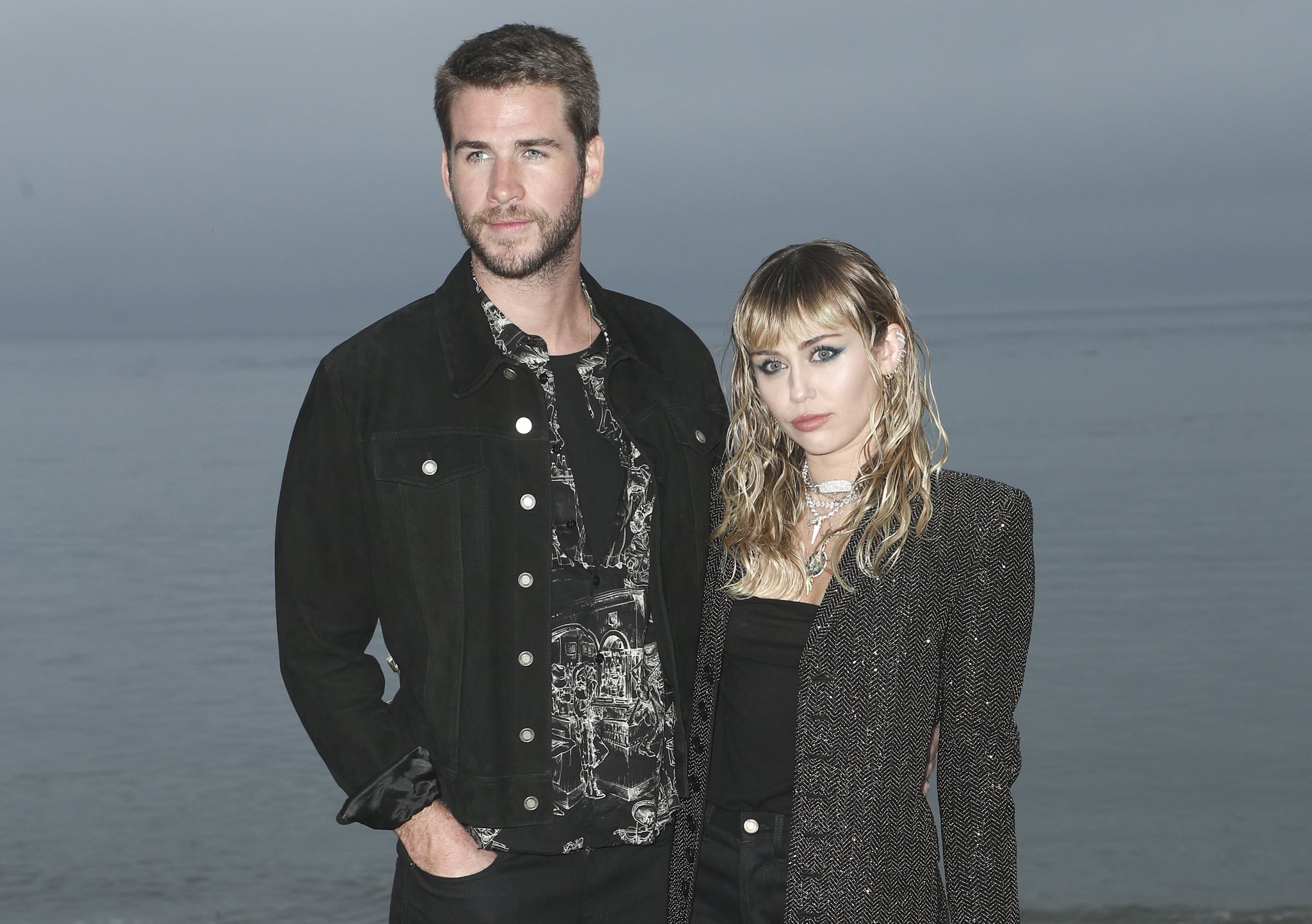 Miley Cyrus isn't having any of it. In her new song "Muddy Feet," off her "Endless Summer Vacation" album, the singer seems to address a cheating partner, telling them to "get the f*ck out of my house with that sh*t" in the emotional pop ballad. Following speculation that her hit single "Flowers" was directed at her ex-husband, Liam Hemsworth, some fans are assuming these lyrics could be directed at him as well, although Cyrus never explicitly mentions anyone by name.
A few lines in particular are generating attention. "And you smell like perfume that I didn't purchase / Now I know why you've been closing the curtains," Cyrus sings in the pre-chorus, alluding to infidelity. "You've watered the weeds and you killed all the roses," she continues in a subtle nod to her "Flowers" lyrics. "Worthy arrives when the other door closes."
Cyrus and Hemsworth began dating after meeting on the set of "The Last Song" in 2009. They went on to announce their engagement in 2012 before breaking up shortly after. The pair got back together in January 2016 and married in 2018. Cyrus and Hemsworth split for good seven months later in August 2019, with Cyrus's rep saying, "Ever-evolving, changing as partners and individuals, they have decided this is what's best while they both focus on themselves and careers." Currently, Cyrus is in a relationship with drummer Maxx Morando, whom she's been dating since December 2021.
As she makes a rock-star return to music, Cyrus's songs are inspiring speculation about the reasons behind her breakup from Hemsworth. Listeners have previously wondered if songs like "Wrecking Ball" and "Malibu" were written with Hemsworth in mind, but Cyrus has never directly confirmed or denied such theories. Still, many songs on the new record reflect more generally on her past relationships, leaving more room for interpretation. Ahead, we broke down the lyrics of "Muddy Feet" in full so you can decide Cyrus's true intentions for yourself.
Miley Cyrus's "Muddy Feet" Lyrics
VERSE 1
I don't know
Who the hell you think you're messin' with
Get the f*ck out of my house with that sh*t
Get the f*ck out of my life with that sh*t
And I don't know
Who the hell you think you're messin' with
Get the f*ck out of my house with that sh*t
Get the f*ck out of my life with that sh*t
PRE-CHORUS
And you smell like perfume that I didn't purchase
Now I know why you've been closing the curtains (Uh-uh)
Get the f*ck out of my house
CHORUS
You're comin' 'round
With your muddy feet
I'ma about to do some 'bout it
Yeah, I'ma have to do some 'bout it
You keep comin' 'round
With your muddy feet
And I'ma have to do some 'bout it
Yeah, I'ma about to do some 'bout it
VERSE 2
Back and forth
Always questioning my questioning
Get thе f*ck out of my head with that sh*t
Get the f*ck out of my bеd with that sh*t
PRE-CHORUS
You've watered the weeds and you killed all the roses
Worthy arrives when the other door closes (Uh-uh)
So get the f*ck out of my house with that sh*t
CHORUS
You're comin' 'round (Comin' 'round, baby)
With your muddy feet
I'ma 'bout to do some 'bout it (What I do)
Yeah, I'ma have to do some 'bout it (What I do)
And I don't know
Who you're messin' with
And I'ma have to do some 'bout it (What I do)
Yeah, I'ma about to do some 'bout it (What I do)
OUTRO (ft. Sia)
Whoa, oh, oh, oh, mm
Whoa, oh, oh, oh, mm
Whoa, oh, oh, oh, mm (You're comin' 'round)
Whoa, oh, oh, oh, mm (You're comin' 'round, baby)
(What I do, what I do)
Get the f*ck out of my house with that sh*t