Ratched: What Do the Red and Green Colors Mean?
Wondering Why Netflix's Ratched Is Full of Reds and Greens? Here's the Deal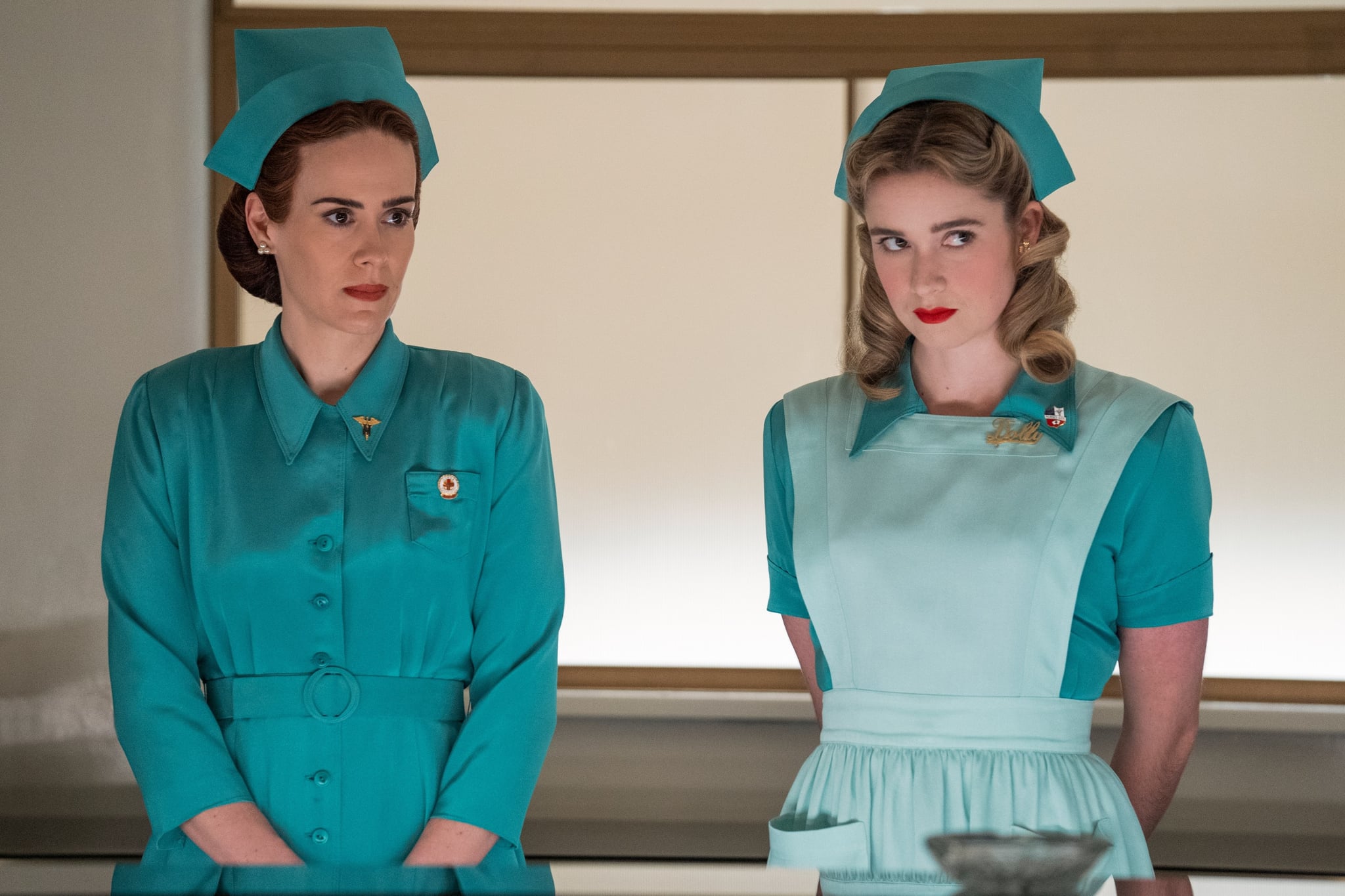 Like many a Ryan Murphy project, Netflix's Ratched is steeped in a bold and telling color palette. In contrast with something as blushed-tinted as The Assassination of Gianni Versace, the Sarah Paulson-led series radiates with punchy greens and reds. But Ratched is no Christmas affair. Far from emanating wholesome yuletide energy, these colors symbolize themes such as oppression, corruption, and lust. Ahead, let's take a look at how these menacing hues generate Ratched's terror and suspense.
Throughout the series, the set and costume designers treat us to a feast of greens and blues. The show, which takes place in Northern California in Lucia, has both a grassy and aquatic vibe. Lucia, in fact, is an unincorporated community in the coastal Monterey County, so the landscapes themselves are quite green and blue. We also see green all throughout Lucia State Hospital — the uniforms, walls, and furniture are also variations of a surgical teal. Nurse Ratched's car is a bright sea-foam green. The calming color scheme, of course, is a front for the corruption that goes on in the meticulous mental institution. And while Nurse Ratched is often dressed from head to toe in a very authoritative green, her motives are more tumultuous than her dispassionate uniform may reveal.
"Green was the predominant symbolic color we used on various characters for various meanings," costume designer Rebecca Guzzi explained to Fashionista. It signals themes such as "violence, oppression, lust, envy, greed, and evil."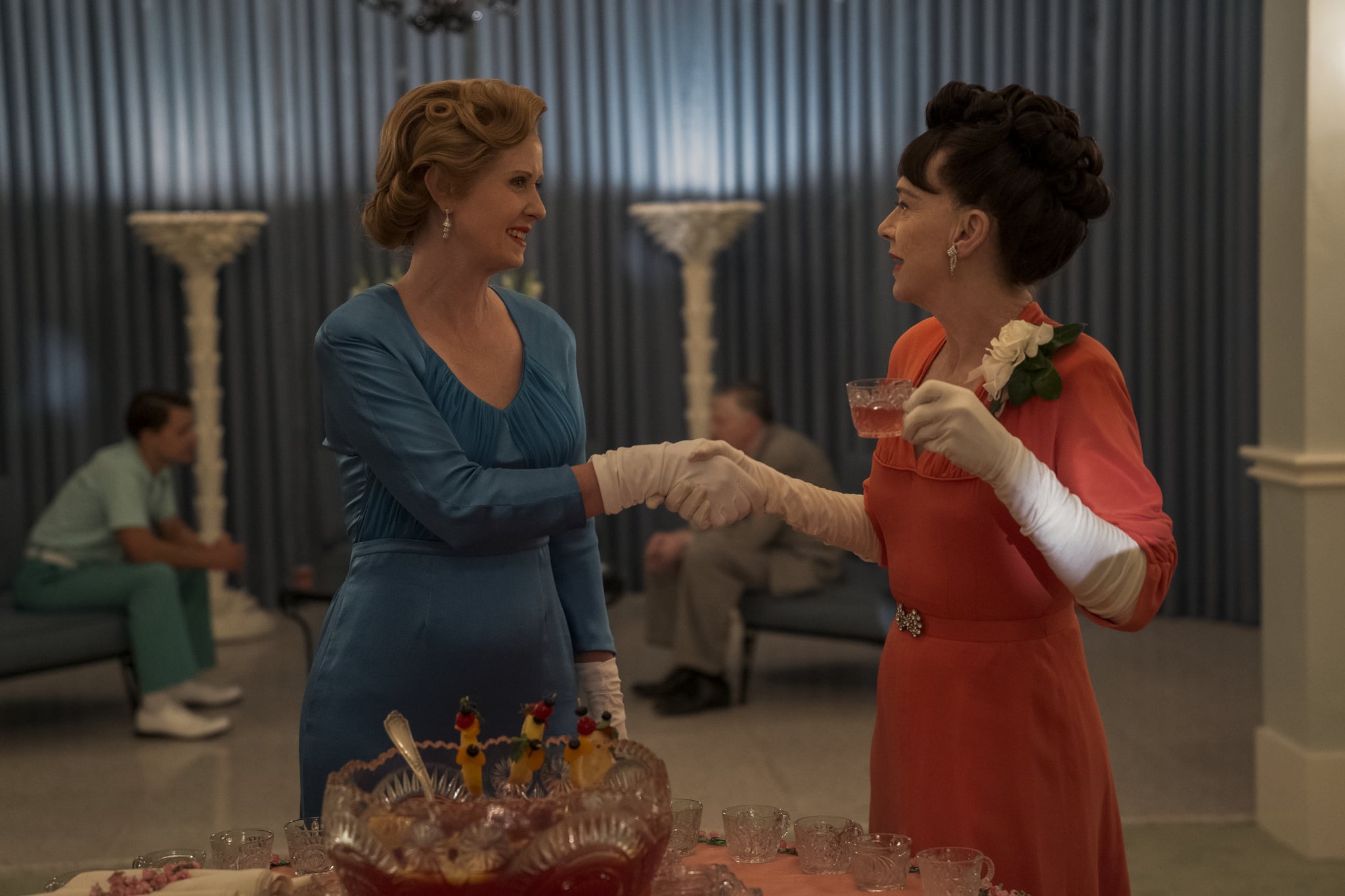 On the show, green lighting often flashes during instances of lust, whether it's for sex or power. We see green spotlight Mildred early on in Ratched when she passes by two hospital employees illicitly having sex. It also washes her out when she has a fantasy about making out with Gwendolyn Briggs (Cynthia Nixon).
Green also stands for obscene wealth and greed — the home of Lenore Osgood (Sharon Stone) is verdantly covered in tropical plants. The house's exterior is lush and calm. However, it masks the insidious and vengeful plans that Lenore has up her sleeves to hunt down Dr. Hanover.
Red, on the other hand, symbolizes the loss of control. The series is overwhelmingly green, teal, or blue with small, but meaningful, splashes of red and deep oranges. Whenever we see this passionate color, it's usually a sign that something menacing is afoot. Bright scarlets pop up on bold lipsticks as well as blood-covered bodies. We often see red lighting drench Dr. Richard Hanover (Jon Jon Briones) whenever he becomes high and sheds his calculated, clinical facade.
However you feel about Ratched (and whether or not it merits a second season), there's no doubt that the show has a remarkable style that brims with meaning.