This Is Why Black Creators on TikTok Refuse to Dance to Megan Thee Stallion's "Thot Sh*t"
Black creators continue to be denied the credit they deserve. In the ongoing conversation about creativity and proper accreditation on social media, many TikTok creators are now engaged in a headline-making "dance strike," refusing to offer choreography to go along with Megan Thee Stallion's new single, "Thot Sh*t." Direct action of this kind was inevitable, and the platform-wide movement has fueled further discussions about the marginalizing effects of TikTok's "borrow culture" on Black creators.
"We're not asking for too much in comparison to the value we bring to the table."
"We as a Black community deserve respect. We offer so much, we do so much, and we're not asking for too much in comparison to the value we bring to the table," Erick Louis recently told POPSUGAR. The 21-year-old content creator is credited with helping spark the #BlackTikTokStrike on June 18 after he shared a TikTok advertised as a "Thot Sh*t" dance video. Instead, the video shows Louis throwing up two middle fingers. His caption read, "This app would be nothing without blk people." Louis continued, "We're just asking for you guys to acknowledge our identity, to acknowledge our concerns, basically just acknowledge our humanity and the experiences of Black folk as a whole on the app and what we've had to endure being Black content creators."
@theericklouis

If y'all do the dance pls tag me 🙄 it's my first dance on Tik tok and I don't need nobody stealing/not crediting
It's no surprise that Megan Thee Stallion's song is the anthem for the movement, given the singer's longstanding history with the app. In March 2020, her song "Savage" became the backtrack to the now-famous dance craze, created by Keara Wilson, boosting the song's overall popularity and building users' association with TikTok as a dance app. In November 2020, TikTokers also took on the #BodyOdyChallenge, inspired by dancer JaQuel Knight's choreography from Stallion's "Body" music video.
Though Stallion's "Thot Sh*t" is now associated with the strike, Louis explained how Nicki Minaj's 2016 hit "Black Barbie" really lit the fuse for the virtual walkout. "There's a part of the song where Nicki says, 'I'm a f*cking Black Barbie. Pretty face, perfect body,'" Louis said. "When you click on [the sound], it's a bunch of non-Black folks and white women lip-syncing that specific part." Following the influx of videos from non-Black users mouthing Minaj's lyrics, Louis saw Black women across the app expressing their discomfort at the unsolicited use of the sound.
For many, the strike has been a long time coming. On March 26, Addison Rae starred in a segment on The Tonight Show Starring Jimmy Fallon where she demonstrated some of TikTok's most popular choreography, dances that she played no part in creating but that have become synonymous with her image on TikTok. The segment immediately sparked controversy across social media as viewers pointed out that the creators of those dances — including "Renegade" dance creator Jalaiah Harmon — saw no screen time or credit for their work.
In response to the segment, 15-year-old Mya Johnson, creator of the Cardi B "Up" dance, called on TikTok to give Black influencers the spotlight they deserve. "I feel like it's time to bring awareness to what the Black creators bring to TikTok and they deserve full credit and anything else that comes with the success of the content they create," she said. "I hope that the original creators start getting the credit they deserve. It would also be nice to see Black creators get the same opportunities and offers as their white peers. We deserve to see the full benefits of our hard work."
Louis pointed out that TikTok's algorithm has exceedingly worked to uplift white influencers like Rae and Charli D'Amelio, who amassed millions of followers by appropriating dances created by Black TikTokers. Because content creation is now a career of its own, Black creators are demanding they be taken seriously and compensated for their contributions to the app. "Why do we have to go as far as begging to be seen and valued?" Louis said. "We bring so much range. We make the trends. We set the tone on that app, and there's no disputing it, no arguing — it's white folks that benefit off of the work and the labor that we do. So what it really is is a labor conversation." Beyond credit, many TikTok users rely on the platform as their main source of income, which warrants a conversation about potential health-insurance distribution and other work benefits afforded to those with traditional jobs.
"What it really is is a labor conversation."
There are few places for users to share their concerns. Many find the absence of a customer-service number to be a deliberate choice and urge that a direct line of communication be made available immediately. "Oftentimes, it's like speaking to a wall, and none of our concerns are being heard," Louis said. "I'd like TikTok to make space for [us] at the table, to have these conversations to figure out what it is that Black folk need far beyond compensation or a verification check or ownership equity." In addition to verifying accounts and shining a spotlight on Black influencers, Johnson added that creators could benefit from a stamp or ownership system that allows users to mark their original work and keep track of it, which could potentially lead to more business opportunities for Black creators.
Even taking into consideration the app's ever-changing accountability guidelines, transparency has long been an issue between TikTok and its users. While the app's moderators have read through users' feedback and implemented features that allow them to delete offensive comments or block anyone disrupting the community guidelines, Louis pointed out that these rules are not equally applied to everyone and often cause harm to people of color looking to make their voices heard.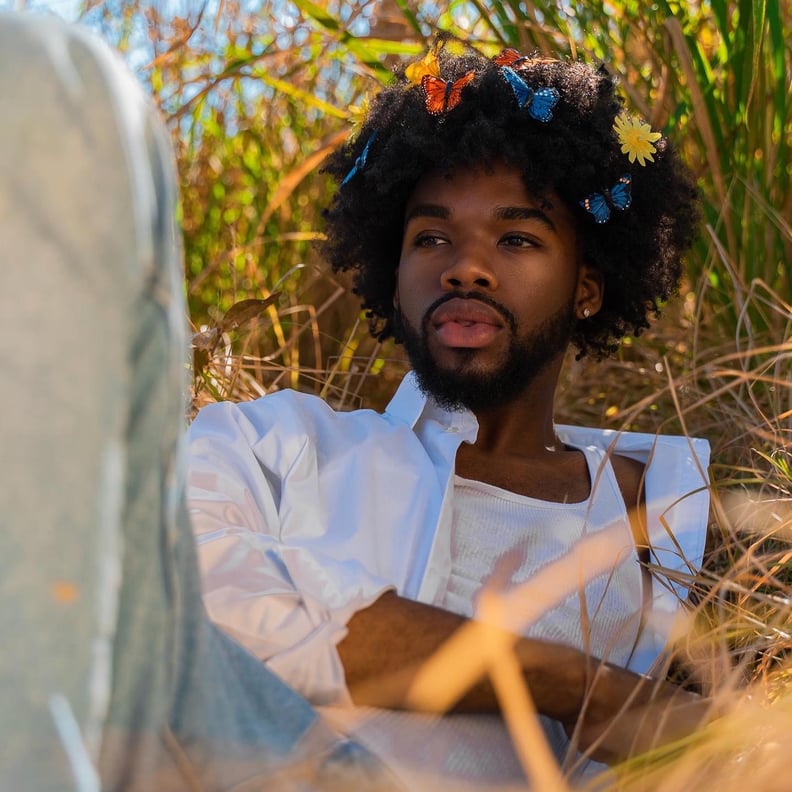 Pictured above: TikTok creator Erick Louis.Image Source: Instagram user @brandons_eye
Li Jin, the founder of Atelier, a venture firm that invests in social media creators, suggested that anything less than acknowledging these complaints would be disrespectful. "There's an undertone of economic inequality, which broadly is the issue of our time," she told The New York Times. "My hope is that we realize this is an entire class of work that didn't previously exist. If we don't offer this class of workers protections and rights, they're going to become increasingly disenfranchised."
For creators like 24-year-old Kaelyn Kastle, a member of the Collab Crib, participating in the strike would mean risking her financial stability. "When you're working on these apps, they're funding most of your life, so your back is against the wall," she told The New York Times. And so, Kastle has been forced to support her peers from the sidelines.
When asked to comment on the strike, a TikTok spokesperson said, "TikTok is a special place because of the diverse and inspiring voices of our community, and our Black creators are a critical and vibrant part of this. We care deeply about the experience of Black creators on our platform and we continue to work every day to create a supportive environment for our community while also instilling a culture where honoring and crediting creators for their creative contributions is the norm."
Among the actions TikTok has taken to better support its Black users are the distribution of its Black TikTok Trailblazer spotlight list, the foundation of its Support Black Businesses hub, and the brand's pledge to back nonprofit organizations that fight for racial justice. But the very existence of the strike proves there is more work to be done. "We feel muzzled on that app. We don't have ownership of our content," Louis said. "Again, we bring this huge amount of traffic to TikTok, they make so much revenue off the content and things we do, yet we're not afforded the same privileges or given the same opportunities our white counterparts are given."
Up until now, Louis and other Black creators have felt as though they've been speaking into a void. But by refusing unmitigated access to their creativity, they hope to signal the need for true collaboration. "I'm glad people are starting to realize, 'Yeah, we have these people who are creating these dances, who are doing these makeup looks, who are bringing a lot of these conversations to the forefront, and they're not even the ones getting credit for it,'" Louis said. "It's definitely really validating to see these conversations play out outside of TikTok, and I hope, to some degree, sooner or later, that we do see some sort of change."