When Will BTS's 2022 Album Come Out? Theories
ARMYs Think BTS Could Drop Their New Album in May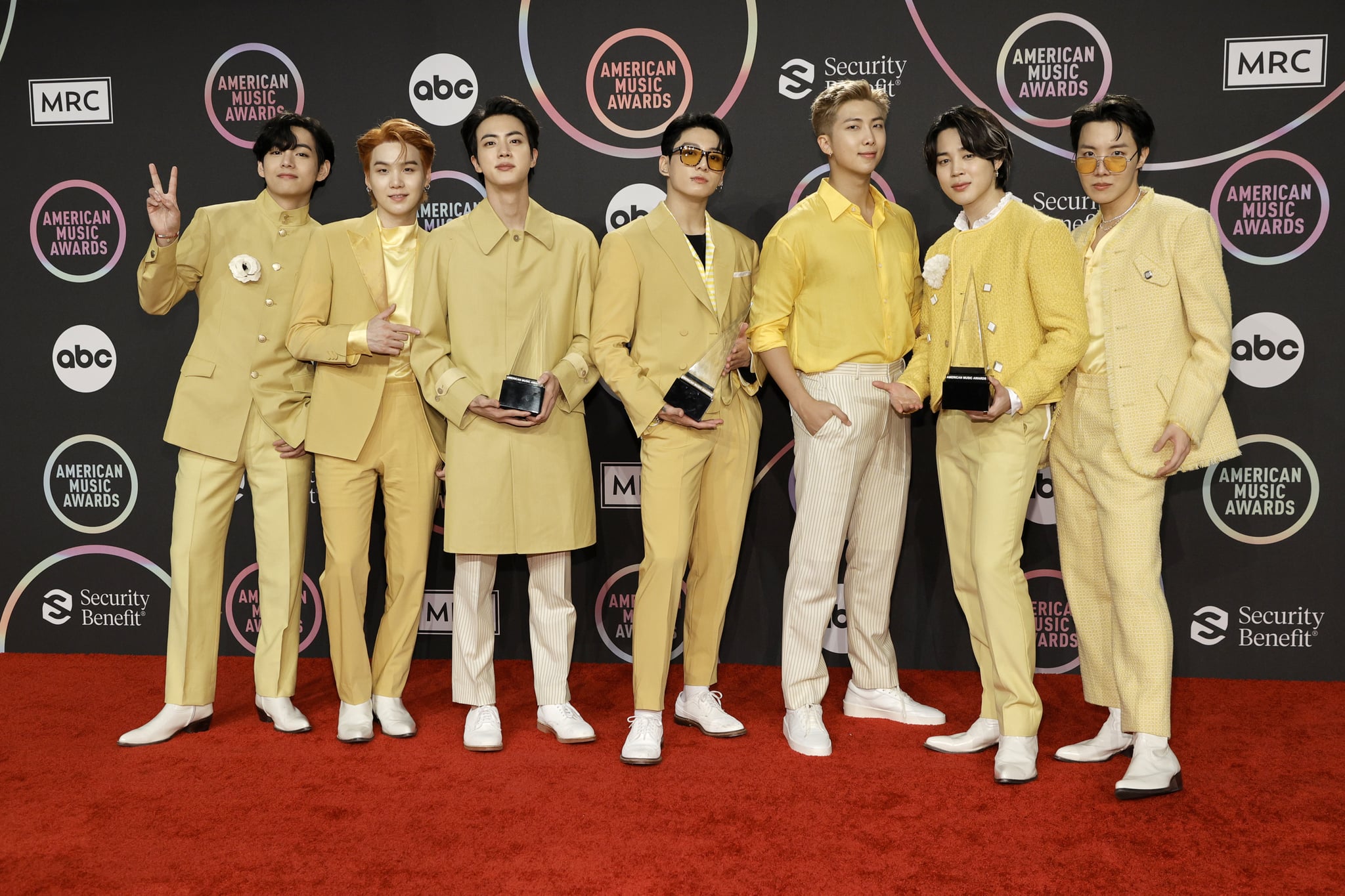 Image Source: Getty/ Matt Winkelmeyer
The last six months has been eventful for BTS fans. To give you a summary, BTS put on four back-to-back concerts at SoFi Stadium at the end of 2021, marking their first live performances in front of fans since 2019. They also performed at the annual KIIS FM Jingle Ball, opened up personal Instagram accounts, took a brief vacation, and then performed another three stadium concerts in Seoul in March. Best of all — a new album is on the way. "BTS will be focusing on preparing for the concert and release of the new album that will mark the beginning of a 'new chapter,'" the agency said in a Dec. 5 tweet about their vacation. Although HYBE didn't reveal when BTS's new record will arrive, fans theorize it'll be here soon.
When Will BTS Drop Their 2022 Album?
Taking a look at BTS's schedule in 2022 gives insight into when they may drop their next album. Coming off their wildly successful "Permission to Dance" On Stage in Seoul concerts, BTS will head to the U.S. to attend the Grammys on Sunday, April 3. Shortly thereafter, the septet will take their "Permission to Dance" On Stage concerts to Las Vegas for four nights at Allegiant Stadium on April 8, 9, 15, and 16. Somewhere around that time, Jimin will release his first OST for the K-Drama, "Our Blues."
Beyond that, BTS's 2022 schedule remains a mystery. Since they have nothing announced for May just yet, fans think BTS could drop a new album that month. Considering the boys often time their releases to a major award show or event, there's also a chance they'll have their official comeback performance at the upcoming Billboard Music Awards on May 15, 2022. It would be perfect since that would mean the group would have brand-new material to perform at any upcoming tour (if there is one).
Fans suspect an album announcement could come at any time after their "Permission to Dance" On Stage in Las Vegas shows, and that BTS has already dropped hints about what it will be called.
Here's my predictions
.
Tour announcement after PTD in Seoul
Ticketing at the end of March/Early April
Butter performance at the 👵
Preorders for the new album in April
May 13th comeback
May 15th BBMAs comeback stage
Tour starts around the end of May
Could be a 🤡🤡 but

— Julia⁷⟭⟬☁️𝖄𝖔𝖚'𝖑𝖑 𝕲𝖑𝖔𝖜 (@juliawithlxv) February 16, 2022
When Will BTS Tour Their 2022 Album?
Over the years, BTS has typically dropped new albums right before embarking on world tours. For example, the group released their "Love Yourself: Answer" album on Aug. 24, 2018. They kicked off their "Love Yourself" tour at the Seoul Olympic Stadium the next day. They also debuted their "Map of the Soul: 7" album on Feb. 21, 2020, and were supposed to begin their "Map of the Soul" tour weeks later on April 11 in Seoul, but had to cancel due to the coronavirus pandemic.
Considering BTS have another concert lined up in Las Vegas for April, you can't blame fans for thinking a new album and tour could follow shortly after. If everything aligns with their previous schedules, fans are convinced a new BTS album could come as soon as May, with the corresponding tour kicking off soon after in the summer.
CONFIRMED schedule
▪️March 10-13th: PTD in Seoul

POTENTIAL schedule
▪️April 3rd: Grammys in LA

▪️May 15th: BBMA's in Las Vegas

so it's possible we could get the album announcement in April after the Grammys; have another Comeback stage at the BBMAs in May; then a Summer Tour?

— cindy🥤 (@fxxkAgustD) February 17, 2022
However, it's also possible BTS may go off an entirely new timeline. In 2021, they did things differently by not releasing a studio album. Instead, they made their comebacks with singles like "Butter" and "Permission to Dance" and collaborated with artists like Coldplay and Megan Thee Stallion. Since anything could happen, ARMYs should expect the unexpected!
Image Source: Getty / Matt Winkelmeyer