How to Say Goodbye to Kids Leaving For College
How Reruns of Friends Helped Me Learn How to Let Go of My Teenage Son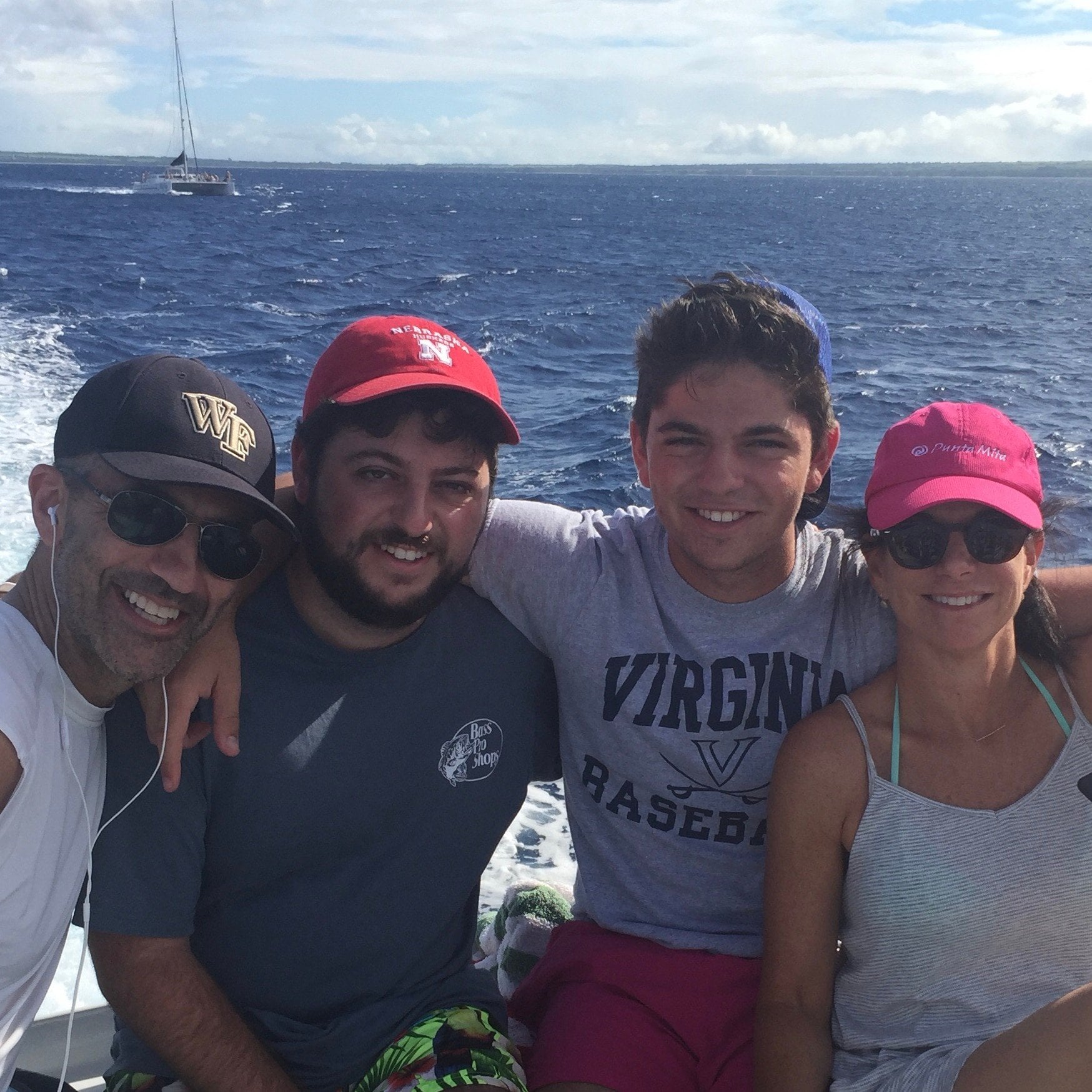 Last Saturday, at 4 a.m. Eastern Standard Time, three hours ahead of my own Pacific Time body, I was awakened by the dead weight of a 17-year-old man-child falling on top of me. Most would think I would be the startled one. Instead, I was resigned to the reality of my son Matthew's history of utter disorientation during the wee hours.
"What are you doing here?" Matthew asked, more irritated than confused by my presence in the bed he thought was his own. "Nothing . . . just go to sleep," I answered. Upon rolling over to the opposite side of the hotel bed, I nearly knocked my wife Laurie to the floor below. She and I chuckled before she left for the other bed to sleep next to my older son, Ethan, our 20-year-old who'd come from his own school to meet us and help us check out Matthew's likely college destination.
"Don't worry, dad," Ethan explained. "He just got up to pee and then had no idea where he was." "I know, I know," I answered dismissively. But don't expect me not to worry, I thought. Sleep soon enveloped my family, but I began to perseverate.
Though I was there when Matthew was born to literally cut his umbilical cord, would I now be able to cut it figuratively as well?
Laurie and I had seen several different iterations of this scene before, beginning with Matthew's night terrors at age three. Though I'm a pediatrician, these episodes were frightening for all four of us, until, via trial and error, we learned to manage them by forcing Matthew to rise, sit with us on the couch, and watch a few minutes of a Friends rerun until he became fully aware of his surroundings. He would then return to bed enthusiastically, and would invariably sleep soundly the rest of the night. To this day, he and I still have a crush on Jennifer Aniston.
As holding Matthew in my lap isn't really an option any more, I eventually rose and dressed silently before going down to the gym and climbing on the treadmill. Thankfully and ironically, the Friends episode about Rachel's departure for Paris, "The One with Rachel's Going Away Party," was playing. There was no reason for me to listen to the show, as I had memorized every line. Instead, I left the television on, attached headphones to my ears, and played '80s music from my iPhone. My three best therapy tools, running, Jennifer Aniston, and The English Beat, were in full force.
Would Matthew be too hot here in September and too cold in February? Would it be too stressful for him to be surrounded by a bunch of ridiculously smart kids? Would he meet some girl here and never come back to California? While I'd like to pretend that all I wanted for my son was to be happy, I was admittedly influenced by words like "best alumni association" and "highly ranked." I also pretended that Matthew really cared what I thought about this decision; there was probably a reason why he didn't even apply to one school on the West Coast. And what about me . . . wasn't I what this was all about? There was no point in confronting him; I knew I would simply hear the inevitable "You wouldn't understand, dad."
Yes, I actually would understand. Alone at age 16, my father left his native India for Israel, negotiated military service and college on his own, and never saw his father again. Like most parents of 1980s teenagers, he was essentially uninvolved in my college application process: no admitted students' day, no Summer orientation, and definitely no move-in day. I applied, found out where were I was accepted, chose a school, and left. Which generation had it right? If I hovered over Matthew just enough, perhaps I would manage to transfer my own irrational fears to him. Nice work, jackass.
I remembered how it felt the first time I took a standardized test and I nearly burst with anxiety, and I remember how it felt the first time my heart was broken and I nearly burst with sadness, all on my own. As much as I want to continue rescuing my son to help him avoid or at least navigate these painful moments, I know I would be doing him a disservice and might helicopter him to death in the process. Was I trying to compensate for my own insecurities by living vicariously through my son? Though I was there when Matthew was born to literally cut his umbilical cord, would I now be able to cut it figuratively as well?
Without my father there to smother me and extend my adolescence, it meant more to me to have completed medical school, to have purchased my first car, and to have fallen in love, all on my own. I needed to let go.
As I finished my run, music from The Cars' album Shake It Up began to play . . . "Since you're gone, well, nothing's makin' any sense" . . . I began to tear up; please don't tell my family. I returned to my still quiet hotel room. After showering and dressing, my lack of sleep caught up with me and I crashed on the bed next to Matthew. He sensed my presence.
"Why am I here?" he asked. "Figure it out yourself," I answered, laughing, and went to sleep.
Ron Bahar is the child of Israeli Immigrants. He was born in 1965 in Boulder, CO, and was raised in Lincoln, NE. Bahar has two children, Ethan and Matthew, and two energetic Goldendoodles, Olivia and Diego. He and his wife, Laurie, like to travel and exercise, and spend many weekends at their family mountain retreat in Lake Arrowhead, CA. His debut novel The Frontman was released on April 3, 2018.
Image Source: Dr. Ron Bahar