Kylie Jenner Spoke About Coparenting in Harper's Bazaar
Kylie Jenner Talks Raising Stormi in the Spotlight: "This Isn't Normal. It's Just Our Life."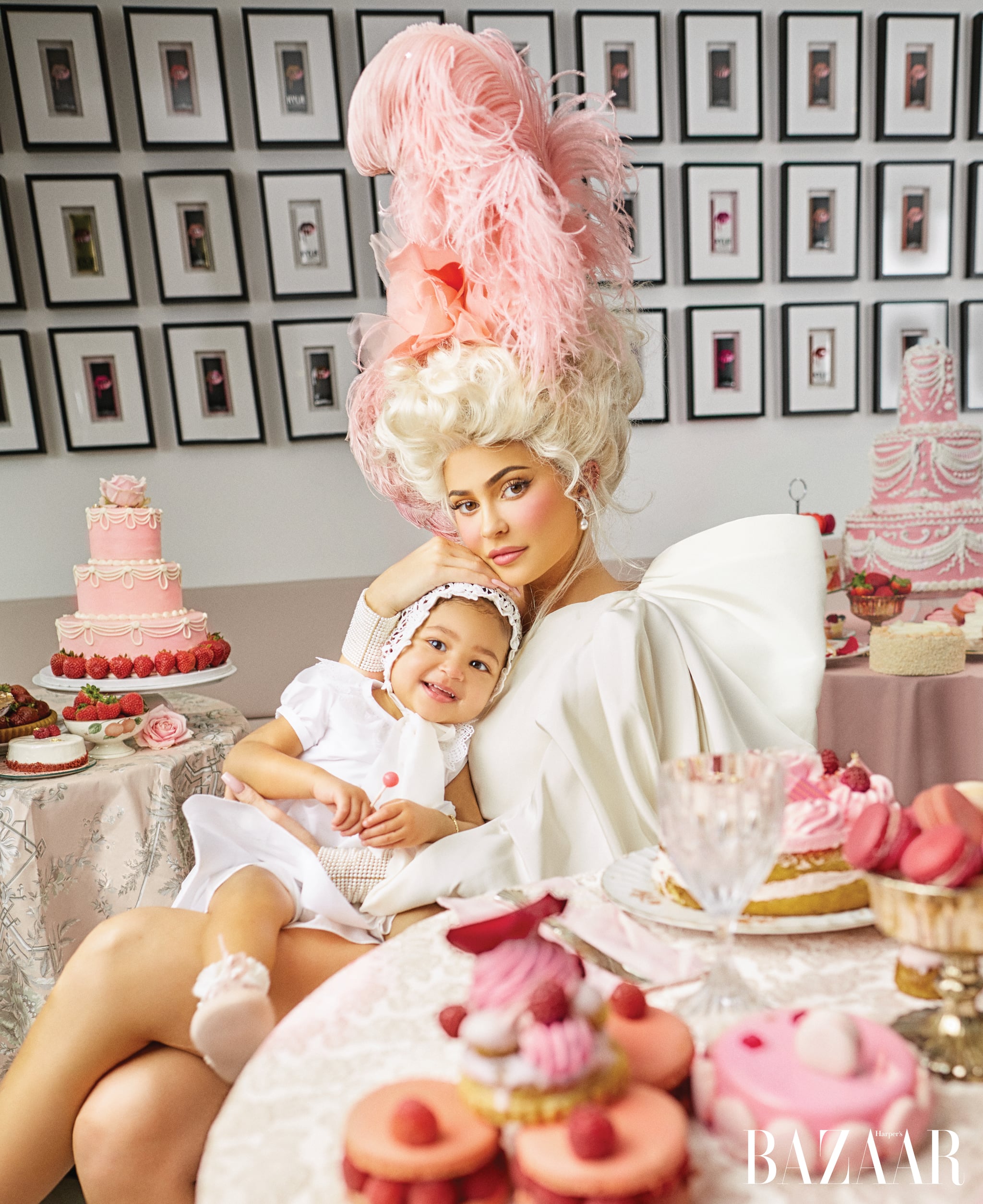 Kylie Jenner and Travis Scott just celebrated their daughter's second birthday, and now, Stormi Webster has a new milestone to be excited about: her first appearance in Harper's Bazaar. The adorable tot and her mogul mama stunned in the March 2020 issue of the magazine, where Kylie donned some striking Marie Antoinette-looking ensembles and opened up about the joys of parenting with Travis. Since Kylie and Travis split in October, they've been seen celebrating Stormi's birthday together and Travis was even at the annual Kardashian-Jenner Christmas party, because coparenting is incredibly important to them, and it shows.
"We have such a great relationship. We're like best friends. We both love Stormi and want what's best for her. We stay connected and coordinated," the 22-year-old billionaire said in the interview. "I think about [my parents] in situations with Stormi, what they would do. They were very hands-on with me, and I want the same for Stormi."
Her family is the source of a lot of inspiration behind her relationships, Kylie noted, explaining that it's a "rare situation" that all of them understand the immense pressure of living in the spotlight. "I think that has a lot to do with why we are still us. We all keep each other grounded," she said. "We all keep each other in check and support each other. I have their support, and I can always run to my mom or my dad or my sisters, and they all know what we're going through."
"I'm just trying my best, even though she's still little, to remind her how blessed we are."
But for Stormi, who's probably the most stylish and cool 2-year-old who comes to mind, growing up in the spotlight is all she's known and it's all she ever will know. It's a different time from when Kylie and 24-year-old sister Kendall were growing up, but Kylie said she tries to constantly remind Stormi about how lucky they are and how their lives are far from typical. "The world is just so crazy now. Exposing her to all of the negativity that comes with the Internet, I think about that too. I'm just trying my best, even though she's still little, to remind her how blessed we are and that this isn't normal, the way we live. It's just our life. People want to take pictures. I think she would feel differently if I was always covering her face like, 'Don't look!'"
Whether that means being followed by paparazzi at Disney World, celebrating with the most over-the-top second birthday party, or having multiple Kylie Cosmetics collections named after her, Stormi's life is far from your average toddler's, but it's great to know Kylie is doing her best to keep her daughter grounded.
As for her plans for another child, Kylie said her "friends all pressure" her to have another baby. "They love Stormi," she said. "I definitely feel pressure to give her a sibling, but there's no plan." Well, until Kylie decides she's ready to add another baby to the next generation of Kardashian-Jenner kiddos, Stormi's cutest pictures can definitely hold us over. Check out Kylie's full interview in Harper's Bazaar.
Image Source: Morelli Brothers for Harper's Bazaar