How to Buy a Wedding Dress on eBay
Would You Buy Your Wedding Dress From eBay? I Did, and I Wouldn't Change a Thing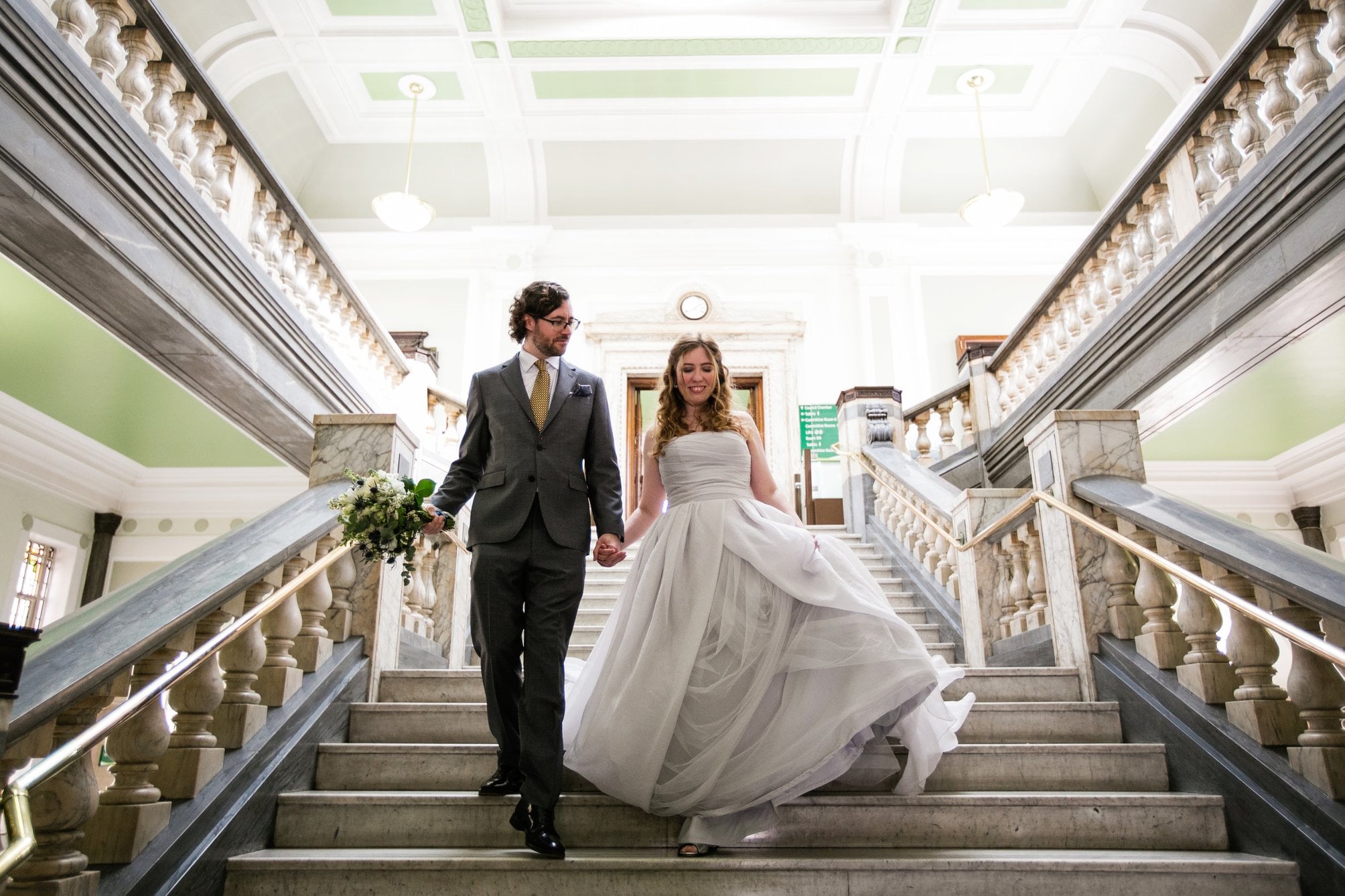 Image Source: Julie Kim Photography
When you picture yourself buying your dream wedding dress, you probably imagine taking it home in a beautiful box with a bow. You don't expect it to be delivered in a blue Ikea bag, while you hand over a bunch of cash at a train station, right? My wedding dress may have been dreamy, but purchasing it was far from glamorous. You see, like many other bargain-hunting brides, I bought my wedding dress on eBay.
I couldn't justify spending that amount of money on a dress I was only going to wear once.
The auction site wasn't my first port of call. I had been trying on wedding dresses for a couple of months, even though I knew I had already found one that was special. The dove gray White by Vera Wang Textured Organza Wedding Dress was actually the first dress I tried on, but deep down, I knew I couldn't afford it. I spent the next few months desperately trying to find something more affordable that I liked more than the one I had my heart set on.
I factored in inevitable alteration costs, and my budget just wouldn't stretch to four figures. Even if I had done some serious saving and penny-pinching, we all know that weddings are seriously expensive, and I couldn't justify spending that amount of money on a dress I was only going to wear once. I've never really believed in "The One" (when it comes to dresses or significant others), and I didn't want our wedding to be all about the dress. I was just as excited about our vows and the songs we'd picked for our ceremony. I couldn't wait for people to try the cake we'd picked and enjoy the menu we'd spent ages planning. The dress is a big part of the day, but it wasn't the be-all and end-all. Despite knowing this, I couldn't shake that Vera Wang dress.
So, I got resourceful. I set up a Google alert for the dress — a massive sign that I wasn't quite willing to give up hope. You know you've got it bad when you find yourself just staring at your computer on your lunch break waiting for the dress to pop up at a cheaper price or constructing elaborate trips so you might be able to buy it cheaper (not a cost-effective solution, I'll admit). After setting up the alert, I continued my search and tried on more dresses that were all "almost, but not quite."
A month or so later, my luck changed. A Google alert pinged into my inbox. The dress I'd been searching for was listed on eBay. Unworn, brand-new with tags (!) in my size, about an hour's drive away. Crucially, it was hundreds of pounds cheaper than what I'd pay buying it new. I pressed "contact seller" so quickly, I may have sprained my finger.
I saved hundreds of dollars buying my dress on eBay, and it really was the perfect choice.
The seller I dealt with was lovely and helpful and agreed to meet so I could see the dress in person. A week later I was standing in a stranger's house being zipped into a dress that I knew I was going to buy before I'd even looked in a mirror. I saved hundreds of dollars buying my dress on eBay, and it really was the perfect choice, but the actual purchase itself was nerve-racking. I was handing over a huge amount cash and it was very much a "no refunds" situation. Safety is a consideration, too. I would never have gone to a stranger's home alone; I made sure I had friends with me. I wouldn't have bought the dress without first trying it on — it's just too risky with that amount of cash — so I was glad to find a seller who was flexible.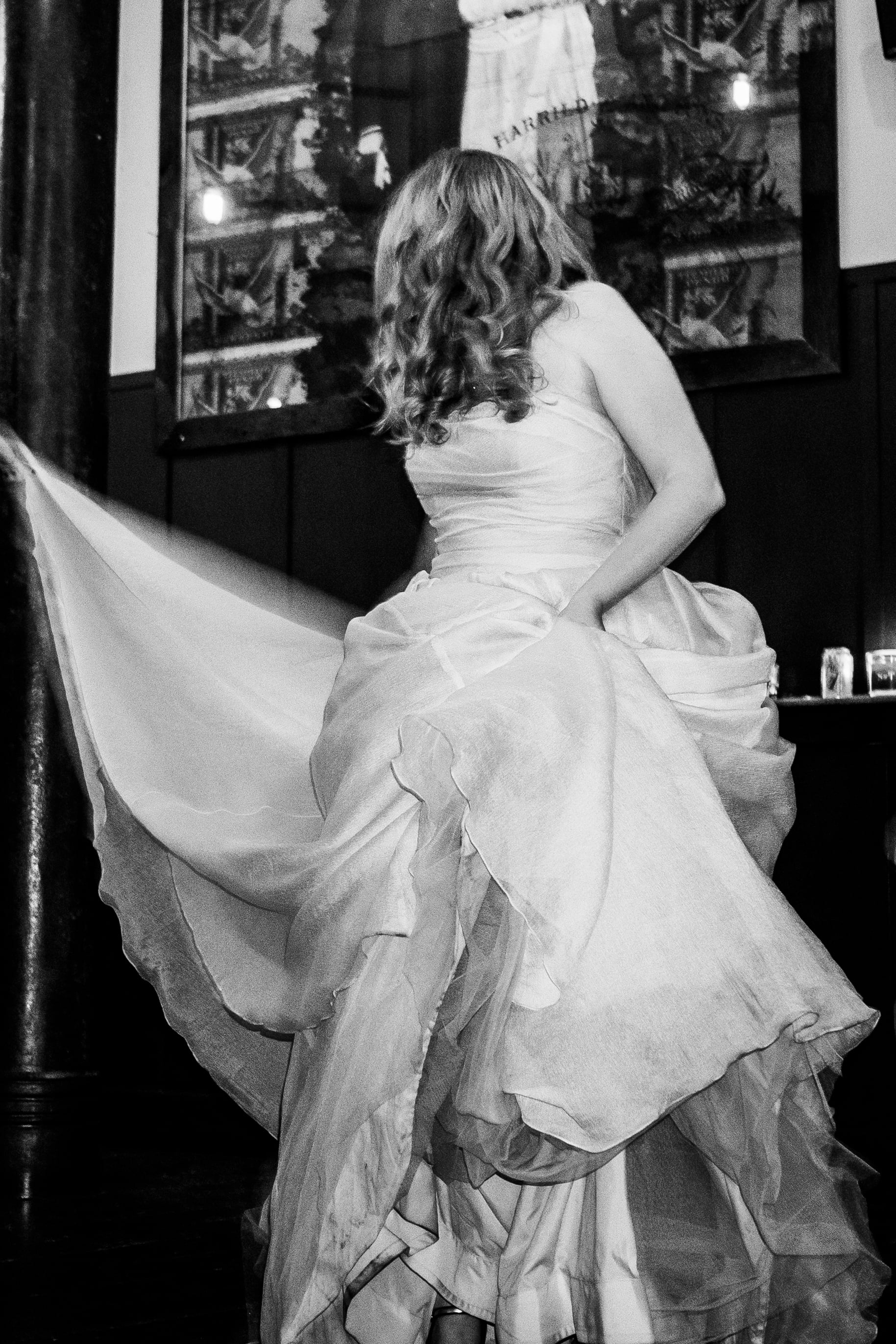 Image Source: Jess Love
There's also missing out on "the moment." That feeling when you step out of a changing room in a tasteful wedding boutique and say yes to the dress, surrounded by family or friends. I didn't get that feeling for a long time. I knew my dress would need altering to fit perfectly (they always do, unless you are a gazelle). I didn't really get that "wow" moment until about a year later, after it had been perfectly tailored to fit me like a glove.
Luckily, I'm all about the delayed gratification, and I knew that I was making the right choice. I got to walk down the aisle in a Vera Wang gown that I wouldn't have been able to afford otherwise, and it was the most perfect dress for me. Plus, I surprisingly loved the hunt to find it: just like my vintage engagement ring, it has a story behind it now, and I hope it'll become an heirloom. It's such a special dress, I'm delighted that I didn't give up until I found it.