Prepare to Swoon: 2021's Best Fashion Trends, as Demoed by BTS
Serious question: how does BTS manage to always get it right?
They seem to be preternaturally ahead of every trend. Case in point: every single major 2021 fashion aesthetic can be demonstrated by their massive library of content. From Weverse selfies to Twitter drops to live performances to Bangtan Bombs to high-concept music videos, the seven idols from Seoul are the most stylish people on the planet right now.
Don't believe me? Follow along, doubters, while your favorite ARMY editor (that's me!) proves that the best part of 2021 was BTS and their swoon-worthy style.
Dark Academia
This picture just offered to tutor me in the library after dinner until my GPA is 4.0.
For Festa 2021, BTS's annual anniversary celebration, the idols tried out a dark academia concept featuring dark tweeds, luxe corduroys, cozy sweater vests, rich suedes, and preppy ties all from Ralph Lauren. I must admit, I was fighting for my life when these pictures came out. The Bangtan men look so expensive and brilliant in their dark academia aesthetic that you can almost smell the old books and hear the crackling fireplace in the reading room of Gryffindor tower.
Cottagecore
Hello, I was not prepared for this drop.
To promote 'Permission to Dance,' (stream now for good credit and clear skin!), BTS dropped seven soft-focused vignettes featuring our favorites dressed in modest, white clothes while surrounded by dreamy nature. It was the cottagecore trend at its absolute most breathtaking.
Don't scroll away just yet, ARMY. Before you proceed to the next trend our Bangtan boys pulled off flawlessly, I need you to pause and watch every single member's promo from this concept. They're too good and too beautiful to be missed. Here are RM's, Jin's, SUGA's, j-hope's, Jimin's, V's, and Jungkook's versions.
Swoon on, besties.
Bucket Hats
The world caught up with BTS this year as the bucket hat trend reached full saturation. The members have worn the old-school accessory since their debut, but damn did they make us remember how cool bucket hats are this year with an endless onslaught of adorable selfies and boyfriend aesthetic pics.
Extra credit goes to j-hope for always managing to make the streetwear staple look somehow princely whenever he wears them.
Rodeowear
Dua Lipa, Beyoncé, and more stars were riding hard for the ultra-glam rodeo trend this year, but no one did it better than Bangtan. For their 'Permission to Dance' music video, the Seoul septet donned fringe, denim, bolo ties, bandanas, and (of course) cowboy hats. It was the yee-haw concept that launched a million Cowboy Bangtan fanfic because, really, who can resist j-hope in leather chaps?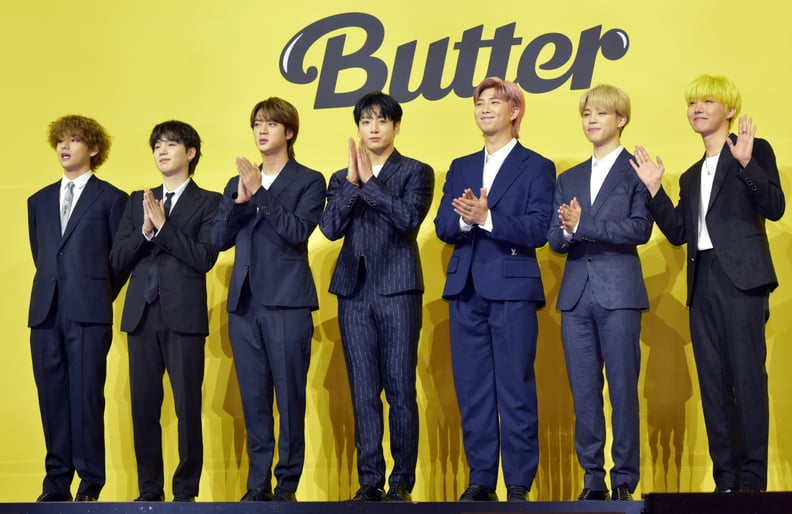 Return of the Power Suit
As the world began to mitigate the threat of COVID with vaccinations in 2021, employers began to safely roll out return-to-office plans which means a lot of us swapped out our sweatpants for business casual. Suiting was "in" again as we dressed for real life and not just for Zoom calls.
BTS also returned to suiting and appeared at the American Music Awards in Louis Vuitton power suits. The move was a multi-layered flex. Firstly, they all look gorgeous — Bangtan in suiting just hits differently, doesn't it? Secondly, check the label because this is your friendly reminder that the biggest band in the world are also Louis Vuitton ambassadors. Thirdly, this was their post-quarantine return to live performance as they basically turned the AMAs into a BTS concert by performing both "Butter" and "My Universe" alongside Coldplay. Finally, BTS picked up three huge awards that night: Favorite Pop Song, Favorite Pop Duo or Group, and Artist of the Year. Can't wait to see how they top it at the next year's AMAs.
The Rise of the Shacket
This year gave birth to a brand new word in our fashion vocabulary—and no one wore it better than Jeon Jungkook. The shacket, as the name suggests, is a combo shirt and jacket. The hybrid fashion item is the unisex layering piece all the cool kids were wearing in 2021. To wear it as well as BTS's golden maknae does, accessorize with an incredibly sexy eyebrow piercing, finger heart, and angelic voice.
Party Pants
In 2020, we only had to get half-dressed. For a lot of us, our social lives and work lives pivoted from in-person interactions to Zoom calls. It was the birth of above-the-waist only dressing. 2021 was a (timid) return to normalcy and with that came the return to below-the-waist dressing. It turns out, people really missed wearing fun pants and a glamorous trend was born. Pants were bold, party-ready, and super fun.
I may be biased (pun intended) but Kim Namjoon was the best example of 2021's party pants trend. The handsome rapper and leader of BTS wore a saturated look from Berluti's fall line while cutely swaying to his verse from 'Permission to Dance'.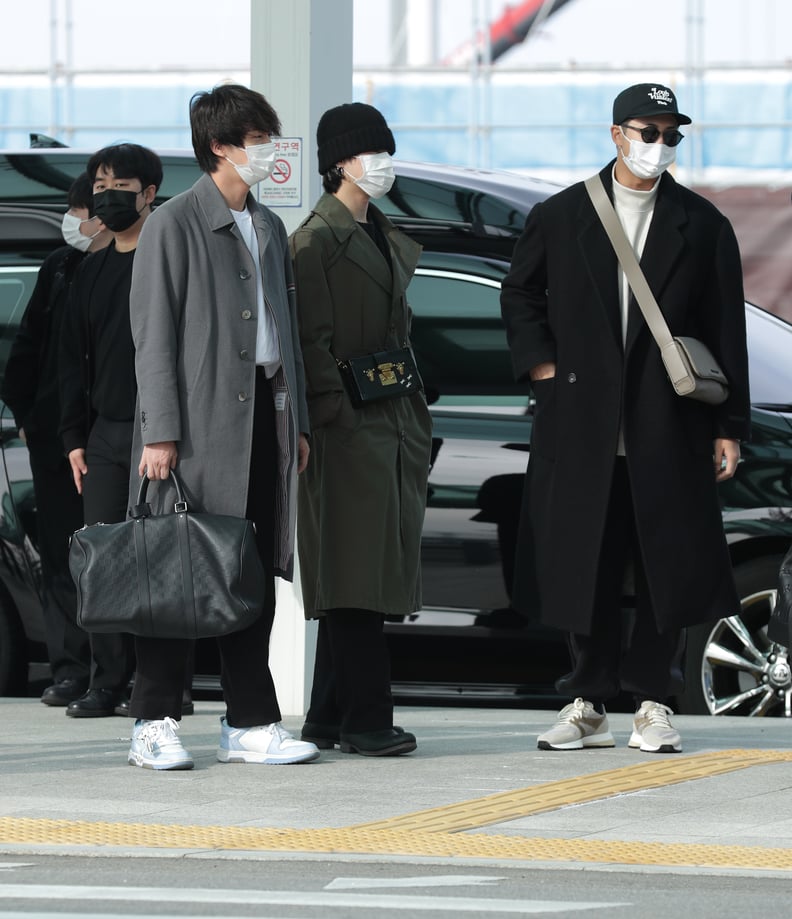 Status Symbol Sneakers