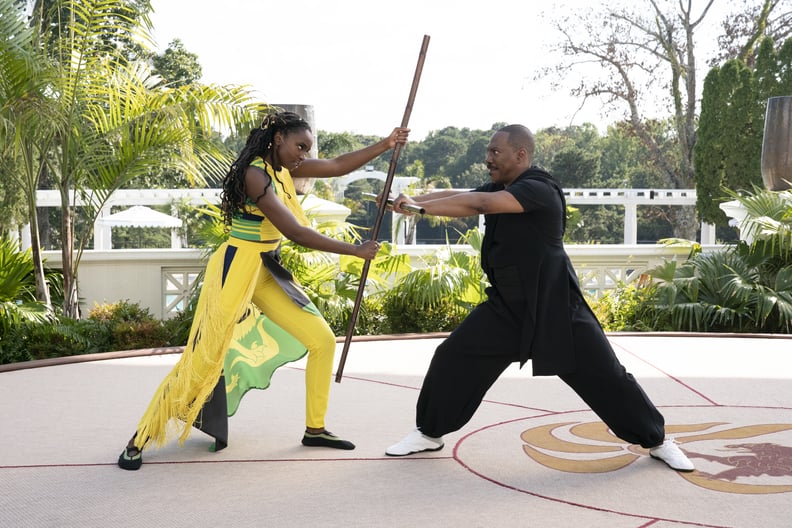 Amazon Studios
Coming 2 America, the highly anticipated follow-up to the Eddie Murphy-Arsenio Hall classic, opens just like the original. As viewers, we're immediately transported to the grandiose and opulent Zamunda, a feat achieved thanks largely to the costumes, thoughtfully reimagined by Oscar-winning costume designer Ruth E. Carter. The cult-favorite film, which broke box office records when it premiered in 1988, is a study in visual splendor when it comes to the wardrobe, from Prince Akeem's draped furs to Lisa's pink royal wedding dress, not to mention hilarious as hell — who could forget Murphy's goofy, Scottish-inspired McDowell's uniform, complete with a red tartan vest and matching tam-o'-shanter hat?
Fans of the first movie will be pleased to know that many of the outfits, as well as the characters wearing them, make a triumphant return in the sequel, while others are reworked to feel decidedly more modern and African, including the aforementioned McDowell's looks. For Carter, crafting the wardrobe of the new Zamunda required making hundreds of costumes, with several options for each principal actor, including exact replicas of memorable looks, like the lady-in-waiting's shimmery gold dress (spoiler alert: Sheila Johnson is back, and, yes, she's still barking like a dog and hopping on one leg).
POPSUGAR spoke to Carter, who's designed costumes for Malcolm X and Black Panther, about what it was like dressing the stars of the exciting new release.
POPSUGAR: How does the style in this film differ from the first?
Ruth E. Carter: The first [film] had such grandeur — it was shot like a big Hollywood movie. When we came into the palace, we saw the opulent dresses, the tuxedos, the way the men stood with their envelope caps and sashes . . . that is signature Coming to America; I wanted to maintain that. At the time, we didn't see much of that from Africa; we weren't even sure how authentic it was, but we loved it. The lion on the shoulder, Akeem in the Mets jacket — those were iconic images. I went through and picked out the things that I needed to move into the new movie. I even found some dresses from that ballroom scene in a rental house. And we created our own new-style Zamunda looks, too, because I wanted to replicate the headdresses and big, full dresses, but in a way that was uniquely ours. We made some of the same silhouettes with more modern fabrics and treatments.
PS: So you repeated exact outfits?
RC: Oh yes. We screen-grabbed them so we could copy them exactly. We duplicated all of [Murphy's] "I Love NY" buttons and [his] cap in the same way. In the flashback sequence, when [Murphy and Hall] are in the nightclub, we used stock footage of Arsenio entering the club and re-created his whole outfit. You can't buy that jacket; that fabric is no longer around. That whole scene was spliced together, but I think it was very successful.
"I wanted [Zamunda] to be a place you'd want to go and visit and shop and explore, because the people were so vibrant and interesting."
PS: Sheila Johnson's gold dress was re-created to a tee as well.
RC: We did a ton of work looking at the images of that dress and even commissioned a jeweler who specialized in illusion-style dresses, where you have a lot of sheer spaces and strategically placed beading. We identified the shape of each gem and made a complete replica of what she wore in the first film.
PS: Were Teyana Taylor's looks meant to be an homage to the lady in waiting?
RC: We made her some cool Shiraki military costumes, but for the big prince number, we created that costume from scratch. I was inspired by Afropunk and steampunk for her bodice, and the boots and cape were designed to be the big reveal.
PS: What were some of your other inspirations for creating the wardrobe?
RC: I was inspired by modern African fashion: the bright, brilliant colors of Ozwald Boateng suits and the Ankara fabrics that are used so prevalently in celebrations. My mood boards featured a lot of modern takes on African style, as well as images of Egyptian royalty. I wanted to bring a lot of gold and opulence into the story, so I gave it permission to be very blingy and showy. I wanted [Zamunda] to be a place you'd want to go and visit and shop and explore, because the people were so vibrant and interesting.
PS: As a Black creator, can you speak to the importance of sourcing Black designers for this particular movie?
RC: Because this was a continuation film as opposed to a remake, I wanted to move it through time by honoring the first movie while giving people another view of Coming to America. I had pieces made by artisans all over the world, from east India to New York. For me, traveling to Maxhosa in South Africa to dress the palace servants was representation that was necessary and beautiful — the prints you see on the staff really colored the palace.
PS: What are the differences, if any, between the fashion of Zamunda vs. Wakanda?
RC: When I did [the costumes for] Wakanda, I was very clear that it was not Coming to America. Wakanda is a world that was built prior to colonization, so I wanted to present a tribal view. Most people don't know how to get to Wakanda. You can [theoretically] go to Zamunda and have a great time and buy some Ankara and see all of the colors and people and fabrics.
PS: Were there any hidden Easter eggs in the costumes?
RC: Randy Watson's jumpsuit was based on Elvis, because I knew that Eddie loved Elvis. I showed [Eddie] a picture of a jumpsuit Elvis wore late in his life, and we patterned the Randy Watson jumpsuit after it.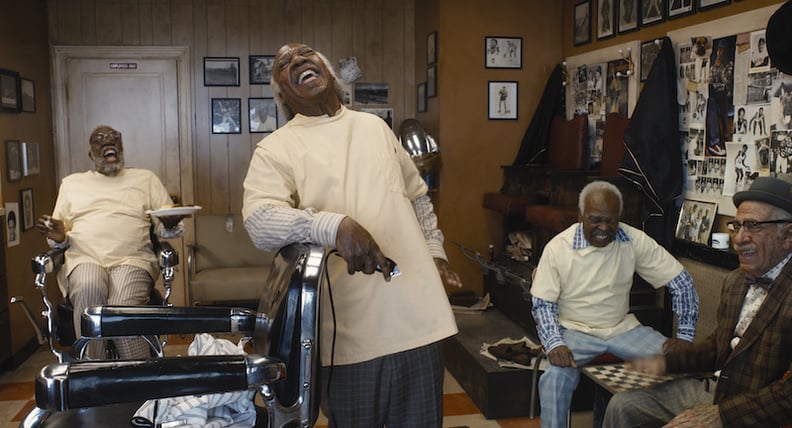 PS: Which were your favorite characters to dress?
RC: Definitely the barbershop guys. When Eddie came out of makeup as the old Jewish guy, I thought, "OK, I can check that box." I was having a moment. He was looking over at us, walking like the old guy, and it just blew my mind. Old people don't throw anything away, so we [dressed him in] some really old shoes and polyester pants and went vintage with his shirt, a little bit on the '70s side. It was very similar to how he looked in the first movie.
PS: How did you distinguish between the new and old Queens aesthetic?
RC: The cornermen were steadfast — they didn't change. Every once in a while, you'll go into a neighborhood and there's a Starbucks and a Gap and all these new places, but then there's one place that's the same. It was important to the story that the energy of Queens had changed, but the people that we know and love are still alive and well.
It was important to the story that the energy of Queens had changed, but the people that we know and love are still alive and well.
PS: Where did you source the jewelry? KiKi Layne looks amazing in the movie.
RC: I used a lot of jewelry designers: Appetite Of A Millionaire, Laurel DeWitt, Loza Maléombho . . . everything was custom-made. I have a list of about 40 different African designers and jewelers that we went out to. Sewit Sium did [Layne's] nose ring and Nefertiti earrings. It was KiKi's idea to have the nose septum ring that she wears. She wanted her jewelry to be very unique.
PS: Did you create any merch with Akeem's face on it?
RC: We did! We also had some agbadas, the celebratory African drapes with prints of their leaders. We put Akeem's face on several things: flags, T-shirts. We just can't sell them afterwards, because they have Eddie Murphy's face on them. [Laughs]
PS: You did however design a limited-edition bottle of Crown Royal ($25), which will be available to purchase.
RC: I immediately knew that I wanted to dress the box in a royal print with a 3D-printed lion head in the center. We also used the tribal print from Akeem's tapestry to create the pouch that the bottle is encased in. That's a collector's item!
Read on to see some of our favorite stills from Coming 2 America, playing at select drive-ins and streaming globally on Amazon Prime Video beginning March 5.
This interview has been edited and condensed for clarity.