Melania Trump's 10 Most Expensive Looks That Everybody Still Talks About
Melania Trump's outfits are often packed with controversy, and sometimes the buzz builds around the price tag. The FLOTUS is responsible for financing her own wardrobe, which she often curates with the help of stylist Hervé Pierre. While many first ladies have been prone to criticism about their way of dress, it's possible Melania doesn't mind the attention. This we can insinuate by her willingness to wear neon pink, rainbow python stilettos, and, yup, a 3D floral coat that cost $51,000. Ahead, we've broken down Melania's 10 most expensive looks that were widely discussed, building up to the priciest item one by one.
01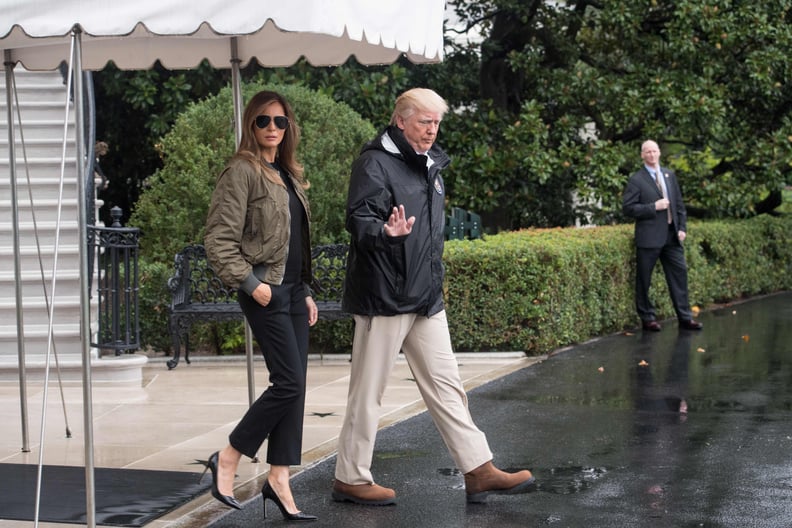 Melania's Manolo Blahnik Heels
Price: $595 (available at Neiman Marcus)
Where She Wore Them: Departing for Texas for the first time to visit victims of Hurricane Harvey on August 29, 2017.
Why They Stood Out: While Melania has slipped into pricier shoes for sure, many people were outraged that the FLOTUS would wear a designer item like this one when so many families lost their belongings in the storm. What's more, these shoes aren't exactly practical for walking through a devastated area. Manolo Blahnik weighed in on the controversy, telling Harper's Bazaar UK, "I think probably she could have worn Hunter boots but she was wearing what she was wearing. I'm not good at advising people on what to wear because they wear what they want to."
02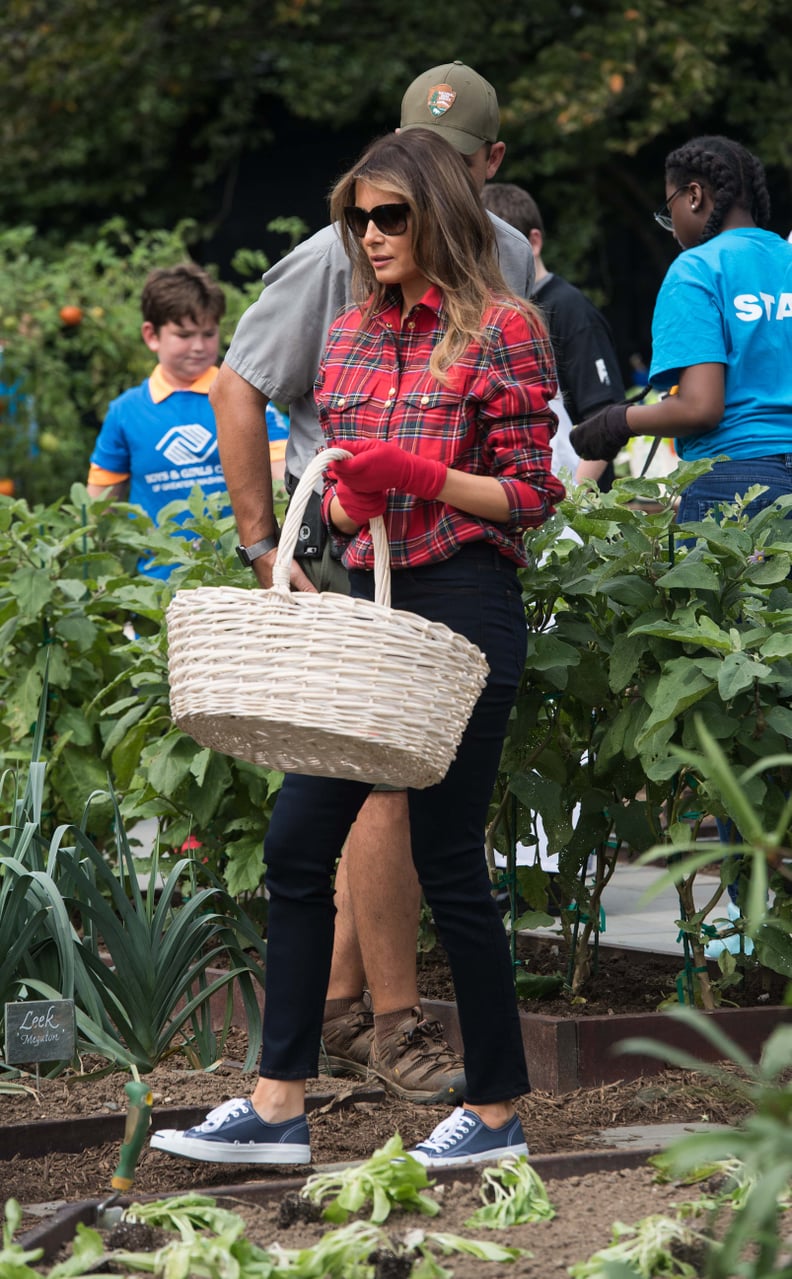 Melania's Balmain Gardening Shirt
Price: $1,380 (available at Net-a-Porter)
Where She Wore It: For her first public visit to the White House Garden, where she hosted local school children in September 2017.
Why It Stood Out: Many people compared Melania's outfit choice to those of former FLOTUS Michelle Obama's. While Melania's top definitely appeared outdoorsy, Michelle tended to wear more casual pieces, such as leggings and J.Crew tees, while promoting her Let's Move! campaign in the garden. These looks surely would have been more affordable. Melania's outfit was finished with jeans, Dolce & Gabbana sunglasses, and Converse sneakers.
03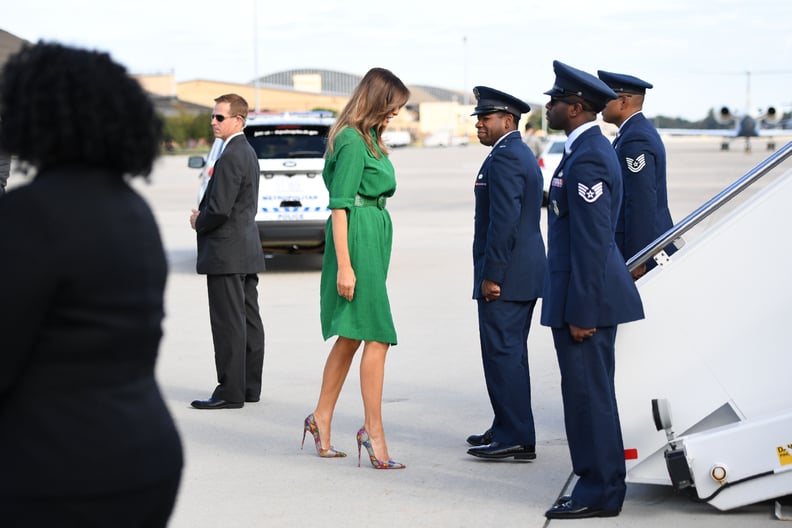 Melania's Christian Louboutin Multi Python Pumps
04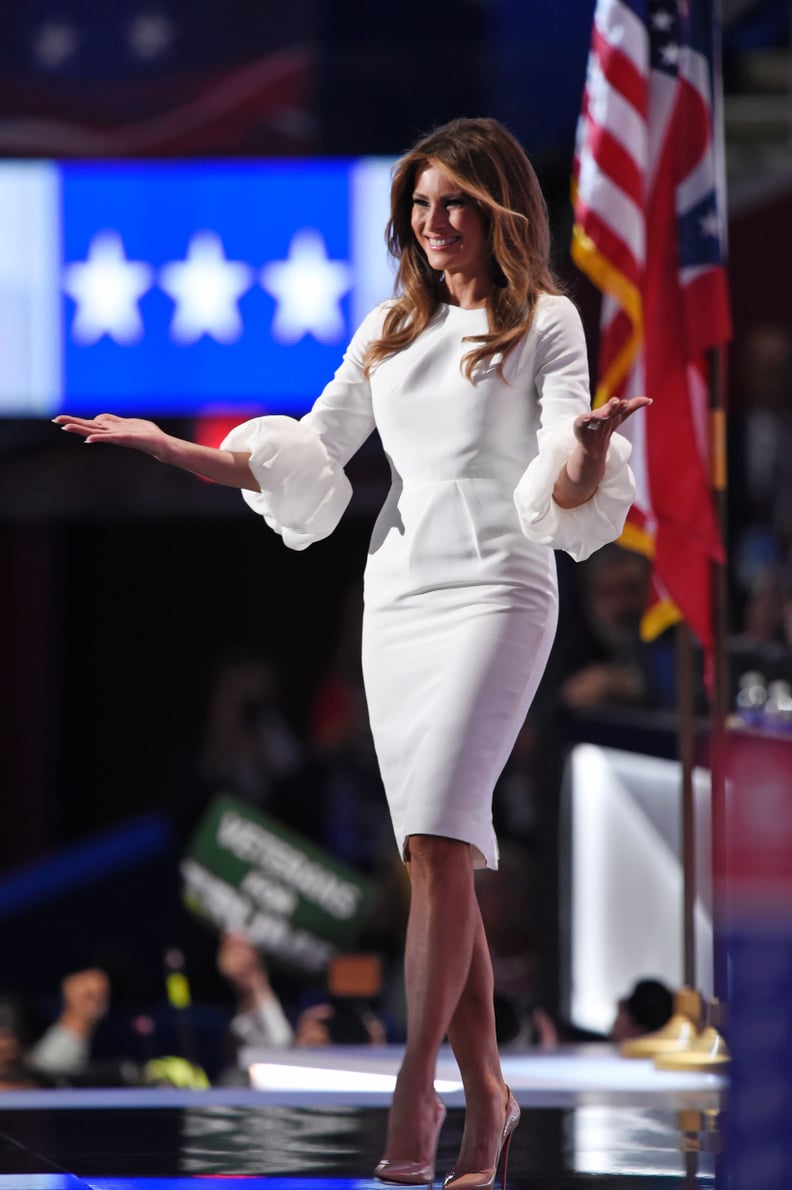 Melania's RNC Roksanda Dress
Price: $2,275 (available at Net-a-Porter)
Where She Wore It: To the 2016 RNC in Ohio on July 18, 2016.
Why It Stood Out: Melania wore this dress to give a speech that she was later recognized as plagiarism from Michelle Obama's 2008 Democratic National Convention. Since all eyes were on Melania, many women were obviously struck by her dress, and the piece quickly sold out. Former FLOTUS Michelle Obama also wore many Roksanda looks during her time in the White House, and we surfaced a few examples.
05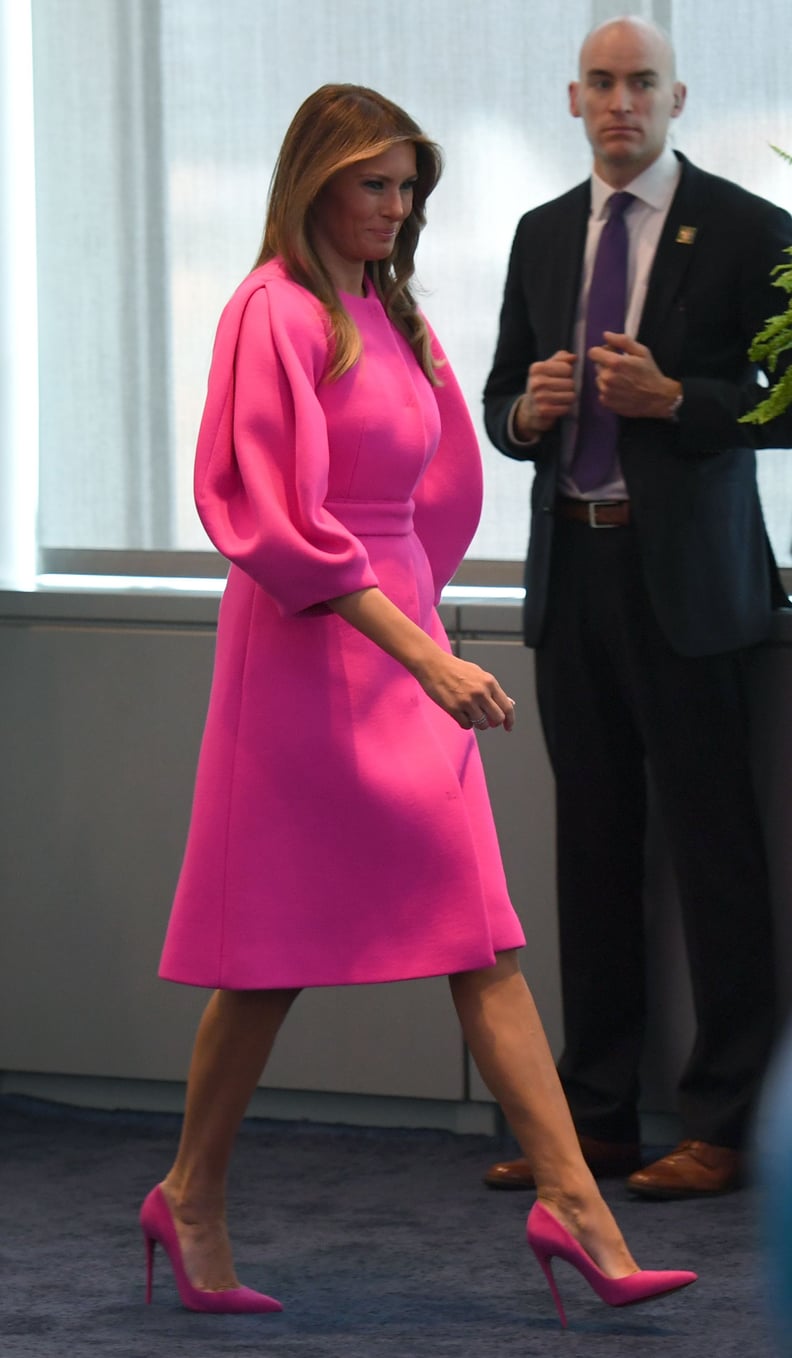 Melania's Pink Delpozo Dress
Price: $2,950 from the brand's Pre-Fall '17 collection
Where She Wore It: To give a speech on bullying to world leaders at her first United Nations appearance in September 2017.
Why It Stood Out: Melania's look was definitely interesting in silhouette — Delpozo is an avant-garde brand that offers many artsy pieces like this one — but it was also neon pink. Many Twitter users commented that they felt distracted from the FLOTUS's speech, and the moment became more about a fashion statement than an important message.
06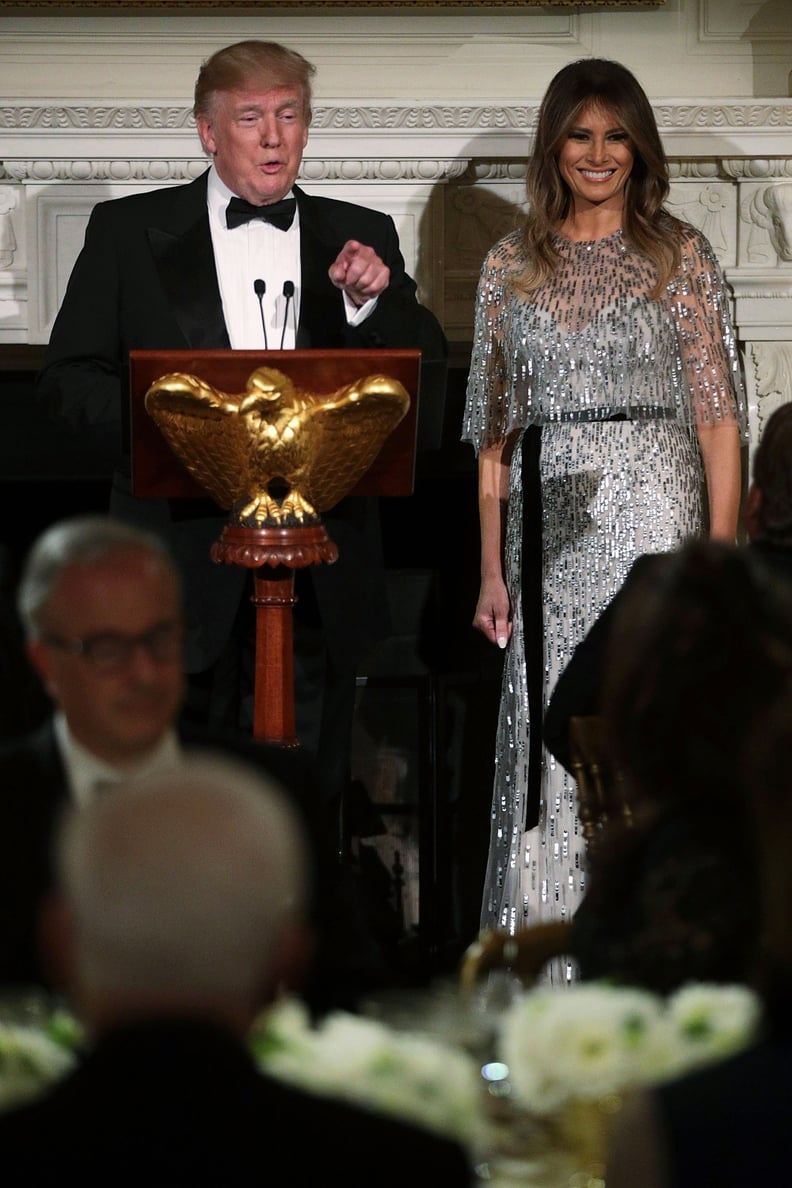 Melania's Monique Lhuillier Gown
Price: $7,995 (available at Bergdorf Goodman)
Where She Wore It: at a White House Historical Association reception in the State Dining Room on September 14, 2017.
Why It Stood Out: It wasn't exactly surprising to find Melania in this sequined capelet gown. The FLOTUS routinely selects floor-length designs that shine at fancy events. This was one of her more glamorous outfits, though — and the $8K price tag made it seem particularly red carpet worthy.
07
Melania's Michael Kors Collection Congress Suit
Price: $4,995 for the dinner jacket and $4,995 for the embroidered skirt (available at Michael Kors)
Where She Wore It: To President Trump's address at a joint session of congress in February 2017.
Why It Stood Out: At first, many people commented on the fact that all the flashy bead work was inappropriate for an appearance at congress, but this was also an occasion when Democratic women united in white to support women's rights. Melania shopped for the separates herself, and Michael Kors released the following statement: "Mrs. Trump has been a longtime client at our New York boutique. She has a keen understanding of what works best for her and her lifestyle."
08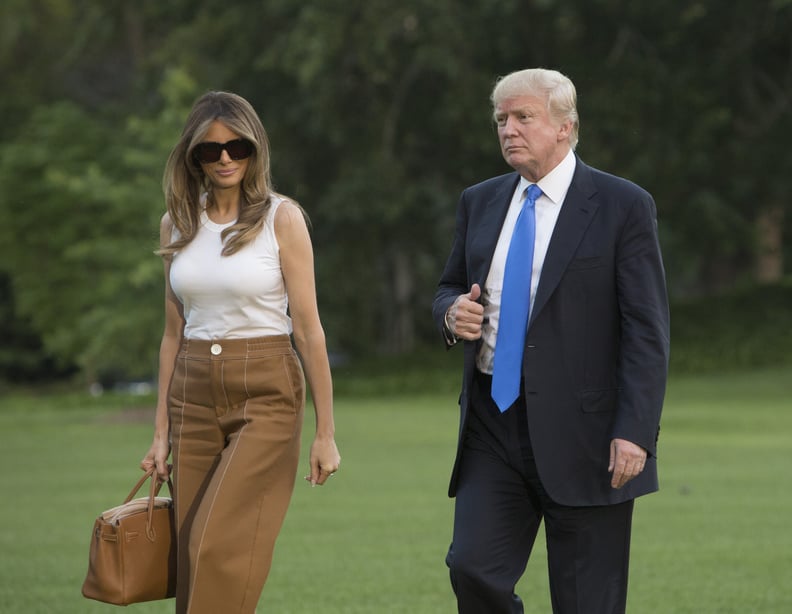 Melania's Cognac Hermès Birkin Bag
Price: Estimated $13,461
Where She Wore It: Arriving to the White House on June 11, 2017.
Why It Stood Out: Melania's total look appeared sophisticated, but significantly luxurious when she touched down in Washington, D.C. for her official move-in day. Melania also wore Bally pants that rang in over $1,000, a white Dolce & Gabbana tank, and Manolo Blahnik shoes.
09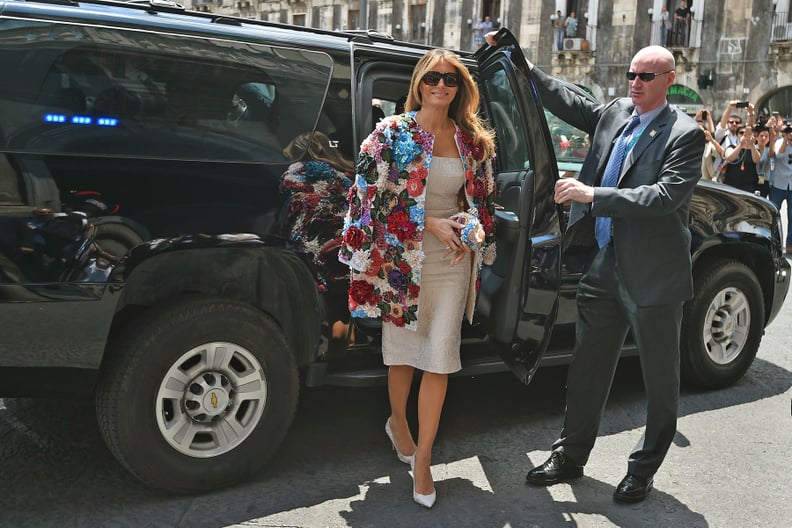 Melania's Dolce & Gabbana 3D Coat
Price: $51,500 (sold out at Moda Operandi)
Where She Wore It: In Sicily Italy, at the G7 Summit in May 2017.
Why It Stood Out: The price of Melania's coat alone was more than the Average American makes in a year. With such standout elements and 3D floral appliqué, the appearance of the jacket nor the price tag could be ignored.
10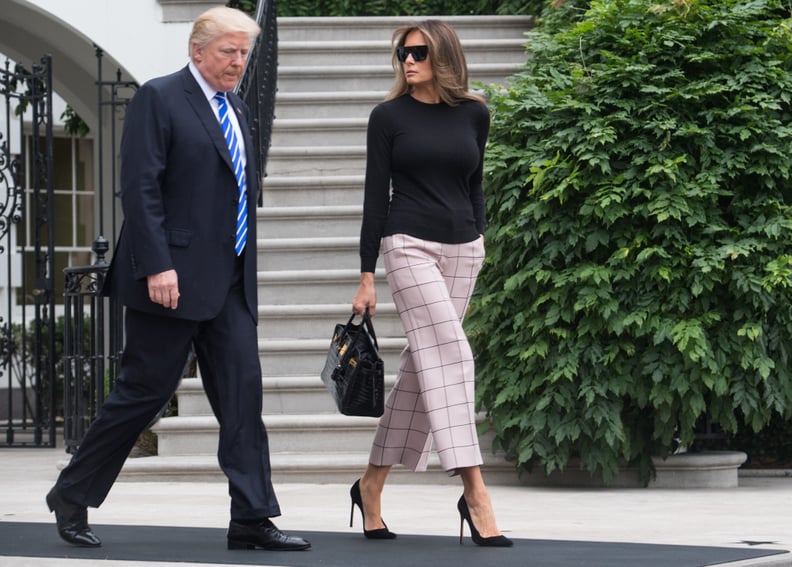 Melania's Crocodile Hermès Birkin Bag
Price: Estimated $75,000
Where She Wore It: Departing for her trip to Poland and Germany in July 2017.
Why It Stood Out: While many buzzed about Melania's simpler Birkin tote, a sleek crocodile version comes with a much heftier price tag. Melania styled the piece with checked Valentino trousers that retail for $1,790, Manolo Blahnik pumps, and her signature visor-top sunglasses.