It's clear from the way Emily in Paris costume designer Marylin Fitoussi lights up when I mention Mindy Chen that she is the standout style star of season two. Gawk as you will at Emily's bold print mixing, Julien's vibrant pantsuits, and Camille's chic brand of nonchalance, but there is no denying Mindy's energy and presence on screen.
Played by the talented Ashley Park, the role of Mindy relies heavily on her performances and, therefore, her performance outfits. They're all a product of collaboration between Fitoussi and Park, who have loads of fun in their fittings. "We call her Sparkling Mindy or Sparkling Ashley," Fitoussi told me, ready and willing to dish details on each and every memorable look — like that neon Oscar de la Renta dress she wears to Emily's birthday party in episode three (it was an archived sample size that Fitoussi found online and recut because she knew it was The One, though she now playfully refers to it as the nightmare dress). Then there's the half-man, half-woman costume she wears in scene one, an artful masterpiece created thoughtfully by The Blonds and fitted on Park via Zoom.
Fitoussi marveled at how easily Park slips into character once she is dressed in her over-the-top, larger-than-life clothes, explaining, "She has her own style in normal life, but when she's in character, she is ready to do anything." Ahead, Fitoussi broke down every element there is to curating Mindy Chen's wardrobe on Emily in Paris.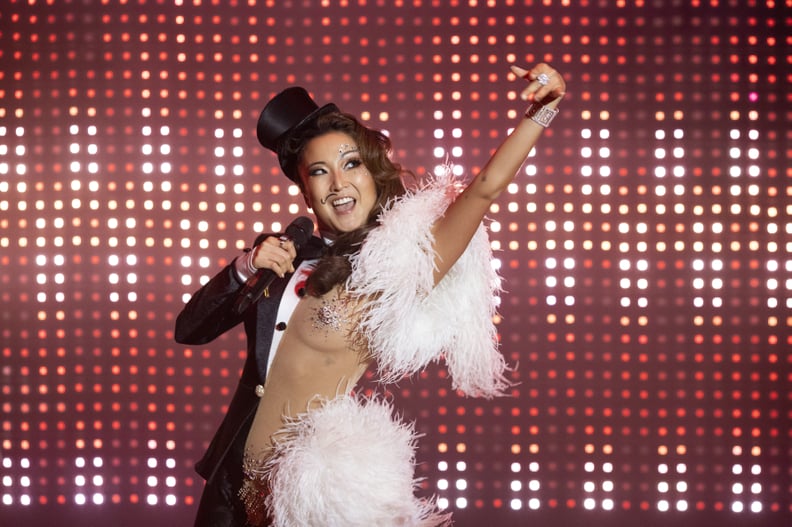 Mindy's Performance Look by The Blonds
"When I read the script and discovered Mindy needed to have an outfit consisting of both man and woman, Ashley was in New York. For 10 years, I had been dreaming to work with The Blonds. I love them and love what they're designing. I begged them, 'Please, can you do something for me?' We had one week before Ashley was coming to Paris and she needed to bring the outfit in her suitcase. So we did a fitting via Zoom. It was the first time I'd ever done a fitting that way."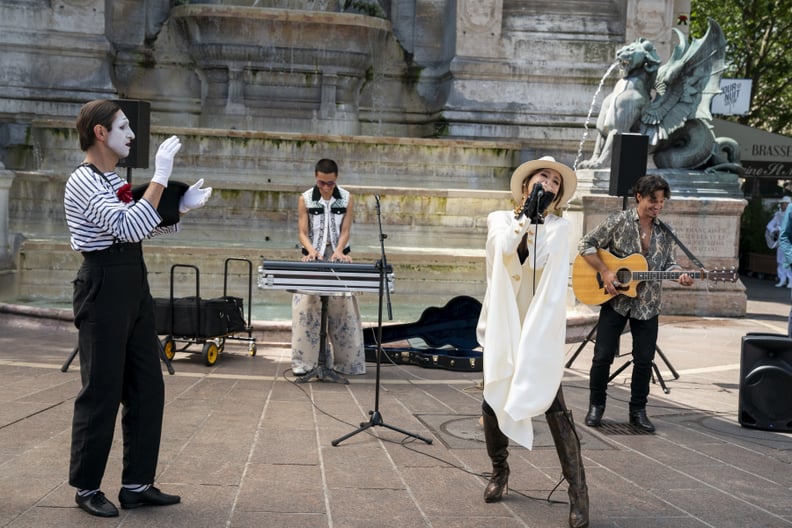 Mindy's White Cape
"I decided to dress her like a heroine; a superhero in a cape. Of course, she was performing. I was allowed to design things that are a bit bigger than life, because when people are singing in the street, they are also eccentric."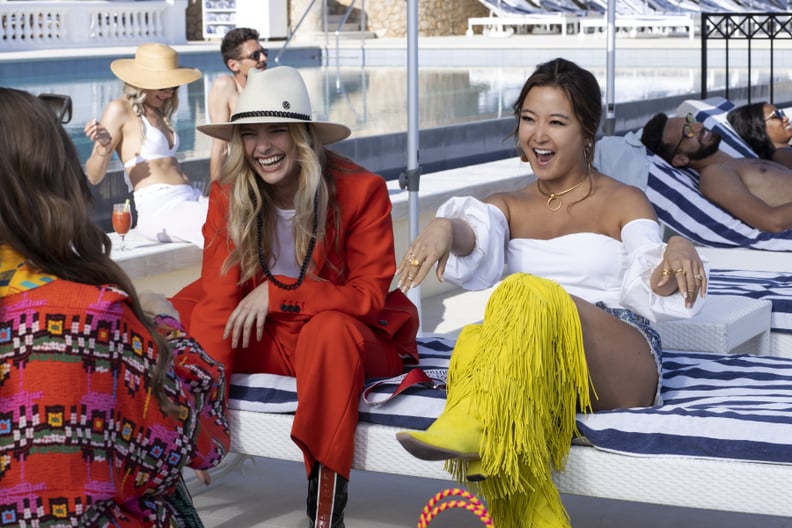 Mindy's Shoes
Above: Mindy wears yellow fringe over-the-knee boots by Roger Vivier.
"Ashley is used to wearing heels all the time in her normal life. But when she's dressed as Mindy, she's not walking the same way. I'm always looking and thinking, 'It's crazy — something happens here.' I think it's that to be an actor, you're completely emerging in your own character."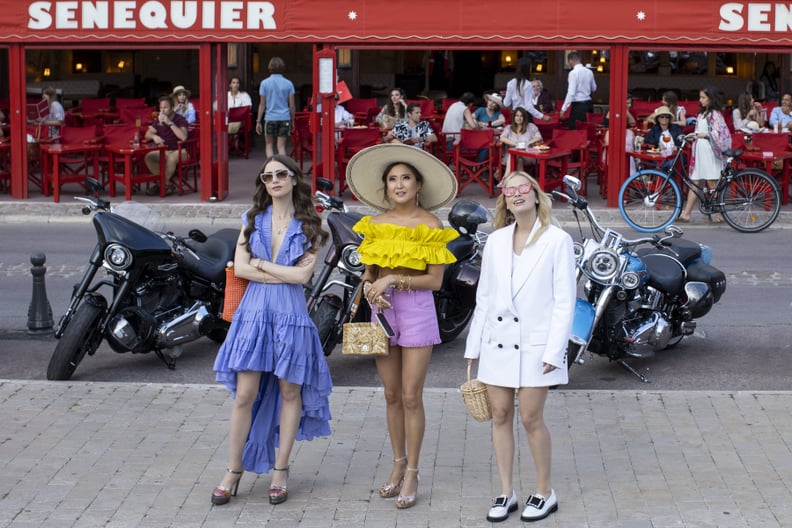 Mindy's Shorts
Above: Mindy wears MSGM fringed shorts and a ruffled top.
"Ashley always says, 'OK, OK, I know, Marilyn, you want to put me in shorts.' And I say, 'It's your fault!' When I need to put her in trousers or something to cover her legs, I'm crying, because I'm dreaming to have the legs that she has."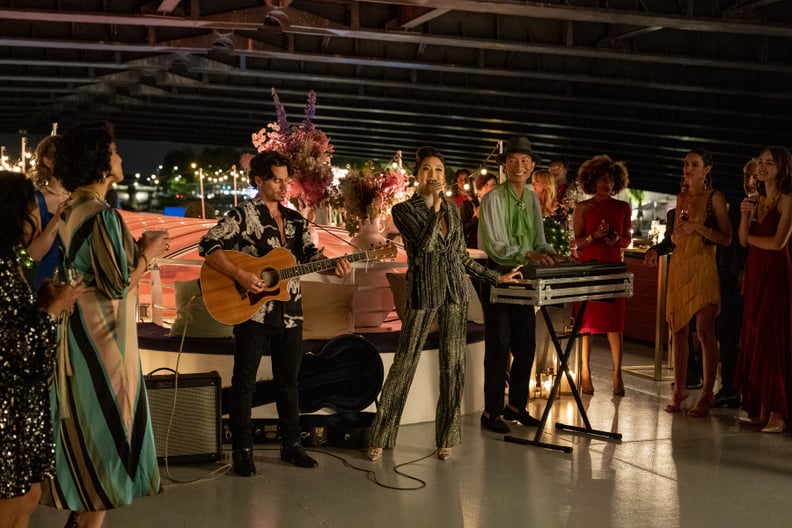 Mindy's Pantsuit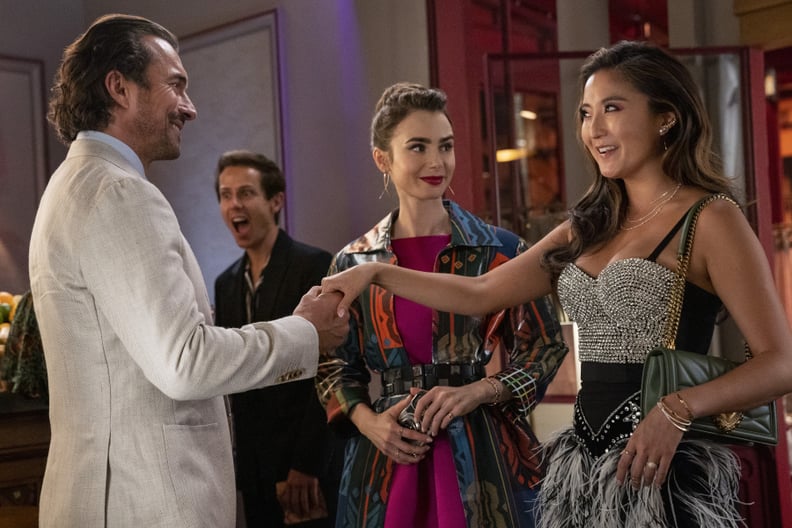 Mindy's Crystal-Studded Bustier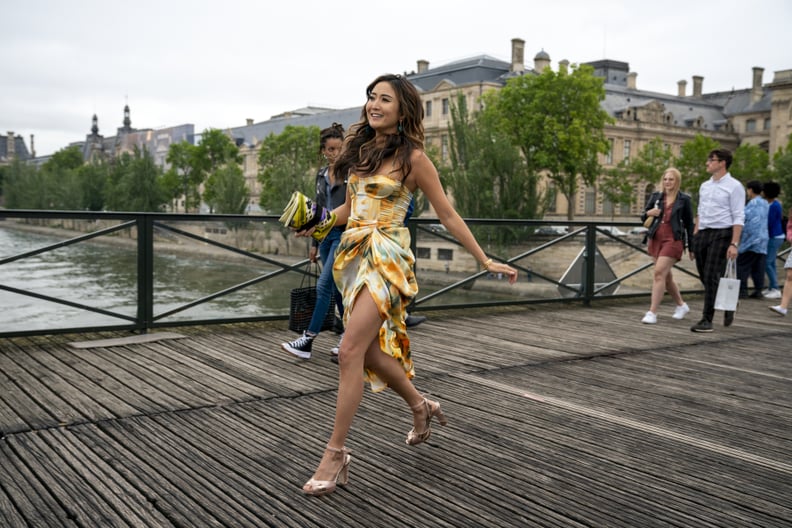 Mindy's PrettyLittleThing Dress
Mindy wears this PrettyLittleThing acid-wash bustier and skirt set, which currently retails for less than $50, to perform with Benoit. She mixes prints with her envelope clutch and stands tall in the same Terry de Havilland glitter bolt platforms she also wears in St.-Tropez during episode two.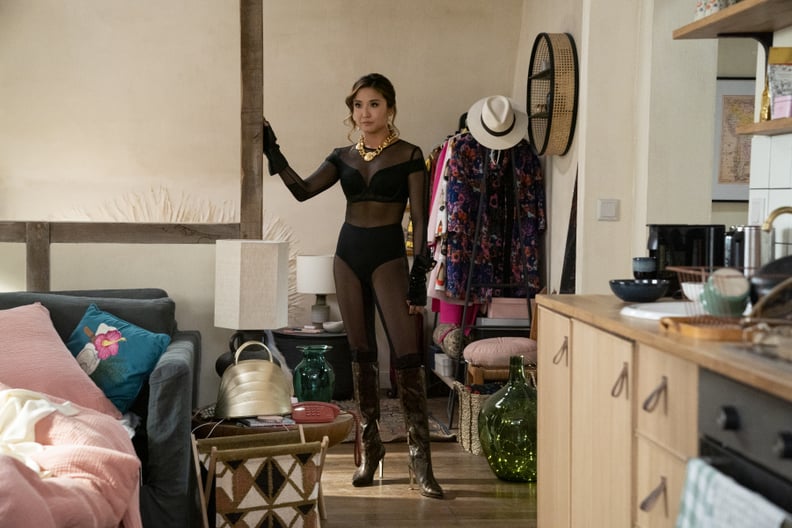 Mindy's Confidence
"To me, Mindy's very sexy, confident, and powerful. She knows exactly what she wants. She has a tremendous body and beautiful legs, so I always try to show them off."