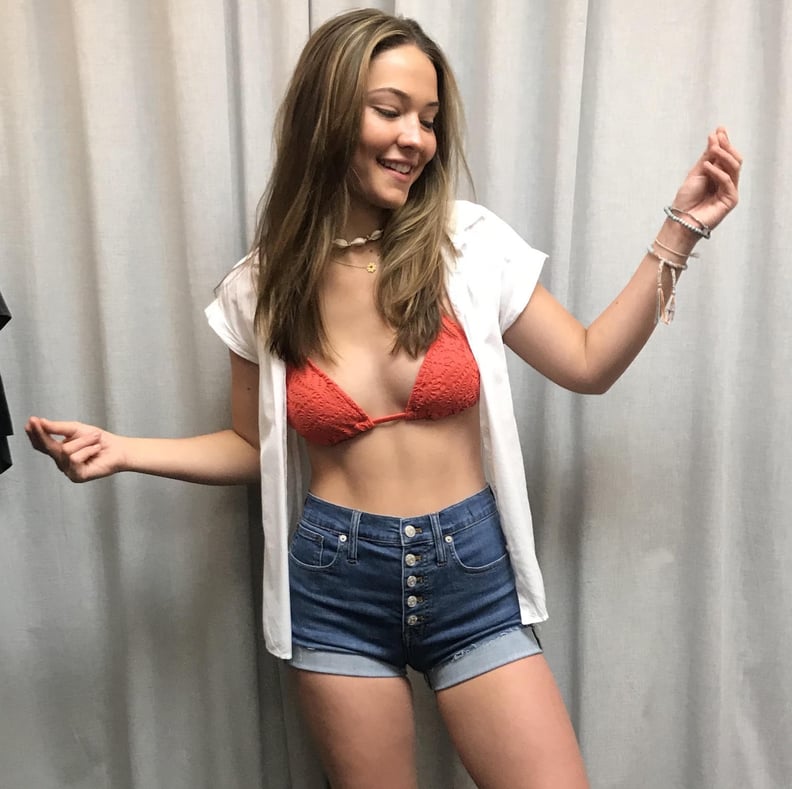 Courtesy of Emmie Holmes
"[A sanding block is] going to be your number-one tool in achieving pogue style!"
But Holmes is so awesome that she also graces her fans with tried-and-true advice for how she created the mood while shooting, which she refers to as "a little surfer, a little southern, a dash of hippie (especially if Kiara is your girl), and a whole lot of wear and tear."
Holmes has encouraged followers of the show to pick up sanding blocks to distress their clothing — "it's going to be your number-one tool in achieving pogue style!" — and is giving POPSUGAR readers a behind-the-scenes look at some of her favorite fittings with the cast, along with plenty more little-known facts about the show. "The pogue look is vary attainable. Hunt for funky John B-inspired shirts at your local thrift stores. Don't be afraid of sale racks and bargain bins because it's all in how you piece it together," she says.
Ahead, you'll find never-before-seen images from Holmes's own camera roll and get a full rundown on some of the most iconic outfit details in season one — now let's just pray for season two. Our wardrobes could definitely use the inspo.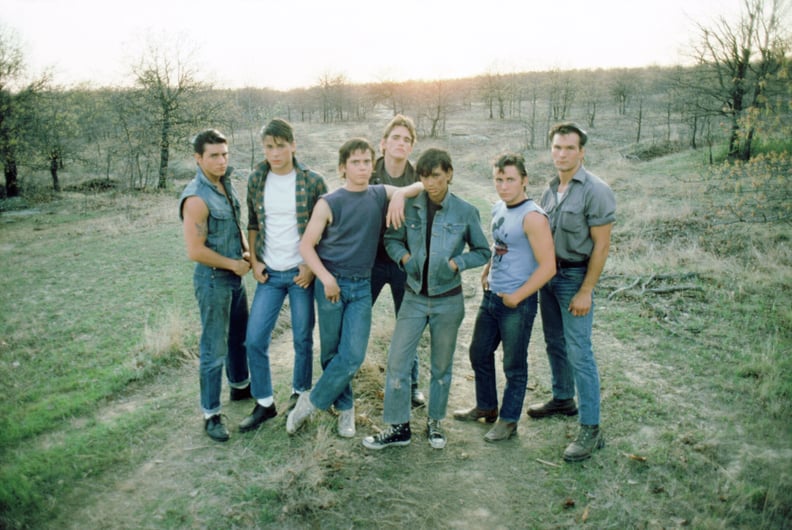 The Outer Banks Style Icons and Inspiration
"The Pate Brothers and Shannon Burke, who all created our show, had an idea that the pogues would be today's version of The Outsiders. And let's call the kids of the real Outer Banks style icons now, because I definitely studied the locals to come up with how I'd merge The Outsiders and the surfers of North Carolina into an interesting new world. We shopped a lot of local surf shops and boutiques, as well as Duvin, Katin, Vissla, Billabong, and PacSun. A chunk of t-shirts, especially JJ's, were designed in house with the help of our graphic designer, and then screen-printed locally."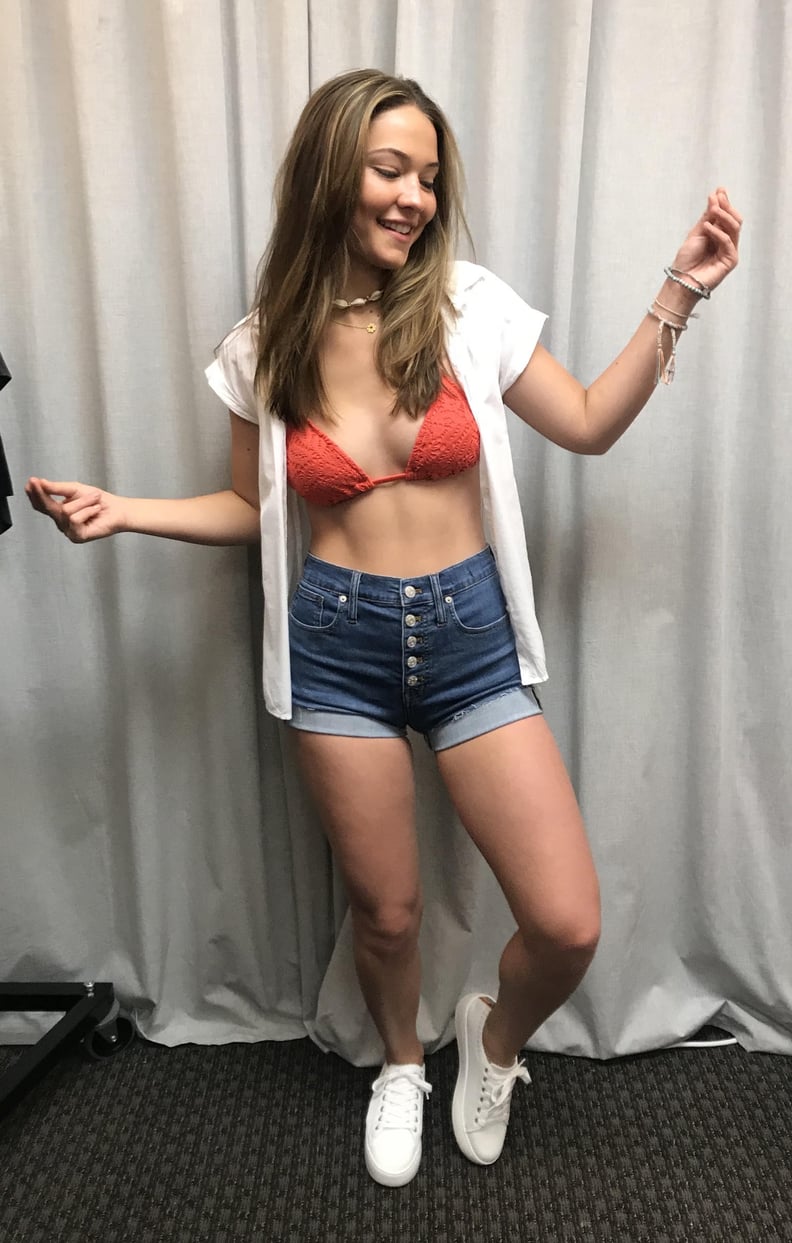 Madelyn Cline (aka Sarah Cameron's) First Fitting For Outer Banks
"She's an absolute riot. We have so much playing dress up with Sarah Cameron's style. This is one of the first shots I ever took of her, wearing 'Episode 1, Change 1.' You can see what a blast she was having creating this character's look. We did end up ditching the shirt on the day, because it was so hot outside, and changing the necklaces to sparklier ones. The star choker she ended up wearing has become really popular with our fans, so I'd say that was a good move!"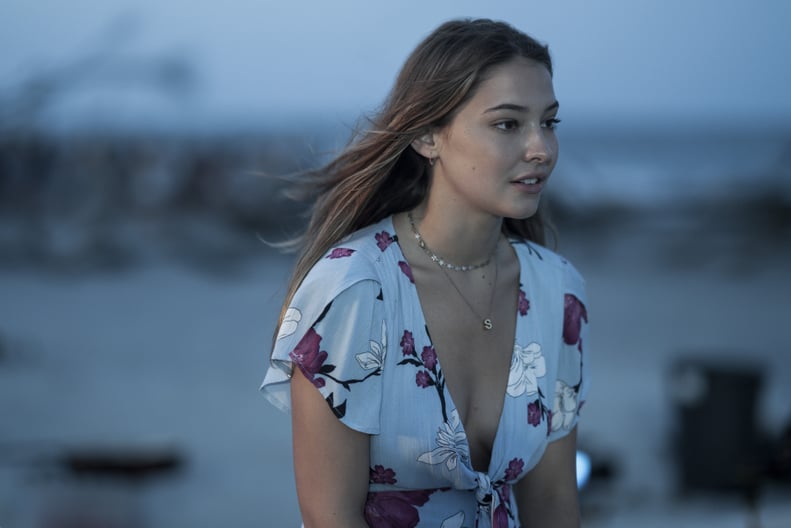 Sarah Cameron's Star Choker Necklace
The Star Choker that Sarah wears throughout the show is from Snaffle Bit Bracelet Co. and retails for $54.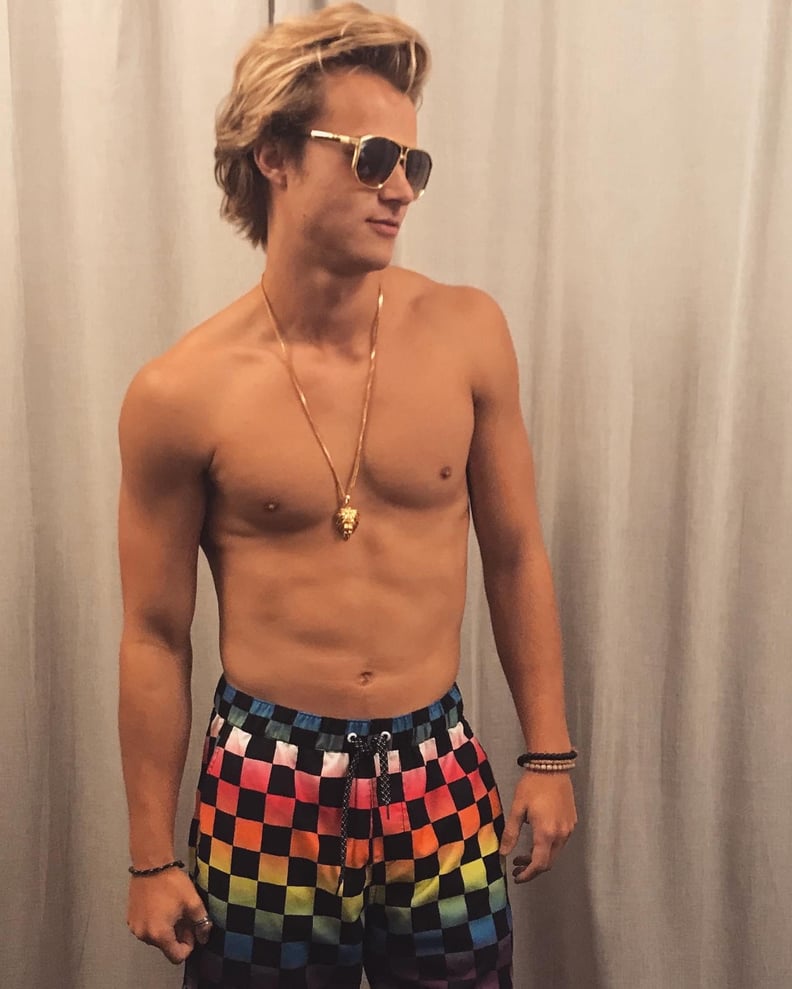 JJ's Rainbow Checked Swimsuit
"I have two [favorite swimsuit moments from the show]. The green gingham Montce swimsuit that Sarah Cameron wears on the boat with Topper is my personal favorite kook moment. And then JJ's multicolored check swimsuit from the hot tub scene . . . I've never laughed so hard in a fitting in all my career. JD (Pope) and his dad were there for the moment, too. It was a family affair! We named the look 'Charlotte Motor Speedway.' If you are familiar with North Carolina, then you'll definitely understand the vibe."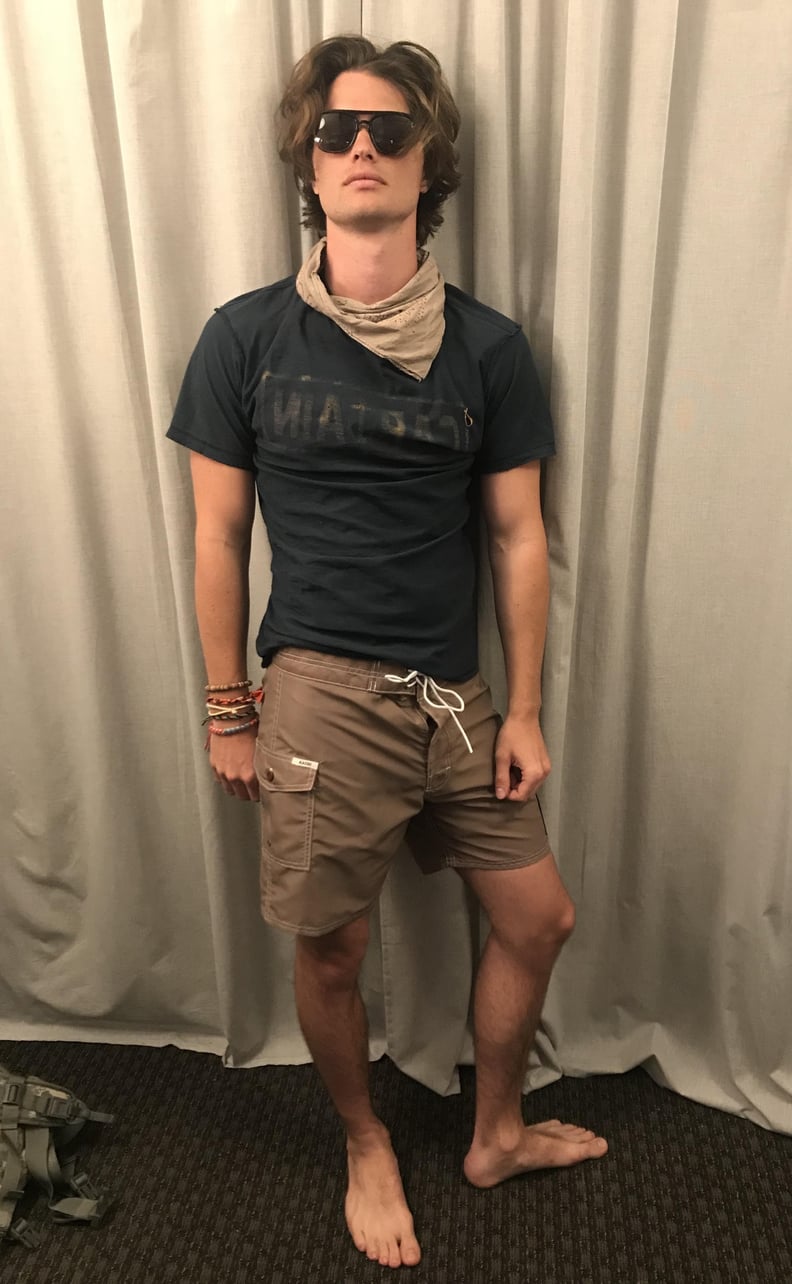 John B (aka Chase Stoke's) Fittings For Outer Banks
"Finding John B's signature look was an organic process in the fitting room. We had a lot of fun in there. We danced to great music and laughed a ton. I think that John B's effortless style was a result of Chase Stokes's laid-back personality and a very relaxed fitting room environment. Chase is very trusting of my instincts. I had him in the Captain Fin Co tee, and something didn't feel quite right. I loved the symbolism with John B being the captain of the HMS Pogue, but it was too on the nose. I said, 'Turn it inside out.' He didn't flinch at the suggestion, the symbolism got even better, and I love the result."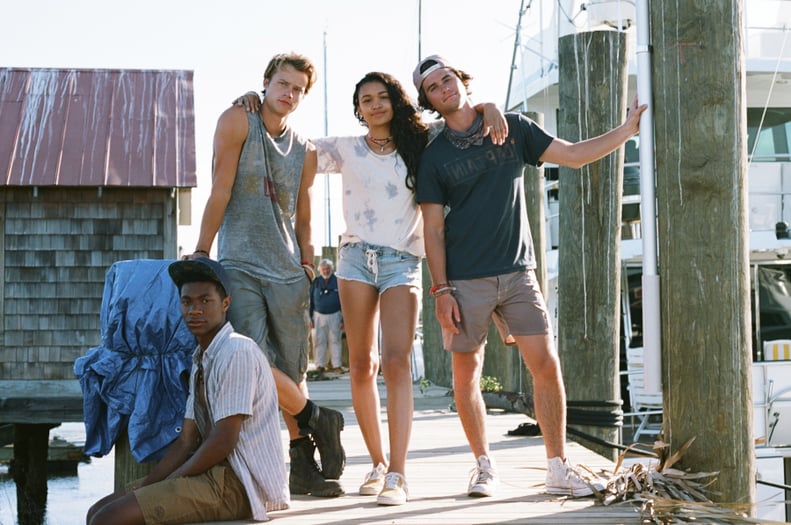 John B's Captain Fin Co Tee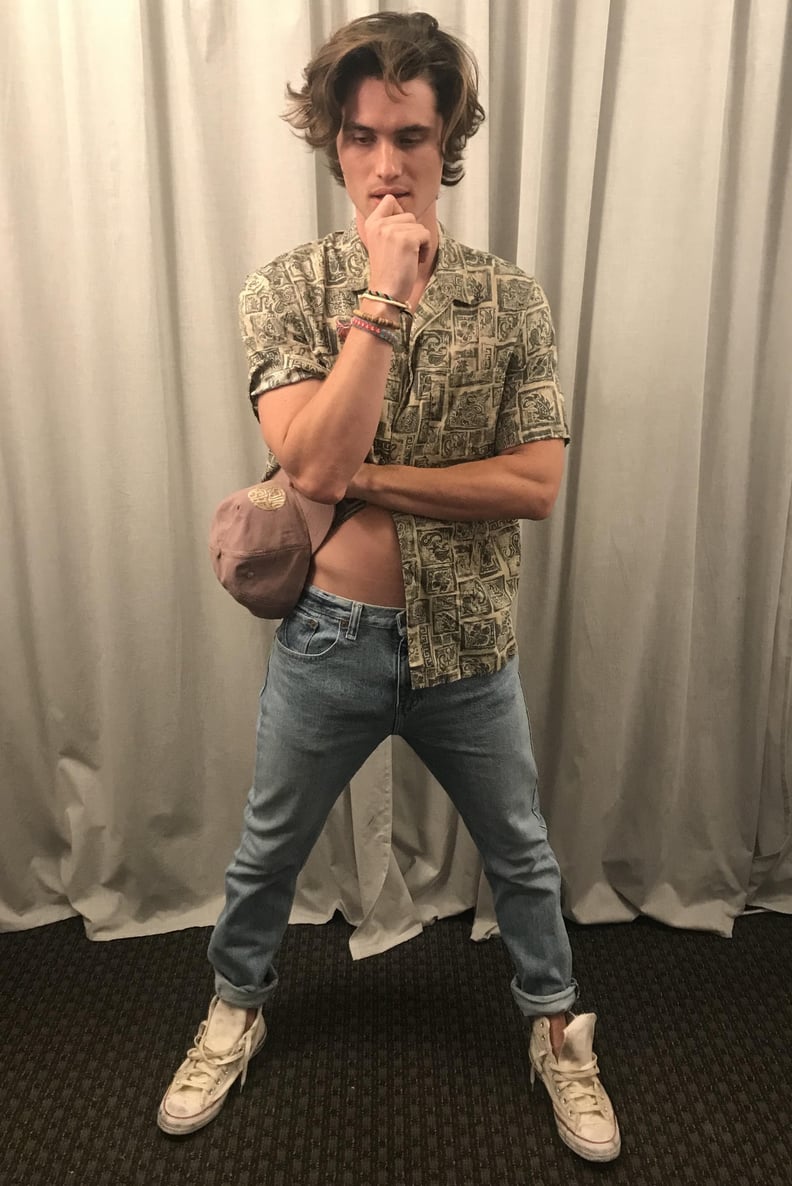 John B (aka Chase Stoke's) Fittings For Outer Banks
"This is relaxed and disheveled John B vibes."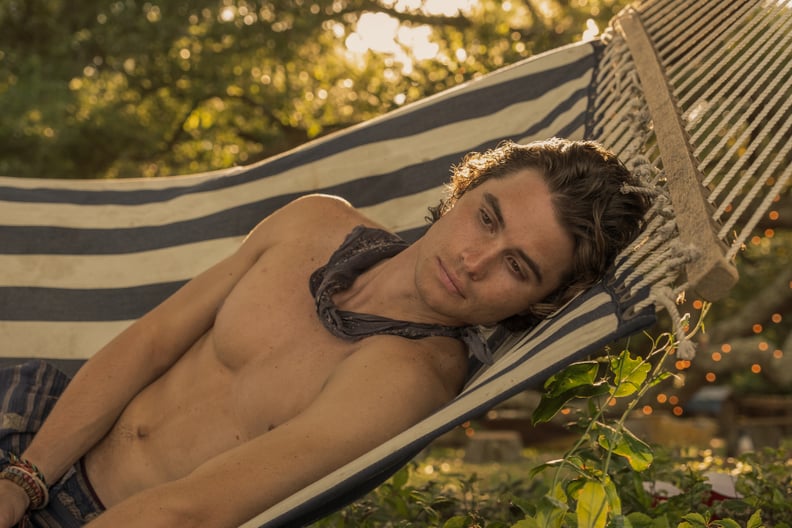 John B's Bandana
"The bandana was unique because of the way it's worn. My costumers would lightly spritz it with water and twist it before tying it. That helps sell the look of something that has never been washed."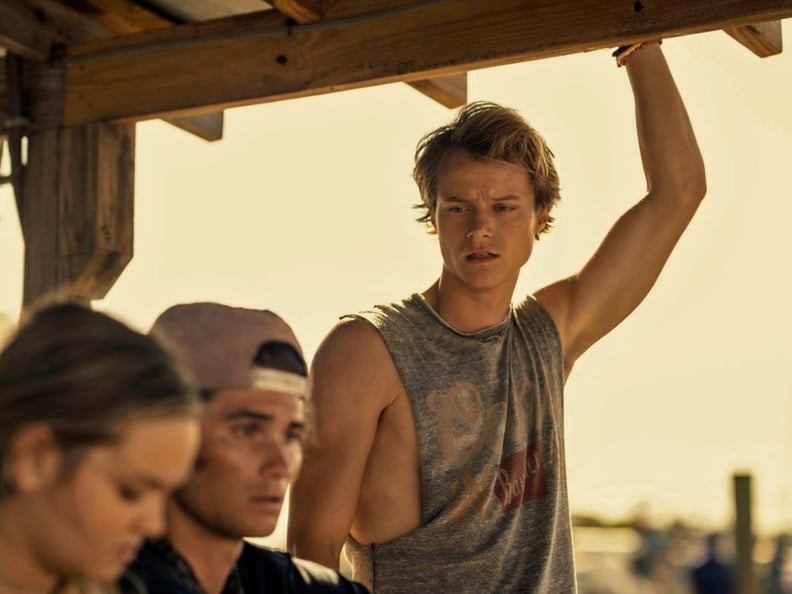 JJ's Bracelets
"We mixed bracelet styles like hemp, beaded, and friendship string types [throughout the show]. Where everyone used to have just a hair rubber band or scrunchie on their wrist, I think you'll be seeing creative stacks now."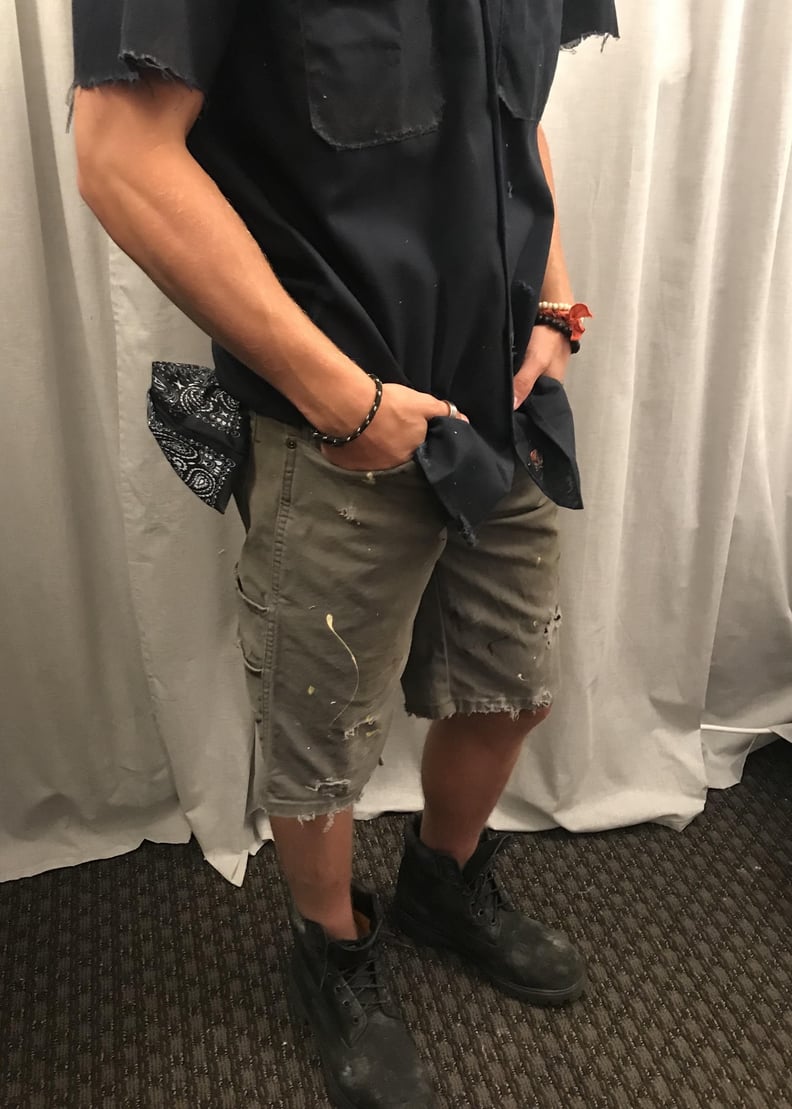 JJ's Distressed Details
"We wanted a very lived-in and well-worn feel to the show's style in general, so my team and I did quite a lot of distressing and aging on the clothes. I've suggested to fans that they run out and grab a sanding block because that's going to be your number-one tool in achieving pogue style! We had a verbal scale for levels of distressing in the Costume Department. It ranged from 0 to full-blown JJ. Pick your poison! In this particular instance, we added even more grime on location before the cameras rolled."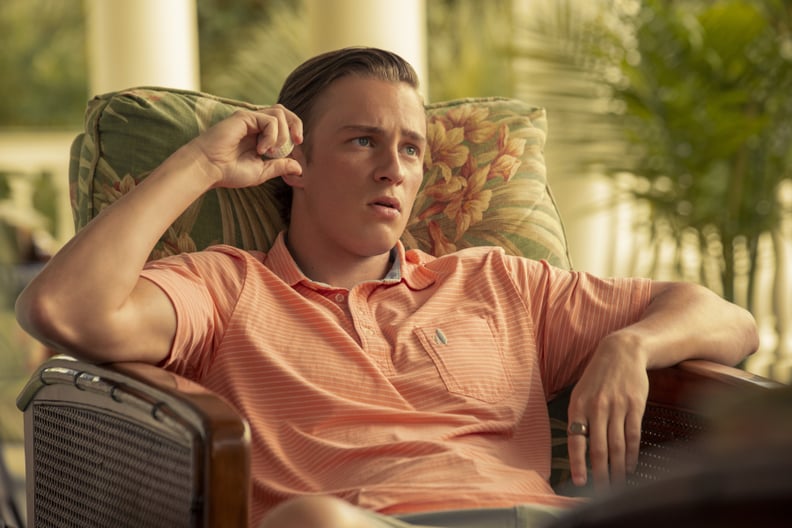 Rafe and JJ's Signature Rings
"Rafe's ring is actually actor Drew Starkey's personal ring, and I can tell you that's the closest Drew comes to being a Kook in real life. He's actually quite the Pogue and has a very cool style of his own. Rudy Pankow (aka JJ) also wore a ring or two that he brought in. Different story there, however. I recall many reincarnations of his rings because they would get lost in the ocean or broken in a fight scene, so those rings unintentionally switched up often."