Euphoria Season 2: Rue's Malcolm X Shirt Has Deeper Meaning
Rue's Malcolm X Shirt Has a Symbolic Meaning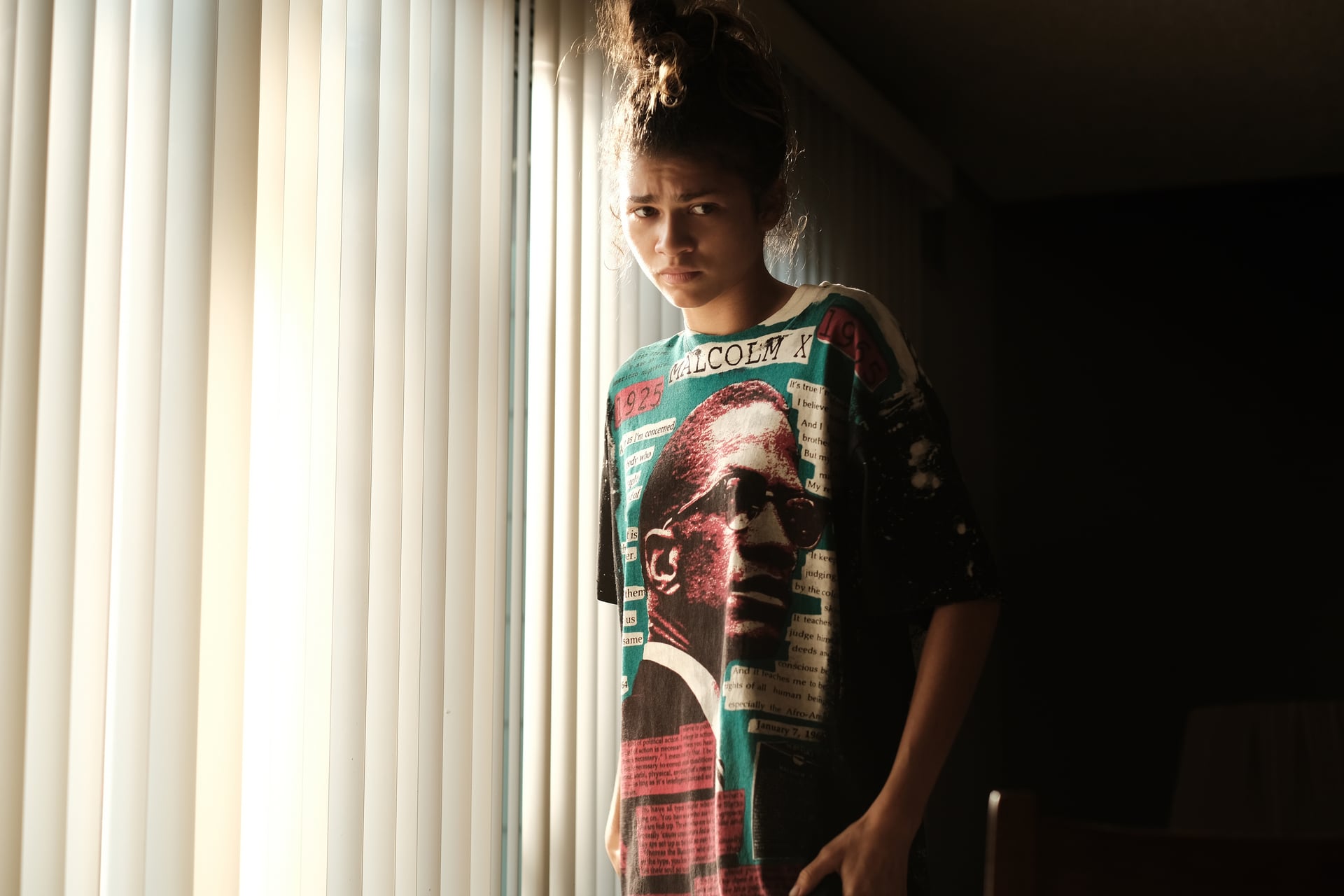 Another week, another sneaky "Euphoria" Easter egg hidden among the drama. During season two's sixth episode, Rue (Zendaya) wears an oversize Malcolm X graphic tee that fans on Twitter instantly clocked as a rare find hailing from the clothing brand Mosquitohead, but the sartorial choice isn't just a tribute to the late civil rights leader in honor of Black History Month — it's also a subtle callback to a past conversation Rue had with Ali (Colman Domingo).
To really appreciate this full-circle moment, let's rewind to the first of two "Euphoria" special episodes, "Trouble Don't Last Always," which aired in December 2020. While Rue and Ali converse over pancakes at a diner on Christmas Eve, Ali touches on Malcolm X's personal journey to effecting social change and how America was generally more receptive to Martin Luther King Jr.'s less radical methods. Rue nonchalantly replies, "Maybe I'll start a revolution like Malcolm X or something," which sets Ali off on a tangent about how much revolutions have, well, revolutionized though the years.
"A true revolution has no allies," he says. "It's just that simple, because a true revolution — not a fast one, not a quick one, not a fashionable one, but a real f*cking revolution — is at its core spiritual. It is a complete decimation of one's priorities, beliefs, and way of living." After addressing just how serious her addiction is, he adds, "Your only hope is a revolution. But a real f*cking revolution, inside and out. But you gotta see it through. You can't half-ass this sh*t. You just have to commit to it, every single day, and know that you can always do it better and be better." The revolution he's referencing is, of course, her road to sobriety and how it won't be an easy one.
Fast-forward to episode six of season two, and Rue — who's experiencing some serious opiate withdrawals after her trip to Laurie's — calls Ali on the phone to apologize for using his past parenting missteps against him. During the tense and moving chat, she wears baggy sweatpants and the vintage T-shirt with Malcolm X's face and quotes plastered on the front. It seems "Euphoria" costume designer Heidi Bivens chose to dress Rue in the eye-catching piece as an indication that she's been taking Ali's advice to heart and that her apology is (hopefully) the first step on a long road to recovery ahead — her own personal revolution, if you will. Symbolism and character growth — we love to see it.