Moira Rose has become a fashion icon in her own right, but we'd be remiss not to acknowledge where the inspiration for the character lies. In Schitt's Creek: Best Wishes, Warmest Regards, a follow-up to the final season of the show, cocreator Dan Levy and actress Catherine O'Hara (who plays Moira, in case you didn't know) get into the nitty-gritty of the wardrobe department. Levy put a lot of money toward the clothes he found for the cast — the wardrobe budget increased season by season, in fact. "Wardrobe is probably the most important element in storytelling outside of actually writing because we, as people, say so much about who we are, what we believe in, what we want, and what we think of ourselves by the way that we dress . . . My mandate when we started this show was that I wanted the clothes to feel real. I wanted people who were interested in fashion to be able to recognize pieces and say, 'OK, so this isn't just someone doing Zara doing Balenciaga.'"
"I didn't want to just look like a cliché rich lady. So I went online and I found Daphne Guinness."
Yep, it's true, Levy invested in the real deal: luxury designer pieces that even extended into David Rose's sweater collection. But for Moira, O'Hara had her own vision. When Dan and Eugene Levy approached her about the part, she immediately thought up ways to make Moira feel original. "I thought, I don't want to just look like a cliché rich lady. So I went online and I found Daphne Guinness," O'Hara said of her chosen muse, who is a British socialite and fashion designer, known for her edgy, avant-garde sense of style. She continued: "The wigs weren't in it and the vocabulary wasn't in it [originally]. That's what I got to add. I just asked if I could wear lots of wigs depending on my mood. It works for fashion reasons, it works for hiding or revealing what I'm feeling, and it works as a protective helmet. So it's just too much fun."
While the wigs and accent were definitely an O'Hara touch, the connection between Moira's clothes and those of Daphne is clear. The outfits were not all directly inspired by looks the socialite has worn on red carpets or in the front row at fashion shows, but there are plenty of similarities: the platform shoes, tights, finger-length rings, fascinators, black-and-white color palette, and obsession with all things sequins and feathers, to start. "When you get these kind of clothes on, you just feel different. You stand differently, you move differently, and people look at you differently. I feed off of all of it," O'Hara said of her costumes. It's true; Guinness exudes that very same confidence if you look at the photos ahead. On that note, scroll through to digest some of our favorite Moira-Daphne outfit comparisons.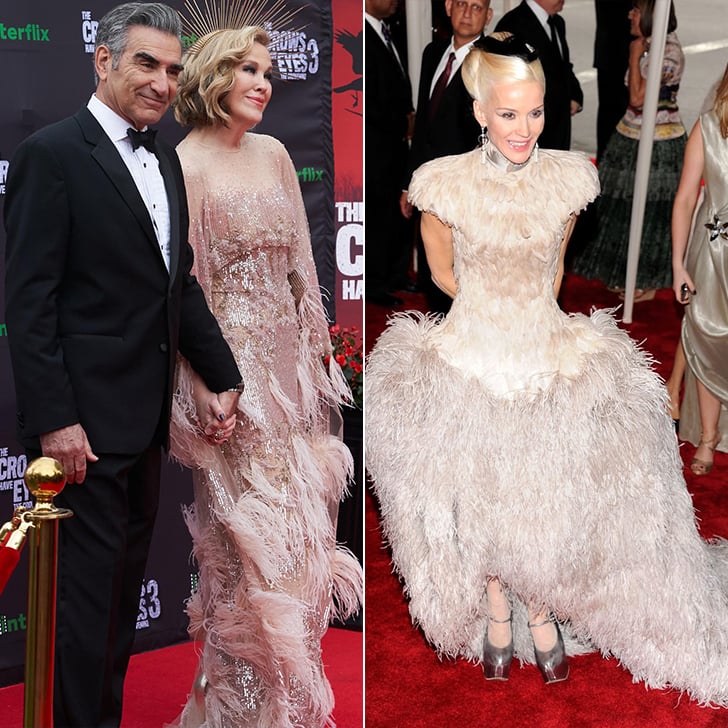 Feathers Are Clearly Reserved For Red Carpet Events
Moira wears her dress to The Crows Have Eyes 3's premiere, whereas Daphne showed up in a flock of feathers to the 2011 Met Gala.