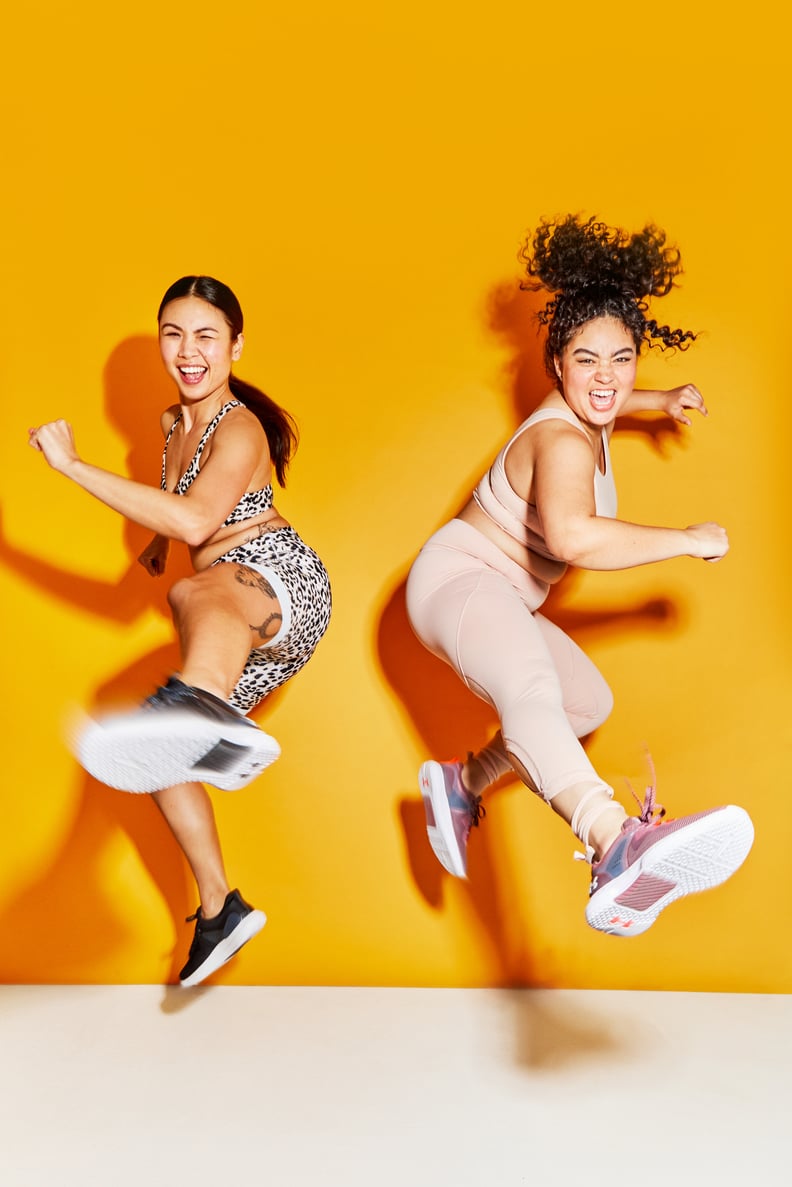 POPSUGAR Photography | Matthew Kelly
POPSUGAR Photography | Matthew Kelly
With only 20-minutes of workout time to spare, I highly suggest clicking on HIIT YouTube workouts.
You can train at max energy and burn more calories in less time — plus, it takes minimal effort to access a free trainer for guidance.
Another bonus? The interval technique has a higher afterburn effect, which means you burn calories even after the session is done.
Yes, the combination of free training, shorter workouts, and burning calories long after you're finished sounds like a breeze — but it'll only take a few seconds for the following HIIT YouTube workouts to test your endurance.
20-Minute HIIT Buddy Workout With Jaws & Sharika
Grab a partner and put your endurance, balance, and agility to the test with two intense HIIT circuits led by multidisciplinary trainer Julie Nelson and professional hurdler and sprint hurdles champion Sharika Nelvis. All you need is one kettlebell and a towel.
21-Minute HIIT With Brittne Babe
Fitness influencer Brittne Babe is less about chatting and more about getting to work — so if you tend to mute or skip through the workout instructions and dive right in, this 21-minute circuit is for you.
No Repeat 20-Minute Full-Body HIIT at Home With MadFit
Get ready to sweat through 20 bodyweight and dumbbell exercises — 45 seconds on, 15 seconds off per move. Fitness influencer Maddie Lymburner doesn't repeat any of the exercises, so you'll never be bored.
20-Minutes Full-Body HIIT Workout With POPSUGAR
Do you think burpees are hard? Try twist burpees — that's just one of the challenging moves Barry's Bootcamp instructor Astrid Swan McGuire is teaching throughout this jumping jack, bear walk, and tricep kickback-filled session.
20-Minute Home HIIT No-Equipment, No-Noise, No-Impact Workout With Natacha Océane
Fitness influencer Natacha Océane understands that if you want the benefits of HIIT workouts, you have to take full advantage of rests between exercises. So, she's planned four circuits — 30 seconds on 30 seconds rest per move — and let's just say you'll be needing all the downtime you're going to get.
Click here for more health and wellness stories, tips, and news.