Bacne: An Unpleasant Side Effect of Working Out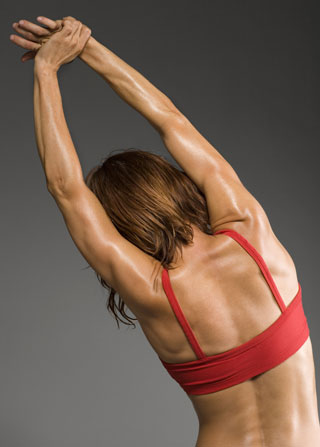 Hey FitSugar,
This is so embarrassing, but I've been training for a half marathon and as my weekly mileage increases I've started to develop terrible breakouts all over my back especially around my bra line. Does anyone have any suggestions for preventing this?
— Baby Got Bacne
I hear ya! Working out is sweaty business. Which is great for detoxing your body, but all that perspiration can be hard on your skin. My best piece of advice on preventing bacne is also the easiest to follow: take off those sweaty clothes immediately after a run and shower right away. Drink your recovery drink in the shower if you must. Now if you are already shedding your wet running togs and still feel plagued by acne here are a few new tricks to try.
Make sure your bra and shirt are made of fabric that wicks the sweat away from your body — cotton is not your friend. In cooler months, I like to wear a thin merino wool shirt on my runs, which naturally wicks the sweat away.
If your routine includes cardio followed by strength training, change your shirt and bra between activities. This may sound like a pain but can really help. If you have a chance, wipe or rinse (much more complicated mid-workout) your back before putting on fresh clothes. This mid-workout break might not only save your skin, it could help you burn more fat.
Use a scrub that contains acne fighting salicylic acid like ACNEdote by Alba Botanical. Use a scrub brush so you can reach all parts of your back, but don't scrub so aggressively that you aggravate the skin even more.
Try over the counter acne medication. The skin on your back is tougher than the skin on your face. After showering try glycolic or alpha hydroxy lotion of about eight or 10 percent strength. Or try 10 percent benzoyl peroxide. Remember, benzoyl peroxide will bleach your clothes.
Stop carrying a heavy backpack, especially if you are trying the regimen above. Backpacks can irritate the skin on your back and promote even more sweating.
If you're really at a loss, make an appointment with a dermatologist and hopefully they will clear things up for you (literally and figuratively).
Whatever you do, don't stop running! Good luck with the half marathon.