Chicken Mango Lettuce Wraps Recipe
These Chicken Mango Lettuce Wraps Are So Delicious and Are Ridiculously Easy to Make
Don't miss out on this healthy (and easy!) chicken mango lettuce wraps recipe from our friends at PaleoHacks!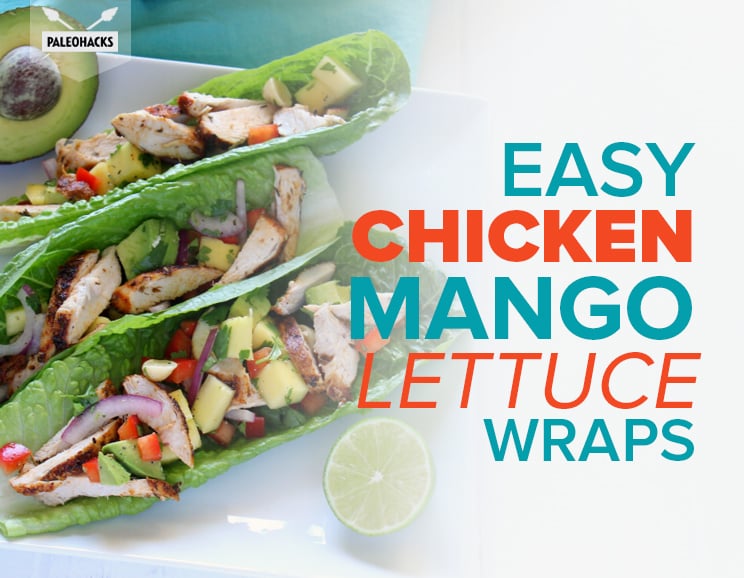 These Caribbean Chicken Mango Lettuce Wraps are simple to make: Top blackened chicken with chunky mango-avocado salsa. Don't be scared if the ingredient list is longer than you're used to. You probably have most of the items in your pantry already!
Start by creating a cajun seasoning to coat the chicken. The key to perfectly blackened chicken breasts is to dry them off with a clean paper towel before seasoning them. Make sure your pan and coconut oil get nice and warm (but not smoking hot) before placing the chicken in the pan. Then allow it to develop a crispy outer layer before flipping it over, and place it in the oven to finish.
While your chicken is baking, you can quickly whip up a mango-avocado salsa with just a handful of ingredients.
When your chicken and salsa are both prepared, creating your wraps is a cinch. Just spoon everything into a romaine lettuce "cup" and enjoy!
Easy Chicken Mango Lettuce Wraps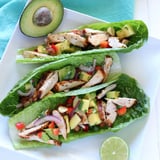 Ingredients
For the Cajun Seasoning:
2 teaspooms paprika
1 teaspoons garlic powder
1/2 teaspoon salt
1/2 teaspoon black pepper
1/2 teaspoon onion powder
1/2 teaspoon thyme
1/2 teaspoon oregano
1/2 teaspoon cayenne pepper
For the Chicken Wraps:
1 pound boneless, skinless chicken breasts
1-2 tablespoons of the Cajun seasoning from above (with no or little salt added)
2 tablespoons of coconut oil
1-2 heads of romaine lettuce
For the Salsa:
1 mango (peeled and diced)
1 avocado (diced and peeled)
1/2 red onion (sliced thin)
1/2 red bell pepper (diced)
1/4 bunch of cilantro (chopped)
Juice from 1 lime
1/2 jalapeño (seeded and diced, optional)
1/4 cup chopped macadamia nuts or cashews
Black pepper to taste
Directions
Preheat oven to 400 degrees.
In a small bowl, combine the Cajun seasoning ingredients and whisk until combined. Set aside.
Gently pat the chicken dry and generously sprinkle the Cajun mix on both sides.
Heat the coconut oil in a skillet over medium to medium-high heat. Carefully lay the seasoned chicken in the hot skillet, and cook it for 3-5 minutes (per side) until lightly blackened.
Transfer the skillet into the oven. Cook 10-20 minutes (or until the internal temperature reaches 165 degrees).
While the chicken is cooking, create your salsa. In a medium bowl, toss the salsa ingredients together, and set it aside.
Remove the chicken from the oven, and allow it to rest for 5 minutes. Then slice the chicken into thin strips.
Take one romaine lettuce leaf. As if it were a taco shell, spoon a few slices of chicken and the salsa into the leaf. Serve and enjoy!
Information
Category

Appetizers, Finger Foods

Cuisine

North American

Yield

4 servings

Total Time

29 minutes, 59 seconds