Culture Republick Probiotic Ice Cream Review
There's a New Healthy Ice Cream in Town, and It's Packed With Good-For-Your-Gut Probiotics!
Clear some space in your freezers, folks, because there's a new healthy ice cream brand in town, and you're going to want every single flavor. World, meet Culture Republick. It's the first-ever light ice cream that's jam-packed with live probiotic cultures, aka the good-for-your-gut stuff that help regulate your digestive system. POPSUGAR got the inside scoop (corny pun fully intended) on the new brand and taste tested all seven flavors before it hits select store shelves, and we definitely think it ranks among the best in the now-saturated world of healthy ice creams.
First, let's discuss some fun stats about what makes Culture Republick so crave-worthy, shall we? For starters, each pint contains 3 billion (yes, billion) live and active cultures to help get your gut health back on track. On top of that, every pint boasts just 410 to 490 calories, a whopping 16 to 18 grams of protein, and 11 to 13 grams of fiber, depending on the flavor.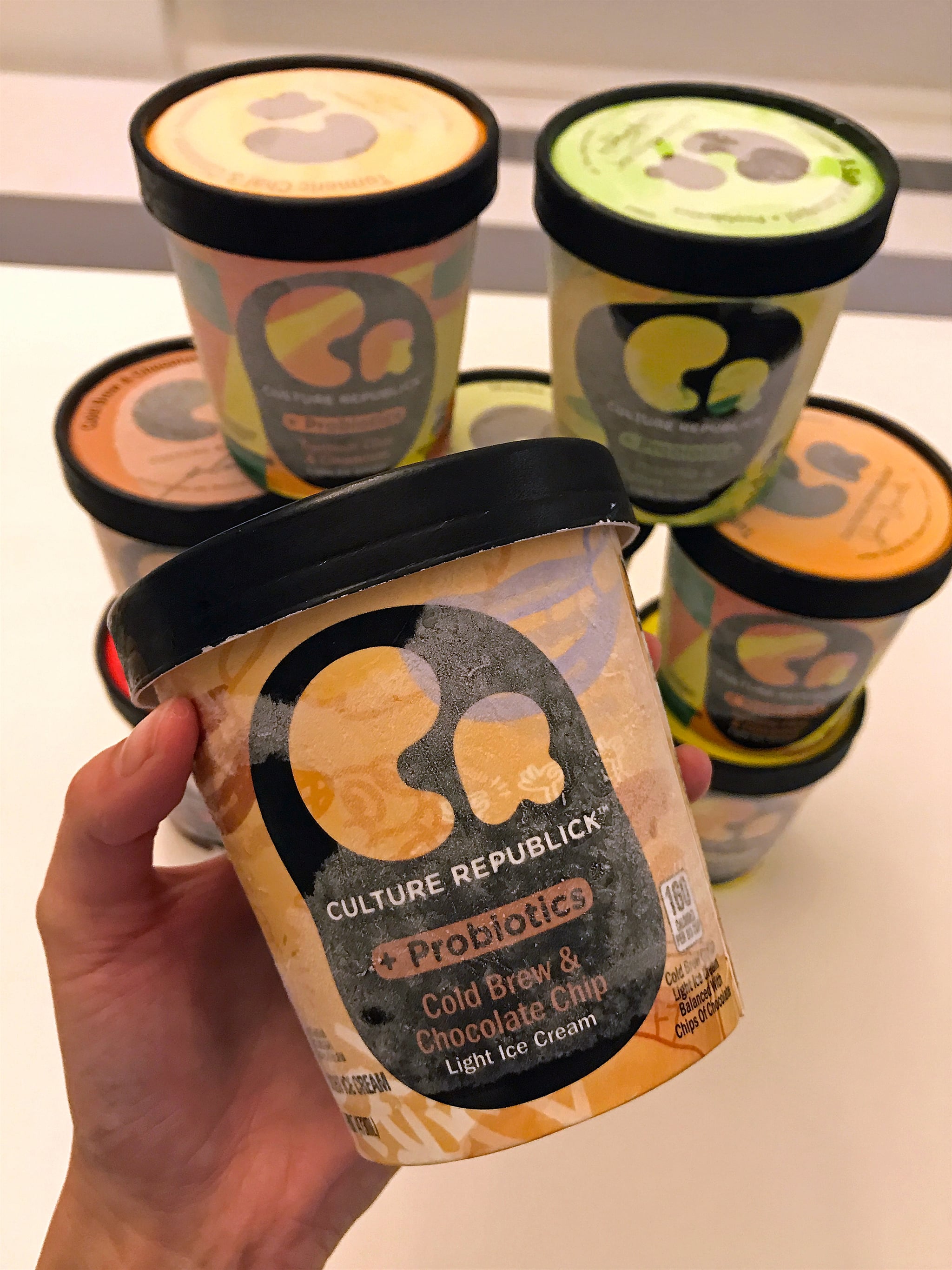 They all have a smooth, creamy texture and don't taste out of the ordinary in any way due to the added probiotics.
Speaking of the flavors, there are seven of 'em, and each mashup is just as mouthwatering as the next. There are Milk & Honey, Chocolate & Cherry, Lemon & Graham, Pistachio & Salted Caramel, Turmeric Chai & Cinnamon, Cold Brew & Chocolate Chip (my personal favorite), and Matcha & Fudge. They all have a smooth, creamy texture and don't taste out of the ordinary in any way due to the added probiotics. I mean, wouldn't you rather devour a nightly bowlful of Chocolate & Cherry ice cream rather than take a supplemental probiotic pill every day?
Another cool tidbit about Culture Republick: the brand partnered with up-and-coming artists to design the colorful pint packaging, and it plans to donate 10 percent of its profits to support the arts in local communities. How rad is that?
Culture Republick's probiotic ice creams are starting to roll out this month at select retailers, including Meijer, Shoprite, certain Target stores, and Albertsons, Safeways, and Rite Aids located in California, just to name a few. The pints will cost $4 to $5, which is definitely a lot more affordable than some of the overpriced competitors out there. Read on for a full breakdown of the nutritional facts for each flavor of this gut-friendly dessert, along with some candid thoughts that my fellow POPSUGAR employees and I had during our in-office taste test.