Day 2: Clean-Eating Recipes
Day 2 Recipes For Our Clean-Eating Plan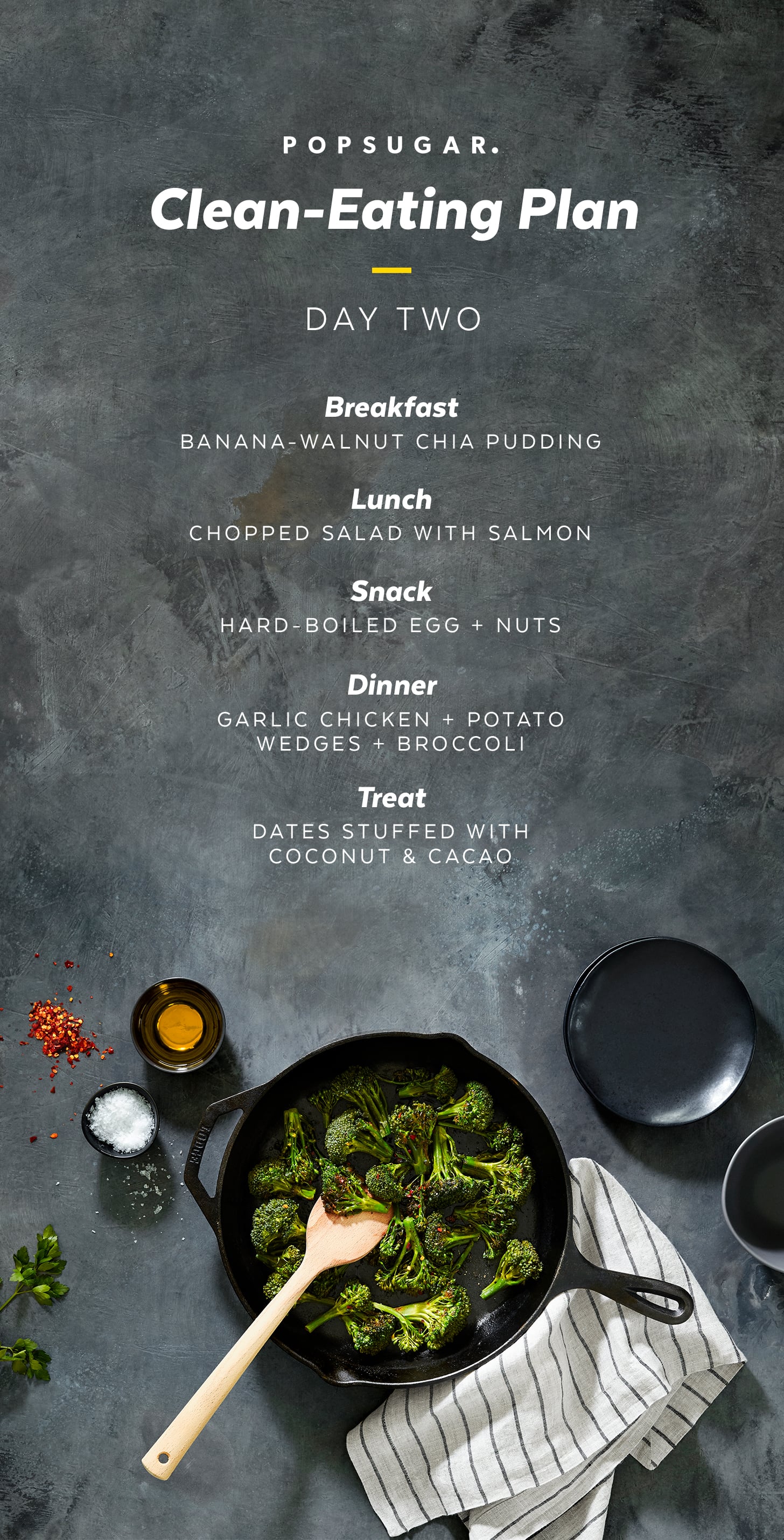 Today's recipes will definitely keep you feeling full! If didn't prep your eggs yesterday, be sure to hard-boil two this morning — one you will eat for your snack later today and the other you will use for breakfast tomorrow.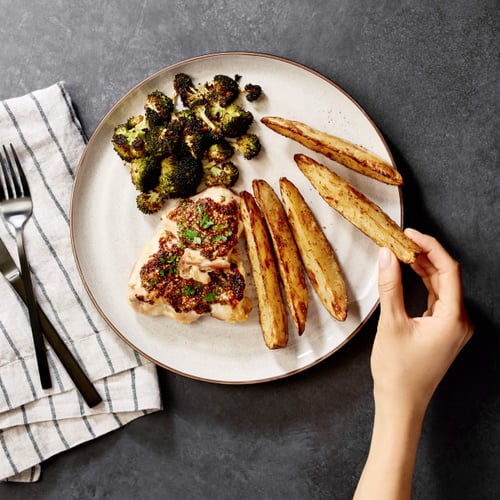 Dinner: Garlic Mustard Chicken + Potato Wedges + Broccoli
From C&J Nutrition
Notes
While making today's dinner, bake a potato for Day 4 lunch
Save 1/2 of cooked broccoli for Day 3 dinner
Save 2/3 cooked chicken for lunch on Days 3 and 4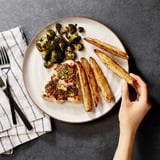 Ingredients
1 medium russet potato (to bake for Day 4 lunch)
1 medium russet potato, cut into wedges
1 tablespoon plus 2 teaspoons olive oil
1/2 teaspoon garlic powder
1/4 teaspoon salt
1/4 teaspoon dried oregano
12 ounces skinless boneless chicken thighs
2 tablespoons grainy mustard
2 cloves of garlic, minced
1 tablespoon lemon juice
1 tablespoon fresh parsley
2 cups cut broccoli
Directions
Preheat oven to 400ºF. Poke several holes in a potato, using a knife or fork, and wrap in foil. Place in the oven, set a timer for 50 minutes, and carry on with dinner prep. You'll use this baked potato for Day 4 lunch.
Line a baking sheet with parchment paper or aluminum foil.
In a small bowl, combine garlic powder, salt, and dried oregano; set aside.
Toss potato wedges and toss with 2 teaspoons olive oil and half of the garlic spice blend.
Space the potato wedges out evenly on 1/2 of a large aluminum-foil-covered baking sheet, leaving room on the other half of the baking sheet.
Add a pinch of salt and pepper to both sides of the chicken thighs.
Mix together mustard, garlic, lemon juice, and parsley.
Brush chicken thighs with the mustard mixture.
Place chicken on the baking sheet next to the potato wedges. Bake for 20 minutes, turning potatoes halfway through cooking time, or until potatoes are crispy and chicken is cooked to an internal temperature of 165ºF.Reserve 2/3 cooked chicken for lunch on Days 3 and 4.
Toss broccoli in remaining 1 tablespoon olive oil and coat with the remaining spice blend. Arrange broccoli on a separate baking sheet covered in foil and roast for 15 minutes, turning once throughout cooking time, until broccoli is tender and slightly browned on the edges. Reserve 1/2 of the broccoli for dinner tonight, and refrigerate the rest for use with Day 3 dinner.
Serve potato wedges with 4 ounces of chicken (1/3 of prepared chicken), potato wedges, and 1 cup of the cooked broccoli.
NUTRIENT TOTALS
Calories: 484.9
Protein: 29.1 grams
Carbohydrate: 44.3 grams
Dietary Fiber: 5.103 grams
Total Sugars: 2.799 grams
Total Fat: 22.2 grams
Saturated Fat: 3.487 grams
Sodium: 134.4 milligrams
Information
Category

Main Dishes
Look Ahead
Check out the recipes for Day 3.
Image Source: POPSUGAR Photography / Cera Hensley