Day 8: 2018 Clean-Eating Recipes
Recipes For Day 8 of Our 2018 Clean-Eating Plan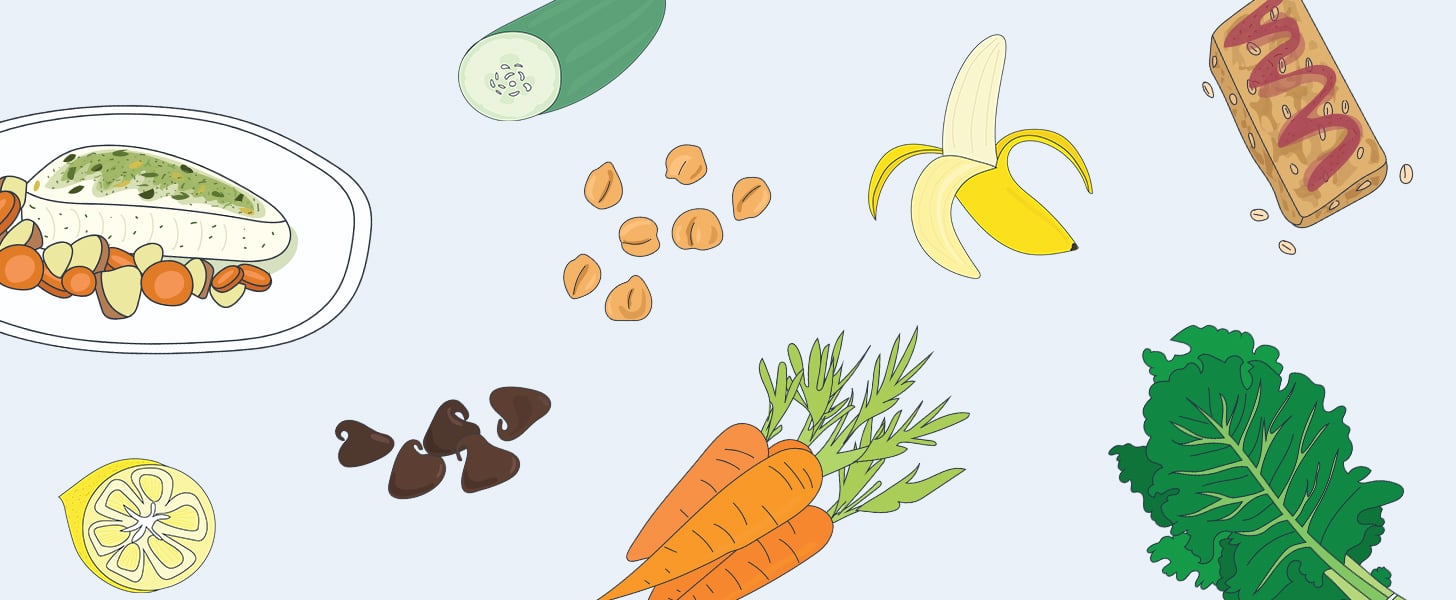 Prep Notes:
Save 2 bars for a snack on Day 9, breakfast on Day 12, and a snack on Day 14 (snack size is half a bar).
Hard-boil 2 eggs for today's lunch.

Ingredients
Raspberry Jam Layer
3 cups frozen and thawed raspberries
3 tablespoons honey
1/4 cup chia seeds
Oatcake
2 1/2 cups old-fashioned rolled oats, divided
1 tablespoon ground cinnamon
1/8 teaspoon sea salt
2 teaspoons baking powder
3 large eggs
4 large egg whites
2 very ripe bananas, mashed
1/2 cup smooth peanut butter
2 tablespoons coconut oil, melted
1/4 cup chopped unsalted roasted peanuts
Directions
Preheat oven to 350ºF. Coat an 8x8-inch baking dish with cooking spray or rub with oil.
Blend the raspberries and honey in a blender or food processor until pureed, scraping down sides as needed, about 1 minute. Stir in chia seeds and set aside.
Blend 1 cup of the oats in a blender or food processor until ground down to flour, about 45 seconds.
In a large bowl, stir the oat flour, remaining 1 1/2 cups of rolled oats, cinnamon, salt, and baking powder together to combine.
In a separate bowl, whisk together the eggs, egg whites, bananas, peanut butter, and coconut oil. Stir the egg mixture into the flour mixture until just combined. Gently stir in chopped peanuts.
Pour half the batter into the prepared pan. Gently spread the raspberry jam over top. Pour the remaining half of the batter over the jam layer. Bake until firm, with a golden top, about 75 minutes. Allow to cool before slicing. Slice into 8 even pieces. Eat one bar for today's breakfast.
NUTRIENT TOTALS
Calories: 368.4
Protein: 14.4 g
Carbohydrate: 38 g
Dietary Fiber: 9.431 g
Total Sugars: 12.1 g
Total Fat: 19.6 g
Saturated Fat: 5.9 g
Sodium: 77.9 mg
Information
Category

Breakfast/Brunch

Cuisine

North American

Yield

8


Prep Notes:
Eat 1 energy bite today and refrigerate 1 for your snack on Day 12.

Prep Notes:
Save 2 tablespoons of pesto and 1 baked fillet for tomorrow's lunch (Day 9).
Make chia pudding (find the recipe here) for tomorrow's breakfast while the cod bakes.

Prep Notes:
Eat 4 cookies and save 8 for your treats on Days 10 and 13.