Enlightened Ice Cream Taste Test
If You Love Halo Top, You'll Want to Check Out Enlightened Ice Cream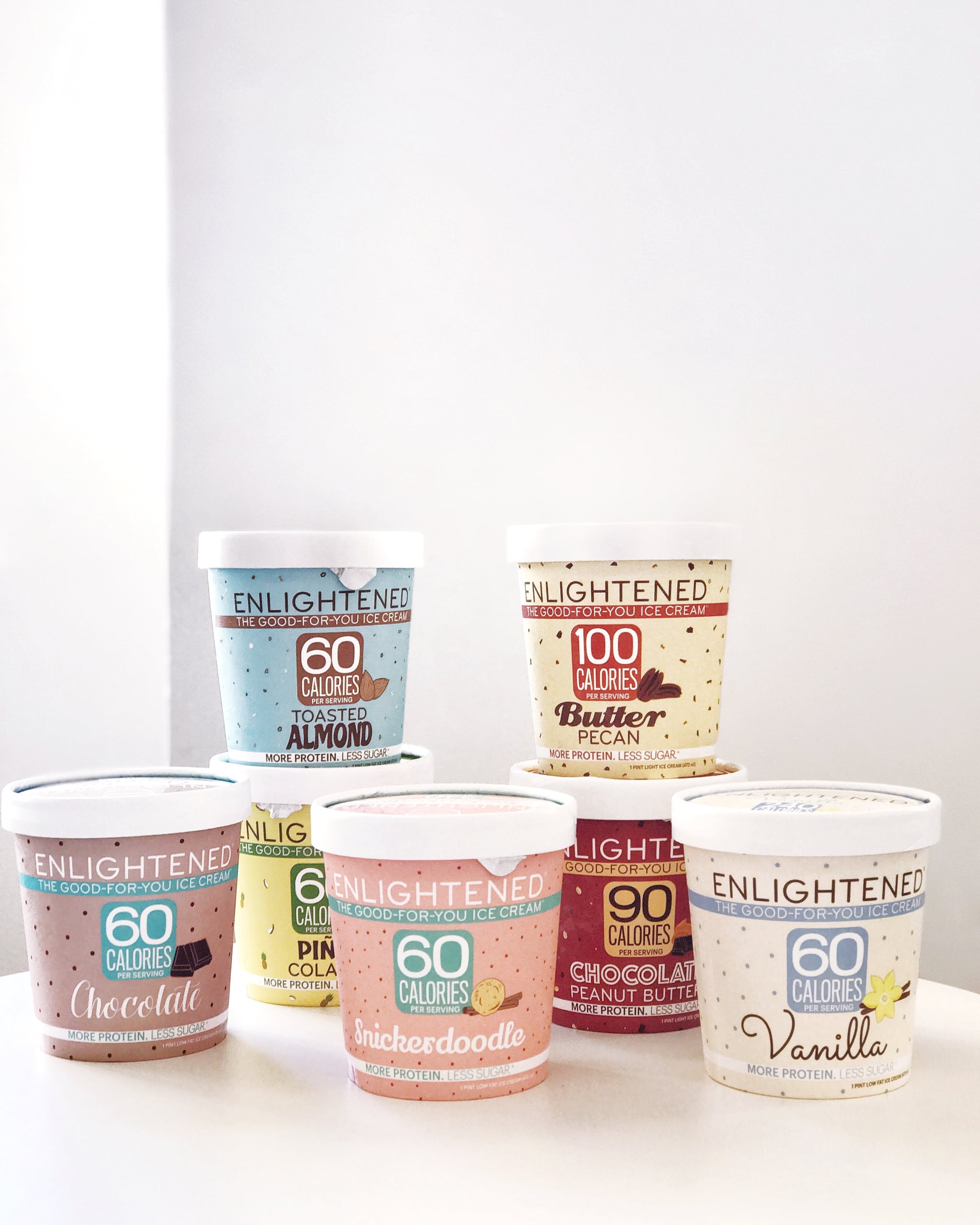 The healthy ice cream market is booming right now — with industry leaders like Halo Top catching fire, it looks like everyone wants a scoop of these lightened-up frozen desserts.
Enter: Enlightened Ice Cream. It's low-calorie (between 240 and 400 calories per pint, depending on the flavor), high-protein, and sugar-free — it uses erythritol (sugar alcohol) for sweetness . . . just like Halo Top. If you're a fan of the gold-rimmed pints at the grocery store, you'll want to try out the selection from Enlightened, as they have over 20 flavors on offer. We tried seven of them, including Chocolate, Vanilla, Butter Pecan, Chocolate Peanut Butter, Toasted Almond, Snickerdoodle, and Piña Colada.
If we learned anything from this taste test, it's that ice cream flavors are like politics on Facebook — as in pretty polarizing. Some of our testers loved the intensity of flavoring while others were totally turned off by it. For example, some rated Butter Pecan with a 5, exclaiming, "BUTTER!!!" while others gave it a 2 saying, "ew, butter!" — so keep that in mind when going through these reviews. In the love-hate relationship that manifested in our taste test, some clear winners emerged — like the Chocolate, Chocolate Peanut Butter, and Butter Pecan.
Chocolate
"Tastes like rocky road!"
"Best one. Texture is good for a chocolate flavor. Creamy."
"Like a fudgsicle."
Vanilla
"Light and refreshing!"
"Tastes like perfume."
"Fro-yo type flavor" (several people said this).
"Weird aftertaste"(x2), "Really weird aftertaste," and "Do not like aftertaste."
Chocolate Peanut Butter
"Love everything about this flavor."
"Watered-down Reese's."
"This was my favorite! Super yummy and peanut buttery. Yum."
"Would be great for weight gain." (???)
Snickerdoodle
"Wanted to like this more . . . it's like frozen horchata."
"Does not taste like snickerdoodles; too much cinnamon and not enough cookie. Very pumpkiny."
"Good but a little bland."
"Tastes like a chai latte."
Butter Pecan
"Butter!!! Intense flavor, good texture."
"A little too much butter."
"DAMN PECAN! Love this one. Needs extra texture of the pecan."
"The pecans carry this one."
"Pancake." (Also ???)
"Refreshing and perfect texture with the pecan."
Toasted Almond
"Tastes like slick, cold marzipan."
"Love the almond flavor."
"Not my fave, but def addicting. Like I keep wanting to eat it after each bite."
"Creamy, a little too much almond extract for my taste."
"This is disgusting. It's so gross and doesn't taste almond like at all."
"Too intense of flavor."
Piña Colada
"Love this. Would mix it with some Malibu and enjoy on a sunny day."
"I taste confused."
"Funky aftertaste, like a diet/sugar-free aftertaste. Also sunscreen."
"Is this sunscreen ice cream?"
"This is my favorite — sweet, refreshing, and yummy."
"Usually I hate piña colada but I liked this."
"Tastes fabulous — the aftertaste is there but subtle."