Fitbit Charge HR Review
Heart Rate Monitoring Makes the Fitbit Charge HR My New Favorite Tracker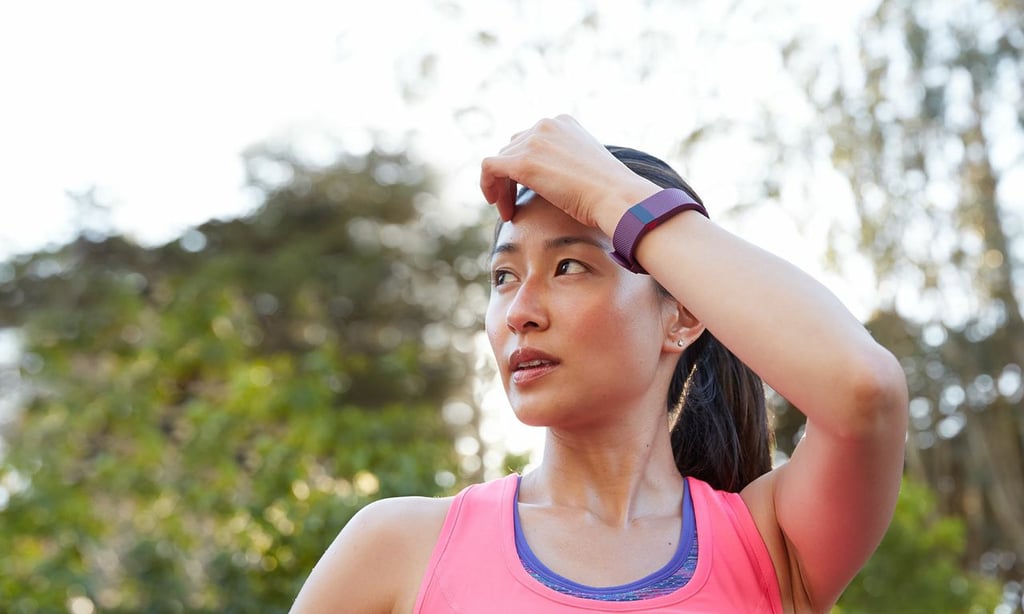 Source: Fitbit
At this point, no matter what your style or athletic ability, there's probably a fitness tracker for you (even if you're willing to drop thousands of dollars for one). Many have similar features and prices, so many times it just boils down to which tracker looks best on your wrist and does everything you want. But, after testing out the Fitbit Charge HR ($150) off and on for about three months, I think I've found a winner. Here's what I liked (and didn't like) about the tracker.
Charge vs. Charge HR
Fitbit debuted the Charge HR late last year along with the Charge, and both pretty much look the same. They are a bit wider than many other fitness trackers, making them not exactly an incredibly stylish option — I'm still guilty of taking my Charge HR off for dressier nights out — but the muted textured silicone and small display that doesn't light up unless you press the button means that it looks right at home on my wrist for casual, everyday looks. The Charge HR also features a watch strap instead of a button clasp on the Charge, which means it's less likely to fall off. But the main difference between the HR and the Charge was the reason why I was so excited for the tracker's debut earlier this year; the Charge HR features continuous heart rate measuring via an LED light on the back of the tracker that tracks your pulse all day, in five-minute increments for normal activity and one-minute increments if you're logging a workout.
Heart Rate Monitoring
The fact that the Charge HR measures resting heart rate tracking and heart rate monitoring during a workout was one of the main reasons I was so excited to test out the Charge HR. Having a convenient way to measure my heart rate during a workout without having to strap on a chest heart rate monitor was an easy sell for me — I've spent many a run being frustrated with a strap that won't stay put or felt too constricting. And, since heart rate tracking helps provide a more accurate calorie count during workouts, I couldn't wait to put it to the test. Recording a workout is incredibly easy with the Charge HR; just press and hold the button to start an exercise session, then press and hold to stop. During your workout, pressing the button cycles through time elapsed, steps taken, calories burned, distance, floors climbed, and heart rate for just your workout session.
While the Charge HR's activity recording worked well on the tracker, I did run into a few specific problems when syncing my workouts with the app on my phone. First, while you can choose how you categorize a workout through the app or online (you can choose options like run, bike, weights, or circuit training), there's no way to edit your choice if you accidentally categorized it wrongly. Also, if you forget to log a workout automatically (by pressing and holding the button before and after a workout), you can manually enter in a session later, but the Charge HR won't calculate your calories based on your heart rate for that session; instead, it uses average calorie burn data. According to the Help section on the Fitbit site, Charge HR owners are better off only using the automatic workout function even in workouts that don't involve a lot of steps like indoor cycling or kickboxing since the heart rate data will provide more accurate calorie burn information than a manual entry. I also had trouble syncing my workouts to the app for a few weeks, although I haven't run into this problem lately and the issue has been resolved for the Charge HR according to the Fitbit forum. The other good news: the Charge HR activity tracking seems to work at its best when recording runs, so if you're a runner who's looking for a chest strap heart rate alternative, this is a good option if you don't need GPS features (for that, the Fitbit Surge sports watch may be more what you're looking for).
Source: Instagram user annipillaf
Other Features
Besides the heart rate-specific capabilities, the Fitbit Charge HR works much like other trackers: the display shows steps, distance walked, floors climbed, and calories burned (as well as heart rate), and you simply fire up your smartphone's Fitbit app (free; available on iOS, Android, and Windows) if you want more detailed stats. Wireless syncing via Bluetooth makes looking at your stats a breeze; the only intermittent problems I've experienced with automatic syncing were easily remedied by turning my phone's Bluetooth off and on. From the app, you can categorize your workouts, track trends over time, and see how you slept. Since the Fitbit Charge HR tracks sleep automatically, you don't need to remember to press a button to log a sleep session and it logged when I was awake in the middle of the night as well as random midday naps with surprising accuracy. The app is easy to navigate and intuitive; I found the dashboard stats and graphs about my activity and sleep habits to be useful and simple to understand. It also syncs with many popular health apps like MyFitnessPal and Run Keeper if you need to keep close track of your calorie intake and burn.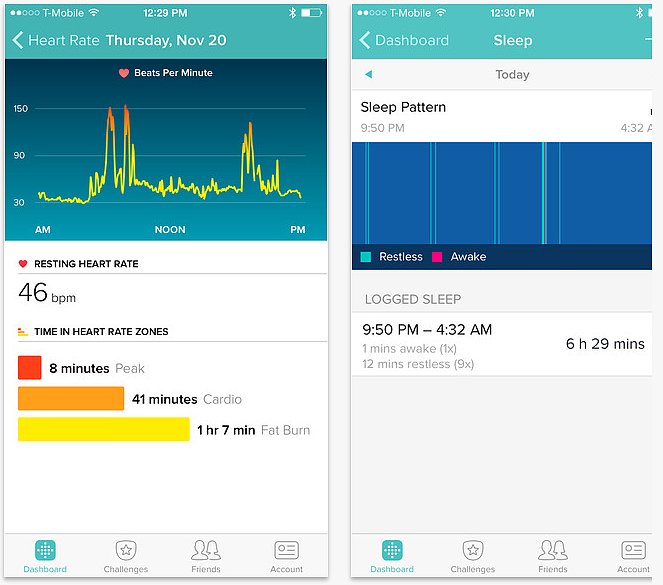 Source: iTunes
Battery Life
Fitbit says the Charge HR's battery should last five days, which is exactly how long mine lasted before needing a charge. I appreciated that I got an email every time the battery was low so I could start planning when I'd take it off for one to two hours to charge it. I did have one complaint about charging: the charging cord features a port that only works for the Charge HR (even the attachment for the regular Charge is different) and that isn't as secure as I'd like; my Fitbit easily detaches from the cord if I move it too quickly. Also, while I haven't lost the cord so far, I've been frustrated when I wanted to charge my Fitbit at work and realized I left the cord at home (or vice versa). It would be nice if the Charge HR used something more universal like a mini-USB port so you wouldn't have to keep tabs on its charger all the time.
The only other major complaint I have with the Fitbit Charge HR is the fact that it's not waterproof, just rain-, sweat-, and splash-proof. This means you have to remember to take it off every time you take a shower; there have been a few days where I forgot to put it back on afterward as I rushed through my morning routine as a result. It's a minor inconvenience for me since I'm not a swimmer, but if you log a lot of laps at the pool you may want to look elsewhere for a tracker that can measure your stats in the water. On the whole, though, I'm definitely a fan of the Charge HR: it's heart rate-measuring capabilities — both during a workout and when I'm doing nothing at all — are useful, the app is simple and informative, and its design is subtle enough to wear with almost anything. If you're trying to decide between the Charge ($130) and the Charge HR, this tracker's heart rate capabilities are definitely worth the extra money.