Flat-Belly Unicorn Popsicles
Magical Unicorn Pops to Fight Belly Bloat
Your dessert can be doing double duty. It can satisfy your sweet tooth while combating belly bloat. We created a popsicle that does both, and we felt that it was so magical it needed to be a unicorn pop! Watch this video to learn how the ingredients help flatten your belly, and then follow the recipe below to make your own batch.
Unicorn Fruit Pops
Recipe by Mona Zavosh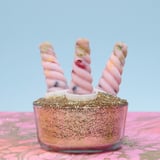 Ingredients
3/4 cup ruby red grapefruit juice or grapefruit juice cocktail
1/4 cup organic unsweetened hibiscus tea
1 to 2 teaspoons organic agave
1/4 cup Greek yogurt
1 mango, peeled and diced
1 kiwi, peeled and diced
1/4 cup fresh blueberries
1/4 cup fresh raspberries
Directions
Brew the hibiscus tea and set aside to cool.
Prepare the fruit and fill each popsicle mold with the fresh fruit. Start by inserting your popsicle stick into the quartered kiwi and securing it into the mold; then add the rest of the fruit.
Mix together the grapefruit juice, brewed hibiscus tea, and desired amount of agave in a measuring cup. Pour the mix into your molds and freeze overnight.
Once frozen, remove from mold and enjoy!
Information
Yield

4 servings

Total Time

8 hours