Garmin Vivofit Review
The Garmin Vivofit: A Fitness Tracker For the Gym Buff
There are so many fitness trackers on the market that it can be hard to find the one that's right for you. But if you're more gym rat than casual walker, the Garmin Vivofit ($130) may be the right one for you. Here's why.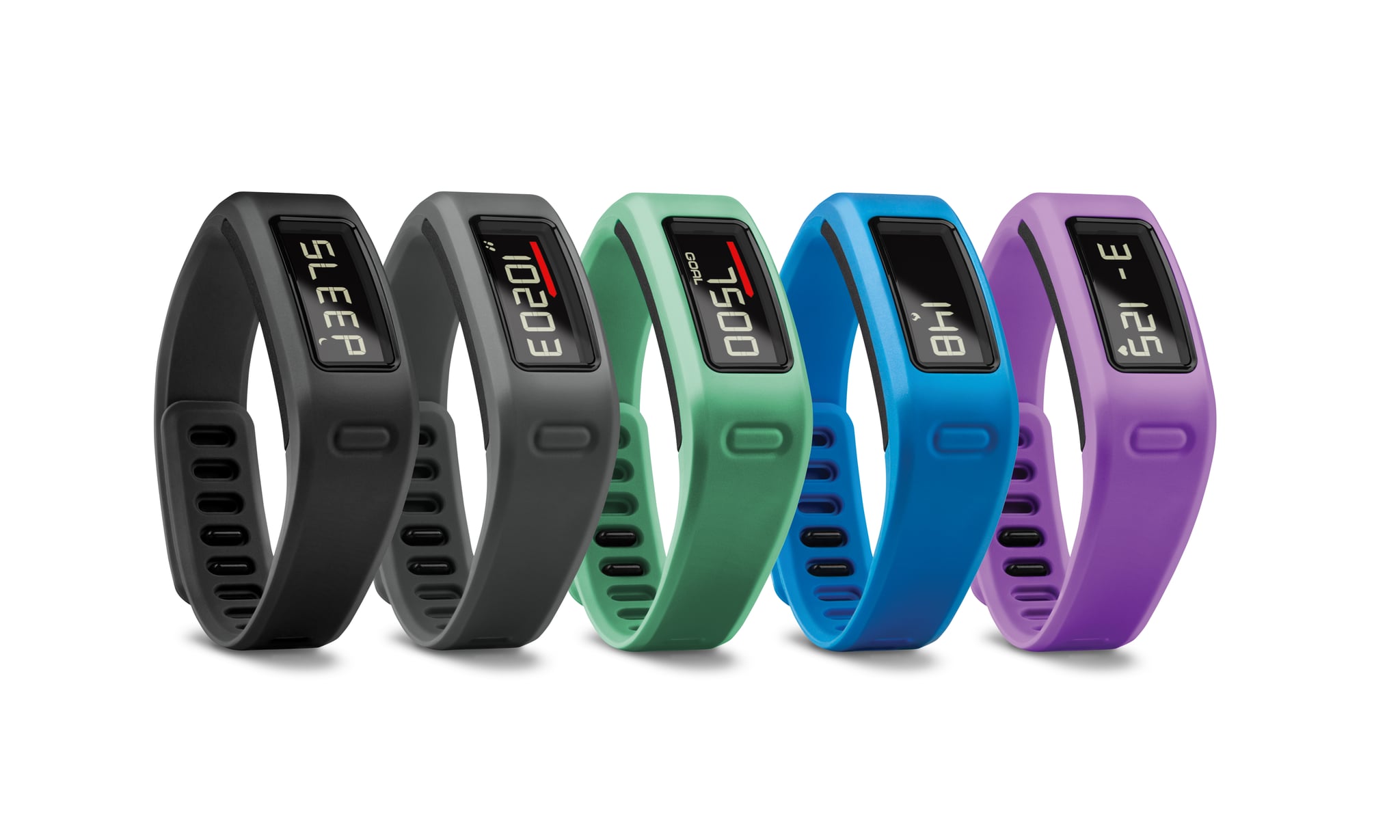 I've been testing the Garmin Vivofit for the last few months, and I've been pleasantly surprised by all its features. One important reason: you never have to take it off! It's waterproof, syncs wirelessly through Blutetooth on your phone and an included ANT+ USB receiver for your laptop, and doesn't require a recharge, meaning unlike many fitness trackers, this one rarely is off my wrist — from shower to sleep, it stays with me. Added bonus: I know just how late I'm running when I check the clock display while I shower. In fact, simple is how I'd describe most of the Vivofit's features: one always-on display, one button to do multiple features, and a rubber-like removable strap (which comes in two adjustable sizes) that is light and comfortable.
Where the Vivofit stands out is its abilty to sync with your Garmin heart rate monitor, sold separately or bundled for an additional $40. Most fitness trackers don't have this feature, although the Polar Loop is a recent exception. Once you've strapped on your heart rate monitor, pairing is a breeze; and once it's done, the Vivofit automatically detects it whenever you have both the tracker and the monitor on. From there, you just need to go for a run, bike ride, or workout; once you switch the heart rate monitor off, the Vivofit will recognize that physical session as an "activity" and place that data in the right section in your account. When you log into your account (either through the app or with a free account on Garmin Connect), you can manually assign a category to the activity (running, cycling, elliptical, hiking, swimming, and much, much more). Since I mostly run as my main workout, I loved that it automatically records your runs, even if you don't categorize them, so you can see how far you went, your pace, and heart rate stats once logged into the app or online.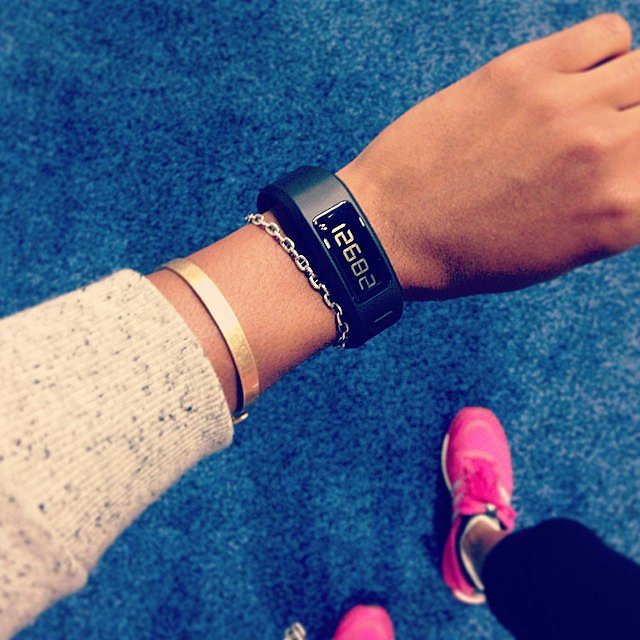 Source: Instagram User popsugarfitness
Beyond these somewhat unique features in the fitness tracker realm, the rest of the Vivofit's features are what you'd expect: it tracks your steps taken, calories burned, and miles traveled, in addition to the date and time (and whether you've hit your steps goal). You can click through each of these displays with a press of the button. Note if you're an avid stair-taker that the Vivofit doesn't track elevation, like many other trackers do.
Where the Vivofit could use improvement, however, is its sleep functionality. There is a sleep option, but you need to cycle through the "sync" option using the only button before you get to sleep mode. I often forgot to manually set sleep mode until well after the lights were out, but because the screen isn't backlit (a frustrating feature in many low-light scenarios), I had no idea if I'd succeeded in doing so unless I switched on my light again. Also, the sleep features aren't as robust as other fitness trackers'; it tracks your movement during the night, from low to high, but doesn't break it down into type of sleep (light or deep, for example), or how long it took you to fall asleep. The good news is that even if you forget to press the button, all you need to do is confirm your bed time and wake time in your account, and your movement stats will appear.
Also, while I appreciate the Vivofit's red inactivity band, which stretches across the top of the screen and grows longer the longer you sit, I thought that the band was a little too subtle to motivate me to move. Many times I'd forget that it was even there. For inactivity reminders, I prefer something like the Jawbone Up, which you can program to vibrate when you've been sitting too long, or the Nike Fuelband SE, which can send push notifications to your phone.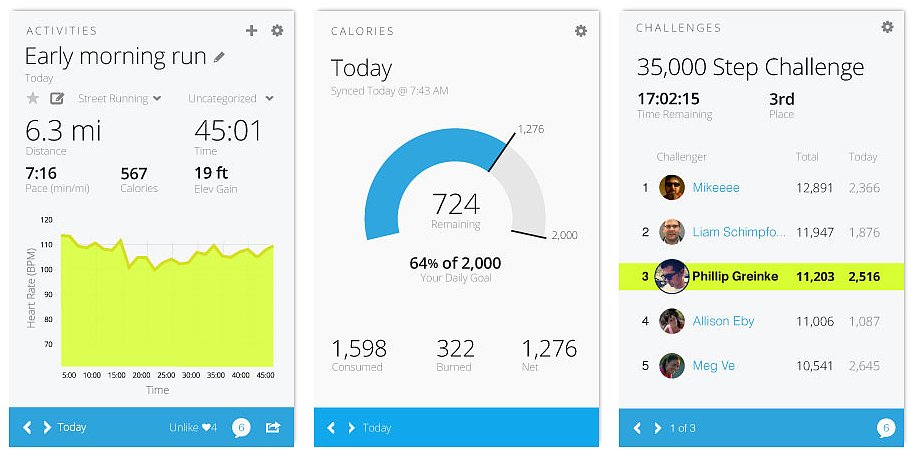 When it comes to the smartphone app and online features, the fact that the Vivofit pairs with both Android and iOS is good news; the Nike Fuelband, for example, is iOS only. However, I found both the app and the site little clunky to use, especially when I wanted to go back and look at data from days past — you have to click back through each day to see your sleep data, for instance, instead of being able to easily click through to a particular day. Luckily, there is an easy-to-use Reports area to view your stats over time, but it would be nice to have an easier process when I want to compare today's data with a particular day a week ago. But since Garmin regularly updates the app and software, I'm convinced that the features will continue to become even more robust.
All in all, the Vivofit is a great fitness tracker that does what you want and then a little more. If you've got a regular workout routine and want a fitness tracker that does more than just count steps (and one that you can wear and forget about), the Garmin Vivofit may be just what you're looking for.