How to Wash a Weighted Blanket
How to Safely Wash a Weighted Blanket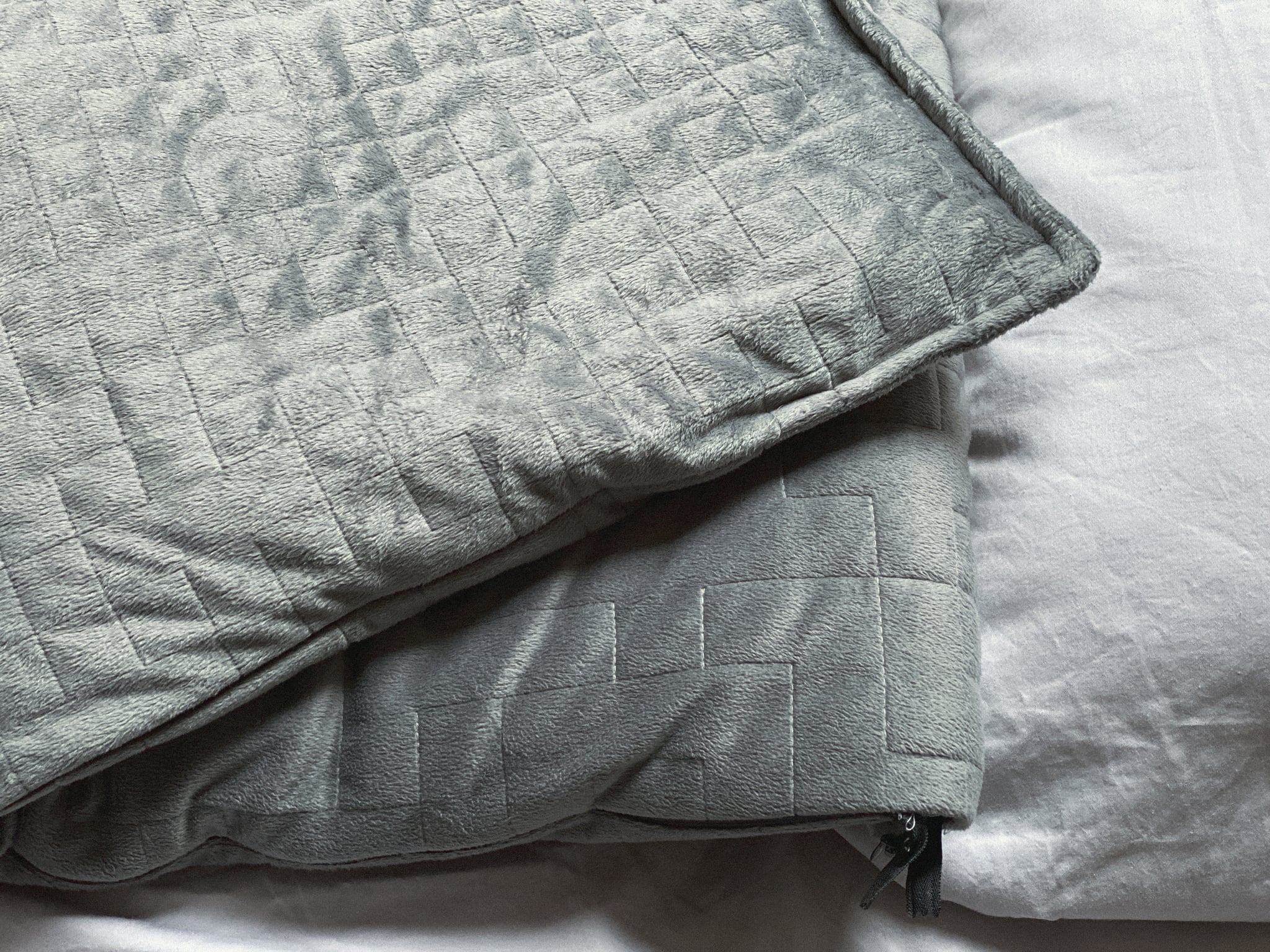 If you're a proud owner of a weighted blanket, you're probably already aware how much of a game changer they are. Although they may cost a pretty penny, weighted blankets have been scientifically proven to ease anxiety and decrease stress, all while improving your quality of sleep.
That being said, you'll want to ensure you're keeping your new best friend in tip-top shape, which begs the question: how do you wash a 30-pound blanket? Similar to other sheets and quilts, weighted blankets can be a housing cell for dust, food crumbs, allergens, and body oils. Safe to say, knowing how to properly wash a weighted blanket is a big must. Plus, nothing beats the smell of fresh laundry, right? Find a complete guide to washing a weighted blanket below.
What Is a Weighted Blanket Made With?
Not all weighted blankets are created equal; in fact, some are made with different fabric materials and filling. For example, some weighted blankets are made with cotton, linen, rayon, wool, or bamboo. This extends to the inside of your weighted blanket as well, which can be full of microfiber beads, grains, sand, steel beads, or even pebbles. All of these varying materials can affect the way you clean your weighted blanket, so definitely be sure to check any tags or online product information that came with your weighted blanket before you toss it into a washing machine.
Can You Wash a Weighted Blanket?
While you can 100 percent wash a weighted blanket, how you do so will largely depend on the blanket's weight, fabric and filling. For hassle-free laundry, opt for a weighted blanket with a duvet cover. Typically, duvet covers are machine washable, dryer safe, and infinitely easier to wash than a 20-pound blanket.
If your weighted blanket doesn't have a cover, consider buying one separately. Not only does it speed up the washing process, but it also helps protect your weighted blanket from wear and tear, stains, and lingering odors.
How to Wash a Weighted Blanket
As mentioned, laundry instructions for your weighted blanket can vary based on its materials. But generally, for an optimal clean, it's recommended to wash weighted blankets on the gentle cycle in cold or warm water with mild detergent, sans bleach or fabric softener, and tumble dry on a low heat setting. As a general rule of thumb, blankets that weigh more than 20 pounds should be washed in a commercial washer — commonly found at a laundromat — to ensure every nook and cranny is thoroughly cleaned.
How to Clean a Weighted Blanket Without a Washing Machine
Because things like water temperature and dryer care can vary, it's smart to check your blanket's care tag for specifics. For example, some materials or fillings may require air drying, in which case, you'll need to plan accordingly. You may also find that your blanket is spot-clean or dry-clean only. If it's the former, dab stains with a soft washcloth using a solution of cold or warm water and detergent (again, no bleach). Removable covers (like a duvet cover) are a lot less fragile and can be washed on a normal setting and low heat. However, you may want to still check the cover's tag to be safe.
When in doubt, you can always take your weighted blanket to the dry cleaners. If your weighted blanket doesn't have a tag or it's been clipped off, check if it's still available online. Oftentimes, companies provide wash and care instructions under the product description.
Depending on how frequently you use your weighted blanket, you should wash it every six to eight weeks. While doing so, be sure to follow any instructions that may have come with your purchase. Happy cleaning!