Keto Hot Chocolate Recipe
This Keto Hot Chocolate Will Keep You Snuggly, No Matter the Season
The following story by Kate Kordsmeier was originally published on Root + Revel.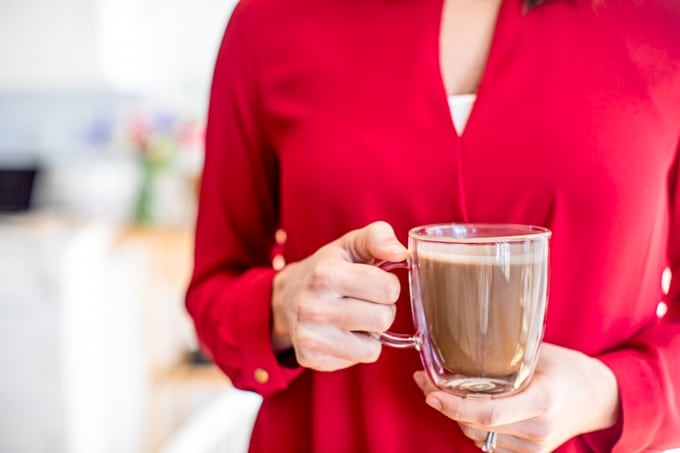 Valentine's Day is less than 2 weeks away and if you're still looking for something sweet to give that special someone, I've got just the thing.
Let me introduce you to the most delicious hot chocolate recipe you'll ever taste.
Seriously. This hot chocolate is thick, it's creamy, it's rich and decadent, it's the perfect balance of sweet and bitter (like any chocolate recipe should be) and it's so easy to make thanks to the best hot cocoa mix ever (we'll get to that in a minute).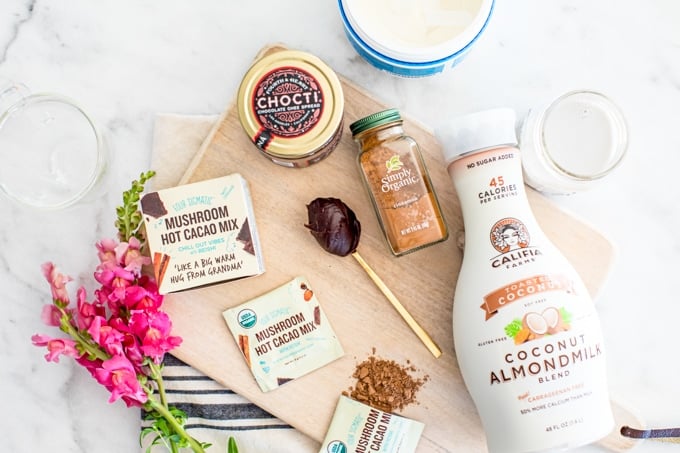 The craziest part of this easy and delicious hot cocoa recipe? It's actually healthy! Check it out:
This hot chocolate is Keto (only 6 carbs per serving, plus TONS of healthy fats!), it's Paleo, it's dairy-free, refined sugar-free, and it's bursting with superfoods, nutrients, antioxidants and more to nourish your body and soul.
Here's how I did it:
How to Make Hot Chocolate at Home
To make this Keto hot chocolate recipe, you just need 5 ingredients and a blender (I recommend Vitamix, which you can get on Amazon here or buy direct here):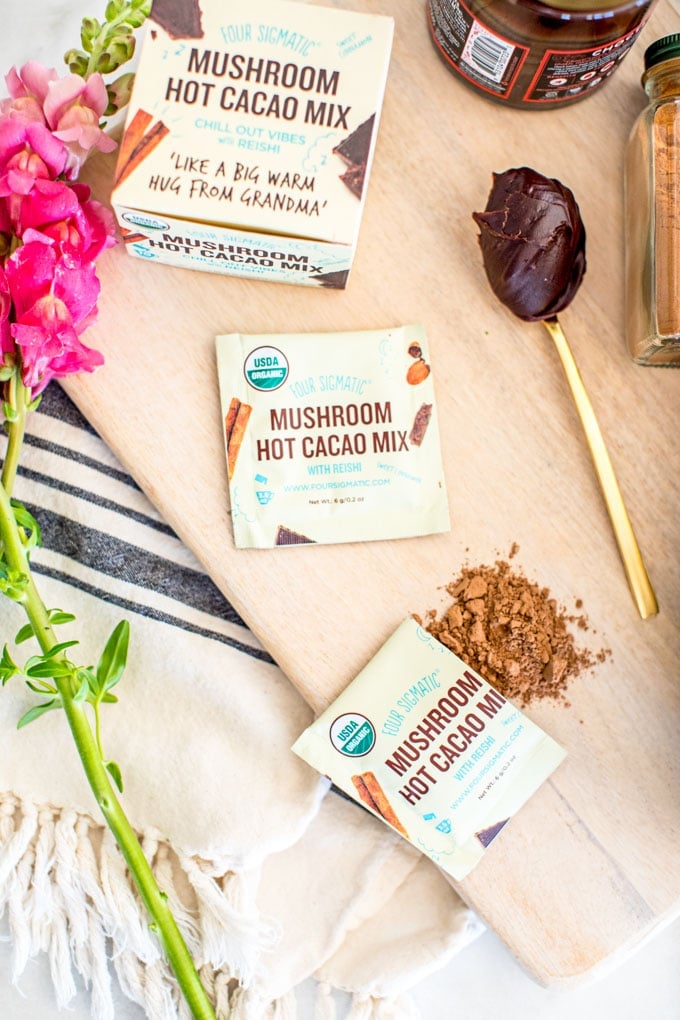 Four Sigmatic Mushroom Hot Cacao Mix: I know, it sounds weird. Mushroom in chocolate? But here's the deal — not only can you not taste the mushrooms, but these organic mushrooms (in this case, it's Reishi) are adaptogens, which support stress and restful sleep. Coupled with antioxidant-rich cacao powder (so much better for you than processed cocoa powder!) and organic, unrefined sweeteners and spices, this hot cocoa mix may just be the cleanest, healthiest brand on the market. Buy it direct to save 10% off with the coupon code "rootandrevel" (or you can buy on Amazon).
4th & Heart Chocolate Coffee Ghee: Remember how I put butter (or ghee, rather) in my coffee? And remember how this dairy-free scoop of creamy goodness lowers cholesterol and high blood pressure, reduces inflammation, actually lowers body fat, acts as a detoxifier, improves colon health, and supports healthy insulin levels? Yeah, that's why I add ghee to this hot chocolate recipe, too. This time, I opt for a chocolate flavored ghee with hints of coffee, which brings out the chocolate-y taste even more! It's made from cacao, dates, and Madagascar vanilla bean for balance. SO good!
Califia Farms Toasted Coconut Almond Milk: To add some extra thick creaminess to this hot chocolate recipe, I decided to go for dairy-free coconut almond milk. This particular brand is carrageenan-free, non-GMO, and BPA-free, which can be difficult to find in a store-bought almond milk. Did I mention it's also sugar free and contains 50% more calcium than milk? I just pour it into a mug and microwave for 90 seconds to warm it up. So easy!
Vital Proteins Collagen Peptides: Just like my butter coffee recipe, I also add collagen to this hot chocolate recipe. Why? Because collagen adds a healthy dose of grass-fed protein AND improves your skin's appearance, reduces joint pain, helps break down proteins and soothes your gut's lining (AMAZING for anyone with digestion issues), increases your metabolism, strengthens teeth, nails and hair, helps your body detox AND reduces the appearance of cellulite. Need I say more? Buy it direct or you can buy it on Amazon.
Simply Organic Cinnamon: To add a hint of sweetness and spice without any refined sugar, I rely on cinnamon, which also helps balance blood sugar.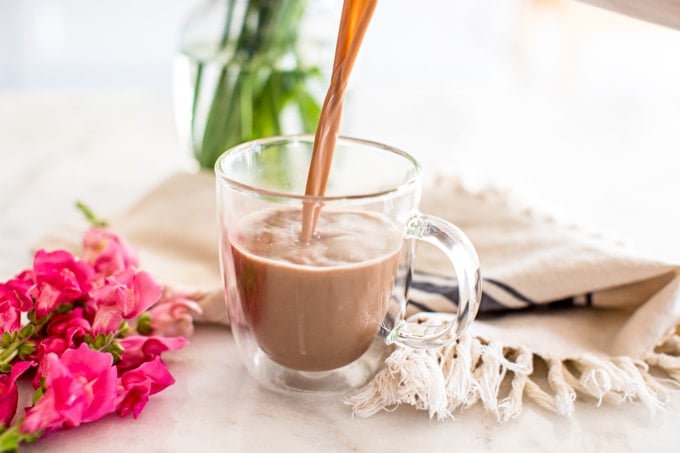 Simply add everything to your Vitamix (or blender of choice) and give it a whirl until your hot chocolate is frothy and creamy and everything is combined. Voila!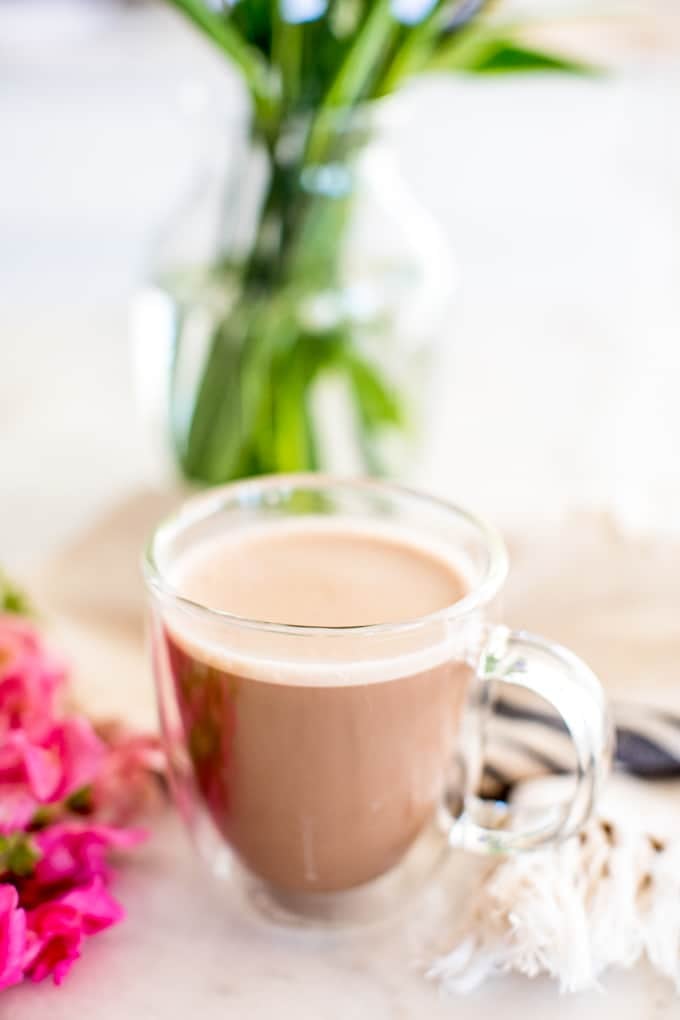 Keto Hot Chocolate Recipe
Root + Revel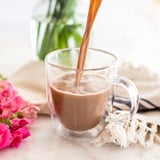 Directions
After you've microwaved the almond milk, simply add everything to your Vitamix (or blender of choice) and give it a whirl until your hot chocolate is frothy and creamy and everything is combined.
Pour into a large mug and enjoy!
Information
Category

Drinks, Hot Drinks

Cuisine

North American

Yield

1 serving

Total Time

59 seconds
Nutrition
Calories per serving

296