Lagree Method Megaformer Pilates Beginner Tips
5 Megaformer Tips For a Lagree Method Newbie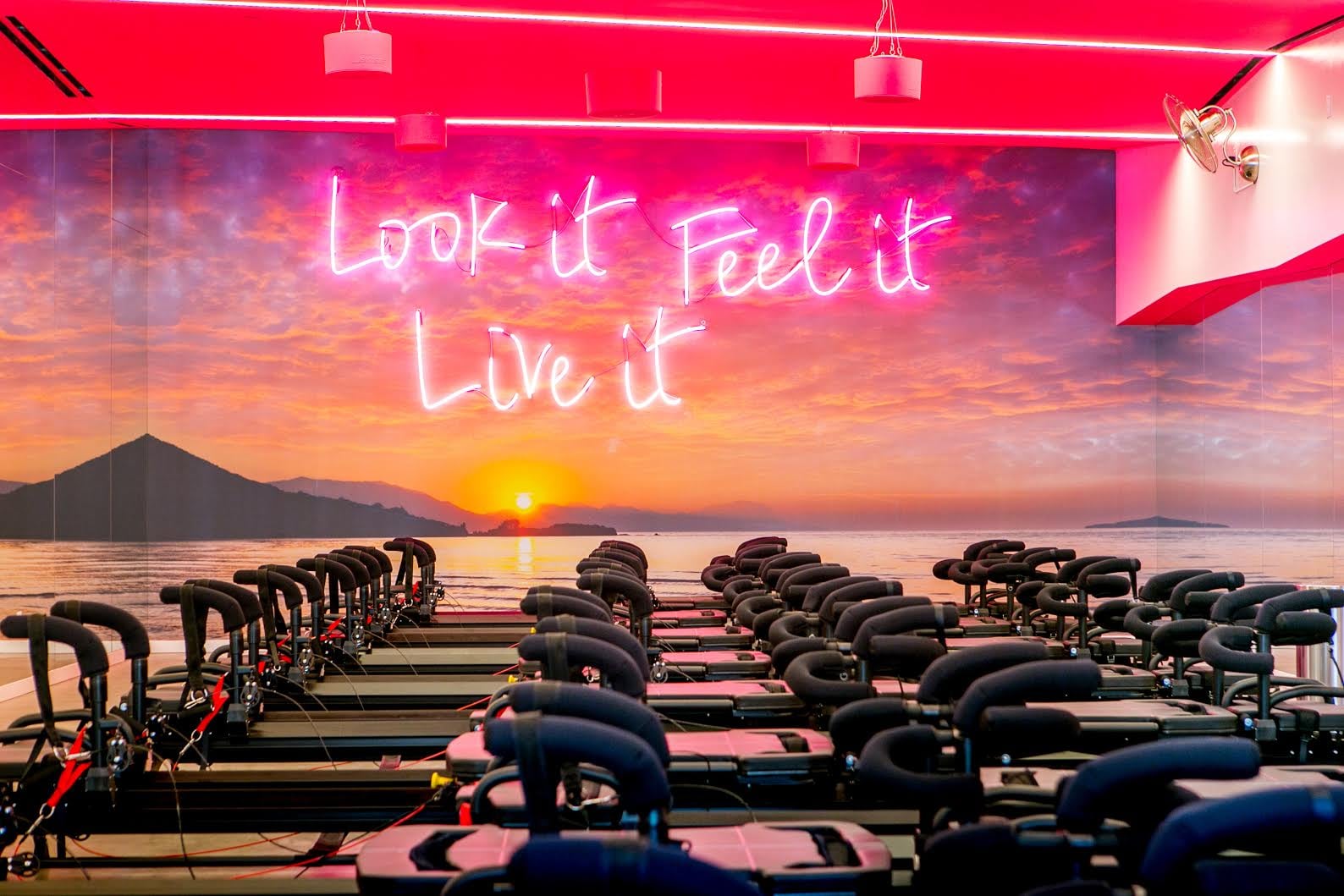 I recently visited Los Angeles for the Kayla Itsines Sweat Tour — but made sure to pack my schedule with some other fun workouts in the LA area, too.
First on my list was a Megaformer class at The Studio (MDR) near Venice Beach, CA. One of my best friends had been telling me about the Lagree Method for months, and I was dying to try one of her favorite studios. In a frantic flurry of text questions, I asked her, "But wait, WTF is a Megaformer? Sounds terrifying. Is it like a transformer? Optimus Prime?" to which she responded with something to the tune of "It's a super gnarly version of a reformer machine — it's crazy." But her obsession with the class meant two things: it was a good workout, and it was working for her. I was sold.
Walking into the studio, my eyes locked on the room full of what looked like medieval torture machines, and I knew right away they were the Megaformers. To be clear, I've never even taken a reformer Pilates class. So not only was I new to the Megaformer, but I'd also never even been on a similar machine. "That's great," said my instructor, Melissa Kusack, "because this isn't Pilates!"
I loved this class for many reasons, even though I jumped in as a total beginner (an intimidated one at that). My instructor was kind, helpful, and so informative; I didn't disclose ahead of time that I work for POPSUGAR Fitness, and Melissa still gave me tons of attention, help, and adjustments to ensure that I had an excellent first experience. The format of the class was straightforward, easy to follow, and easy to modify for a newbie. And you know what? The machine totally wasn't a torture device . . . my abs and obliques might be on a different page, but that's their problem.
I've gathered up some of the best tips my instructor shared during class, so if you're trying to check out a Megaformer class near you, get your grip socks on, grab a bottle of water, and read on.
Get familiar. One of the best things you can do before you get started with the Lagree Method? Get there early. "Arrive to class 10 to 15 minutes early so that the instructor can meet with you and familiarize you with the Megaformer," Melissa said. "Be sure to wear grippy socks, have water, and bring a towel — you will definitely sweat!" Once you're a little more familiar with the machine, you can follow along without stressing.
Go slowly! The slower you go, the faster you change; I can totally attest to this, because there were definitely moments in my first class in which I wanted to rush through a muscle-burning move. "The Lagree Method is all about slow and controlled movements, targeting each and every muscle in a concentrated and focused manner," Melissa said. "Not only do we move slow to keep it safe, but also to engage your slow twitch muscles." This is a great way to burn fat (and lose weight), and as Melissa put it, it's "key in achieving a strong, toned body."
Don't psych yourself out. Melissa's most important tip for beginners: "Don't be afraid to modify." You don't have to do everything to a T the first time! "The instructor will explain each exercise and call out modifications throughout class," she said. "These [modified] moves work just as great and help to perfect your form, in order to get you to the next level." And a reminder, it's OK to be a beginner! "Remember, everyone starts as a beginner, and the person next to you was once in your grippy socks," Melissa said. She noted that it can take anywhere from five to 10 classes to get comfortable on the Megaformer, so "don't get discouraged; this workout is truly life-changing!"
Be consistent. But don't forget to give yourself breaks between workouts, so your muscles can adjust (trust me on this one — my abs were awakened). "Consistency and rest are incredibly important when it comes to the Lagree Method," Melissa told me. "Commit to the workout, but also pace yourself and take those rest days." The workout is 50 minutes long — it goes a long way.
It's OK to shake! Very much like in barre classes, shaking is a sign of strength, so Melissa recommends embracing it. She said, "The more you shake, the stronger you are becoming!" If the shaking is intimidating, Melissa reminds you to "believe in yourself, own your body, smile, and have fun!"