Low-Calorie Protein Smoothie For Workouts
This May Be the Easiest, Tastiest Pre-Workout Smoothie Ever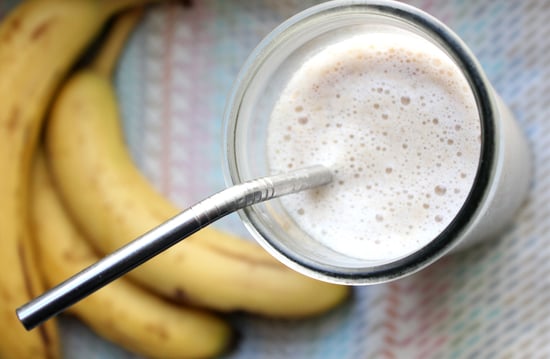 When pro surfer and model Erica Hosseini is not chasing waves around the world, she's surfing, playing tennis, or going for a run in her hometown in Southern California. So when I asked her to share her favorite pre-workout snack to keep her energy up for the first of several workouts of the day, she offered up a simple protein smoothie that satisfies her sweet cravings and keeps her full until her post-workout breakfast. She loves this recipe so much that it's become a morning routine. "I'm a big protein shake person. That's pretty much what I have daily [before a workout]: a cup of coffee and a protein shake," she says. "Then I work out, or if there [are] waves, I surf, and then I come in and have a heartier breakfast."
The recipe makes one large smoothie serving and is incredibly delicious. I drank one before a run and felt comfortably energized the whole time. Since the smoothie recipe calls for vanilla almond milk and vanilla protein powder, it can be pretty sweet depending on what brand you use, so you may want to omit the Stevia drops or other added sweeteners.
The amount of calories and protein your smoothie contains depends on which brand of protein powder you use. The protein powder I used contains 70 calories and 15 grams of protein; see the smoothie's nutritional info with this protein powder below. Erica uses one scoop of Nature's Way Metabolic Reset (130 calories and 21 grams of protein per scoop).
For more smoothie ideas, check out these healthy smoothie recipes.
Image Source: POPSUGAR Photography / Leta Shy