Lucy Hale Workout
The 1 Workout Move Lucy Hale Loves to Hate — and You've Probably Done It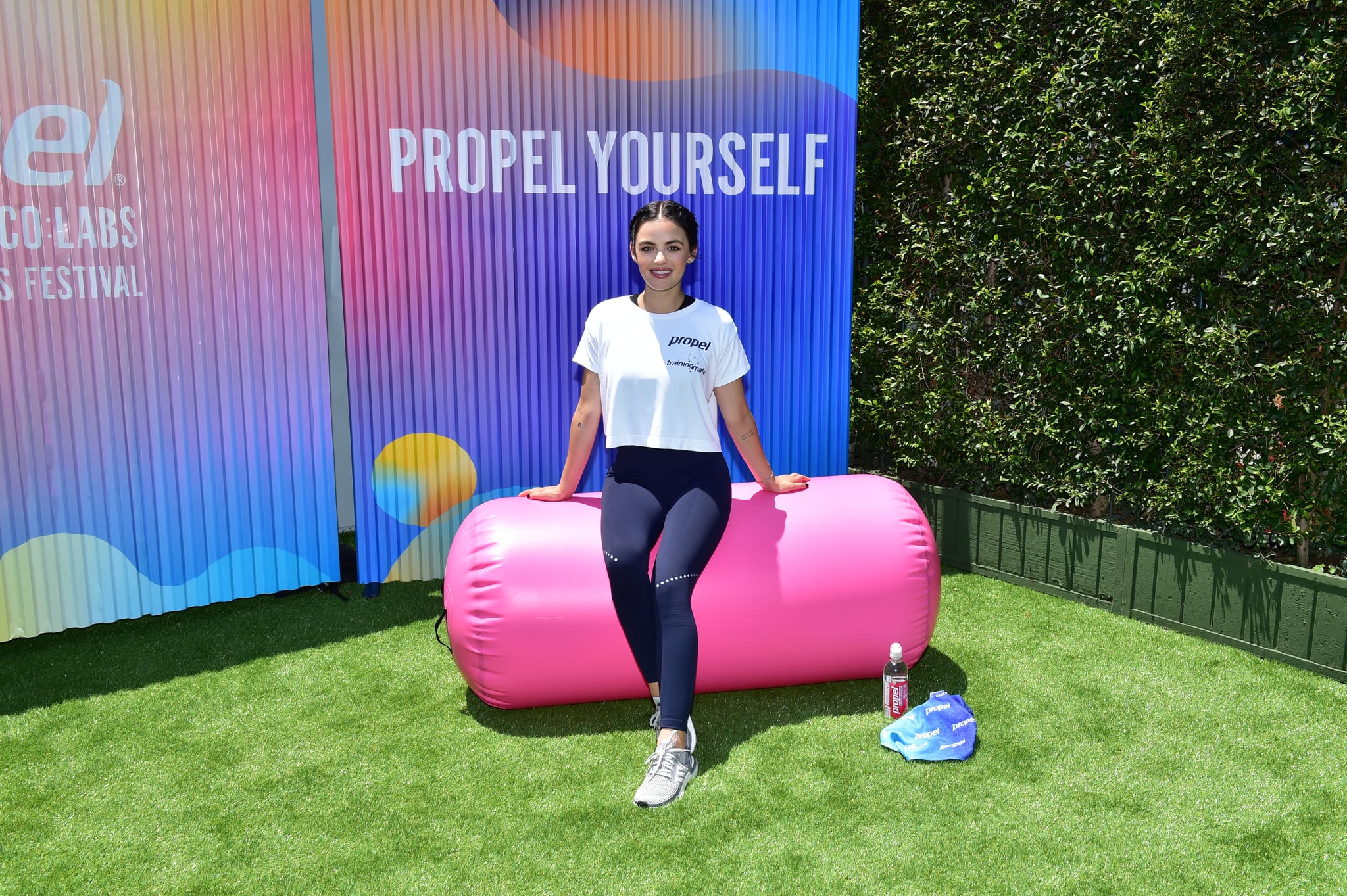 Even when Lucy Hale is working on a project, she sets aside a little bit of time to work out. Why? Because it keeps her centered. "When I've incorporated exercising into my life, it always brings me back to a good place," the 30-year-old actress told POPSUGAR ahead of Propel Co:Labs Fitness Festival where she co-taught a class with trainer Luke Milton. When she's not filming or traveling, Lucy tries to exercise daily, and she sticks to this by mixing it up.
"I try to do three or four days of strength training, two days of cardio, and one day of stretching, so Pilates or yoga," Lucy said, describing what a typical week looks like. She admits that keeping up this routine doesn't always happen as planned "but that's just my perfect world." She's into swimming, hiking, and indoor cycling, too. Lucy is the type of person who needs to take a class or go to the gym to stay the most motivated, but she's also figured out ways to work out in her hotel room if need be. The key is following trainers on Instagram for inspiration (she named Alexia Clark as an example).
Lucy's favorite type of workout right now is high-intensity interval training. The star of the upcoming CW show Katy Keene said that she's probably best at SoulCycle because she feels that her lower body is stronger than her upper body. And if there's one thing she isn't a fan of, it's certain strength moves that she does with her own trainer such as Bulgarian split squats. But the second she "hates" doing an exercise — and Bulgarian split squats are hard — she knows she should do "way more" of them.
"It's important to also realize that you are still important when you're taking these breaks and when you're taking care of yourself."
Working out makes Lucy feel balanced, though she also stressed the importance of taking time to recharge. She posted about the concept of pausing to put things in perspective on Instagram in July after a three-day trip to Yosemite, which she said was "amazing" because she was away from the noise and chaos. The best part? No cell service. People, especially our generation, are driven by their jobs, dreams, and goals, she said. To work toward what you want in life and to always be on the go is great "until you can't go anymore."
Lucy continued, "I think that it's very important that you recharge yourself so that way you're better for your job, you can show up for your friends, you can show up for your relationships, and you can excel at everything way longer." She said that a lot of her identity revolves around what she does (sometimes she gets "addicted" to her work). Journaling, meditating, or going on trips to quiet, beautiful places is necessary for her and, she noted, for everyone else. "It's important to also realize that you are still important when you're taking these breaks and when you're taking care of yourself." We've never heard anything more true.
Image Source: Michael Simon startraksphoto.com