One-Pot Salmon Teriyaki Recipe
Slimming Superfood Recipe: A Delicious 1-Pot Teriyaki Salmon Dish
Hungry for a deliciously easy dinner that's basically mess free? Self has a one-pot meal that will satisfy your cravings.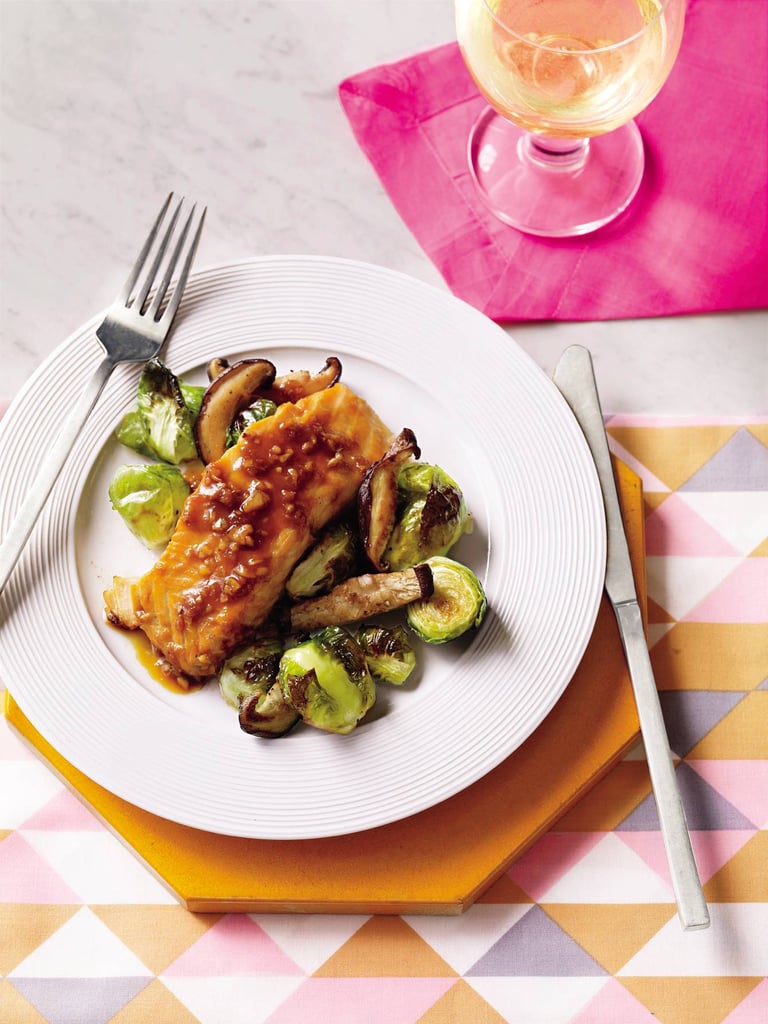 When it comes to food, our mantra is all about eating up to slim down. How, you might wonder? By focusing on nutrient-packed foods that boast serious health benefits. For example, salmon (a superfood!), which contains omega-3 fatty acids that may alter certain gene expressions in your body to tell it not to store fat, is great for slimming down. (So while you're eating, it's helping you burn!) Mushrooms also have lots of surprising benefits. And aside from all these awesome health perks, the whole recipe is crazy easy and can actually be made in one pot. Score!
If you're cooking this recipe as part of the Get Fit 2015 meal plan, serve with one cup fruit salad (chopped fresh fruit).
Teriyaki Salmon
INGREDIENTS
2 tablespoons low-sodium teriyaki sauce
1 tablespoon honey
1 tablespoon rice vinegar
4 teaspoons chopped garlic, divided
1 teaspoon grated ginger
1 teaspoon dark sesame oil
6 salmon fillets (about 1 1/2 pounds)
1 pound brussels sprouts, halved if large
1 tablespoon canola oil, divided
1/2 teaspoon salt, divided
1/2 teaspoon freshly ground black pepper, divided
Vegetable oil cooking spray
1/2 pound shiitake mushrooms, thickly sliced
DIRECTIONS
Position rack in middle of oven; heat oven to 450°. In a bowl, combine teriyaki sauce, honey, rice vinegar, 1 teaspoon garlic, ginger, and sesame oil. Place salmon in a shallow dish; sprinkle with 1 1/2 tablespoons teriyaki mixture; marinate 15 minutes. In a second bowl, toss brussels sprouts with 1 1/2 teaspoons garlic, 1/2 tablespoon canola oil, 1/4 teaspoon salt, and 1/4 teaspoon black pepper. Coat a rimmed sheet pan with cooking spray. Spread brussels sprouts in pan in a single layer; roast until light brown, 5 minutes. In a second bowl, toss mushrooms with remaining 1/2 tablespoon canola oil, 1 1/2 teaspoons garlic, 1/4 teaspoon salt, and 1/4 teaspoon black pepper. Move brussels sprouts to center of pan; top with salmon; place mushrooms in pan around edges; roast, stirring mushrooms occasionally, until salmon is just cooked through, 8 to 10 minutes. Top salmon with remaining teriyaki mixture; serve over brussels sprouts and mushrooms.
THE SKINNY: 484 calories per serving, 34 g fat (6 g saturated), 17 g carbs, 3 g fiber, 27 g protein
Image Source: Kana Okada