Paleo Chili Recipe
Cozy Up For a Hot Fall Meal With This Hearty Paleo Chili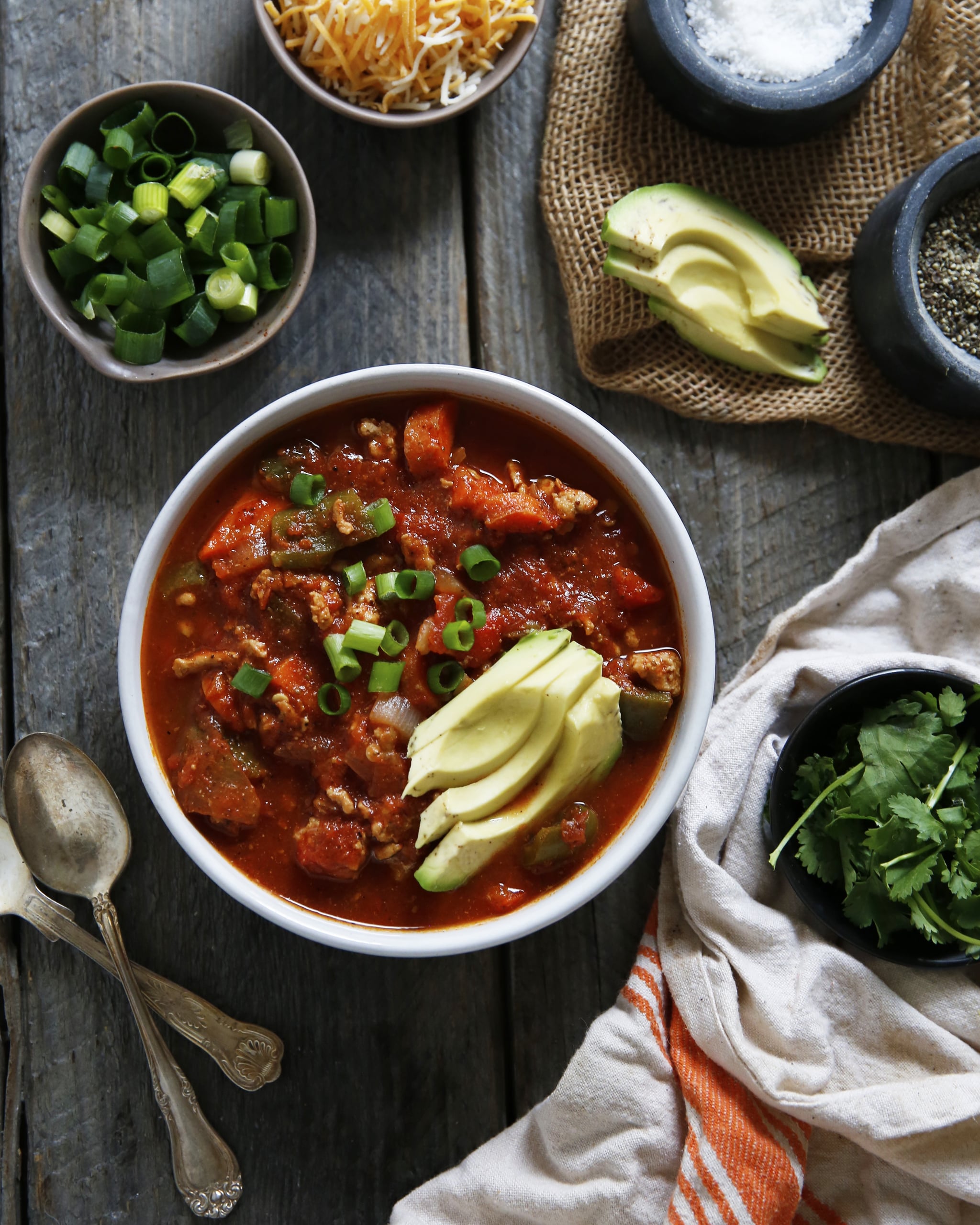 Changing your diet, eating, and lifestyle habits shouldn't mean sacrificing your favorite comfort foods. Case in point, this delectable chili from Lexi Kornblum Davidson's new cookbook, Lexi's Clean Kitchen.
"This is my go-to classic chili recipe all Fall and Winter long," said Lexi. "I call it 'healthy comfort food in a bowl' because it's hearty and satisfying for those chilly days." She also noted that when you whip up a big batch, this recipe makes for "a good weekly meal-prep option since the recipe makes tons of leftovers!"
"You can customize this chili to your liking. Some days I'll add more veggies based on what is in season. I've also perfected this chili to be equally delicious without the beans" — perfect for Paleo dieting!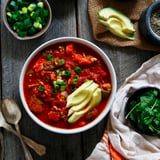 Ingredients
1 tablespoon extra-virgin olive oil
3 cloves garlic, minced
2 medium onions, diced
2 bell peppers (any color), chopped
2 large carrots, chopped
2 stalks celery, chopped
Optional: 1 medium sweet potato, peeled and cubed
2 pounds ground turkey or beef
2 cups water, more as needed
1 (15-ounce) can tomato sauce
1 (14 1⁄2-ounce) can diced tomatoes
1 teaspoon fine sea salt or more to taste
3 tablespoons chili powder
1 tablespoon cayenne pepper or more to taste
1 tablespoon ground cumin
1 tablespoon paprika
2 teaspoons celery seed
1⁄2 teaspoon freshly ground black pepper or more to taste
Pinch of red pepper flakes
Optional: 1 small jalapeño pepper, finely chopped
Optional Toppings:
Fresh cilantro leaves
Sliced avocado
Sliced scallions
Directions
Heat the oil in a soup pot over medium heat. Add the garlic, onions, bell peppers, carrots, celery, and sweet potato, if using, and sauté for 5-7 minutes until soft.
Add the meat and cook until browned, 5-7 minutes, stirring often to break up the chunks.
Once the meat is browned, add the water, tomato sauce, diced tomatoes, salt, and spices. Mix well to combine. If you are adding the jalapeño, add now.
Bring to a boil, then reduce the heat and simmer, uncovered, until the chili is nice and thick, about 3 hours. Add additional water during cooking if you want your chili to be more soup-like. Toward the end of the cooking time, taste and adjust the seasonings as desired. Add more cayenne pepper for an extra kick and more salt and pepper as needed.
Serve with your favorite chili toppings, if desired.
Store the chili in the refrigerator.
Information
Category

Chili, Main Dishes

Cuisine

North American

Yield

6 to 8