Post-Workout Buddha Bowl Recipe
This Flavorful Buddha Bowl Is Exactly What Your Post-Workout Routine Needs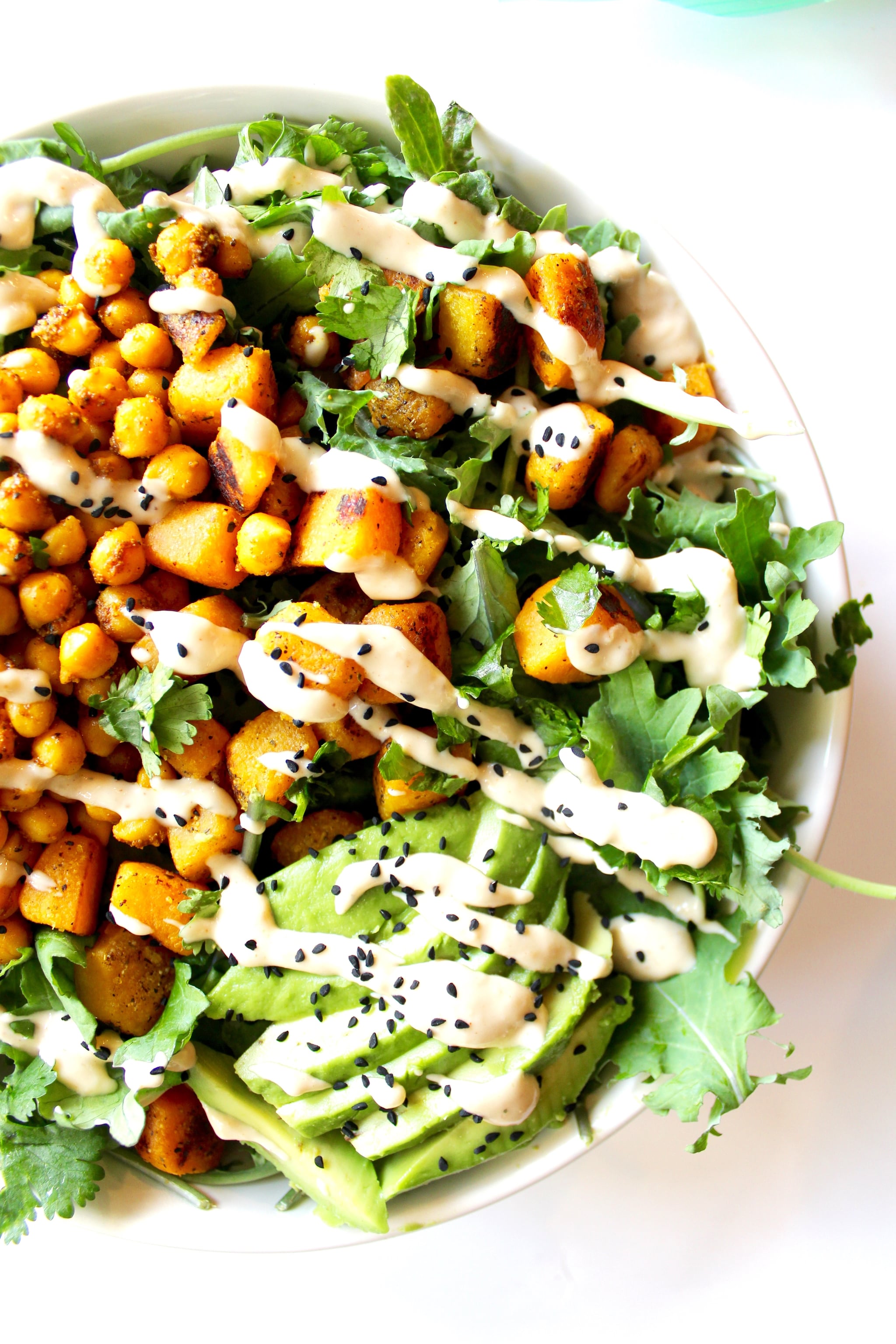 Buddha bowls seem to be the new hype all over Instagram. They are supercolorful, full of macronutrients and micronutrients, and they're delicious. If you haven't heard of a Buddha bowl before, it's basically a bowl piled so high with all your favorite foods that it looks like a belly. They also tend to be plant-based, vegan or vegetarian. But don't be fooled, they can still be high in protein. The Buddha bowl has six components. You have your leafy greens, raw or cooked veggies, healthy grains or complex carbs, protein, fats, and a sauce to top it all off.
Combining my favorite meal and the cuisine I hold closest to my heart, here is a recipe for a North African inspired Buddha Bowl. In Libya, we make couscous using ingredients like chickpeas, pumpkin, green pepper, potato, and zucchini. It's also very common to use spices like cumin, ginger, cinnamon, paprika, and coriander. In fact, Morocco is famous for their spice mix called Ras El Hanout, which just means the head of the shop. Also harissa, or a hot red chili paste, is a huge staple in Libyan cuisine.
Although North African food is heavily centered on proteins like lamb, beef, and seafood, it can be tweaked a little to fit the so-called definition of a Buddha bowl. For our protein, we have roasted chickpeas, pumpkin for carbs, lemon tahini dressing for healthy fats and more protein, baby kale as our greens, avocado because why not, Hab al Barakat (blessed seeds or black seeds), and chopped cilantro for garnish.
North African-Inspired Buddha Bowl
Original Recipe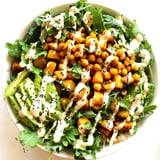 Ingredients
Roasted Chickpeas
1 cup chickpeas, drained
1/2 tablespoon olive oil
1/2 teaspoon paprika
1/2 teaspoon turmeric
1/4 teaspoon cinnamon
1/4 teaspoon cumin
1/4 teaspoon salt
Roasted Pumpkin
1/2 cup pumpkin, cubed
1/2 tablespoon ghee
1/4 teaspoon salt
1/4 teaspoon garlic
1/2 teaspoon ginger
1/2 tablespoon harissa
Tahini Dressing
1/2 cup tahini
1/4 cup water
1/2 lemon, juiced
1 tablespoon vinegar
1/2 teaspoon paprika
1/2 teaspoon garlic
1/4 teaspoon salt
Additionals
4 cups baby kale
1 Haas avocado
Hab al Barakat (black seeds)
Fresh coriander
Directions
Add olive oil to a frying pan over medium-high heat and add chickpeas. Season with paprika, turmeric, cinnamon, cumin, and salt, and sauté until slightly browned — about 5 minutes. Set chickpeas aside.
In the same pan, cook your ghee over medium-high heat and add the pumpkin. Season and sauté just like before. The pumpkin takes a bit longer to soften and caramelize — about 10 to 12 minutes. Once it's done, set it aside as well.
In a small bowl, add the tahini, water, lemon juice, vinegar, paprika, garlic, and salt, and mix well until you have a dressing.
In a large bowl, add the kale or any leafy greens of choice. Top with the chickpeas, pumpkin, avocado, cilantro/coriander, black seeds, and dressing.
Massage it all together with your hands to really break down the kale and get it seasoned evenly. Serve and enjoy!
Information
Category

Salads, Main Dishes

Cuisine

African

Yield

2 servings

Total Time

29 minutes, 59 seconds
Nutrition
Calories per serving

450
Image Source: Hajar Larbah