Red Rice Tofu Salad Recipe
Serve Up a Filling Tofu Salad With Hefty Helpings of Protein and Fiber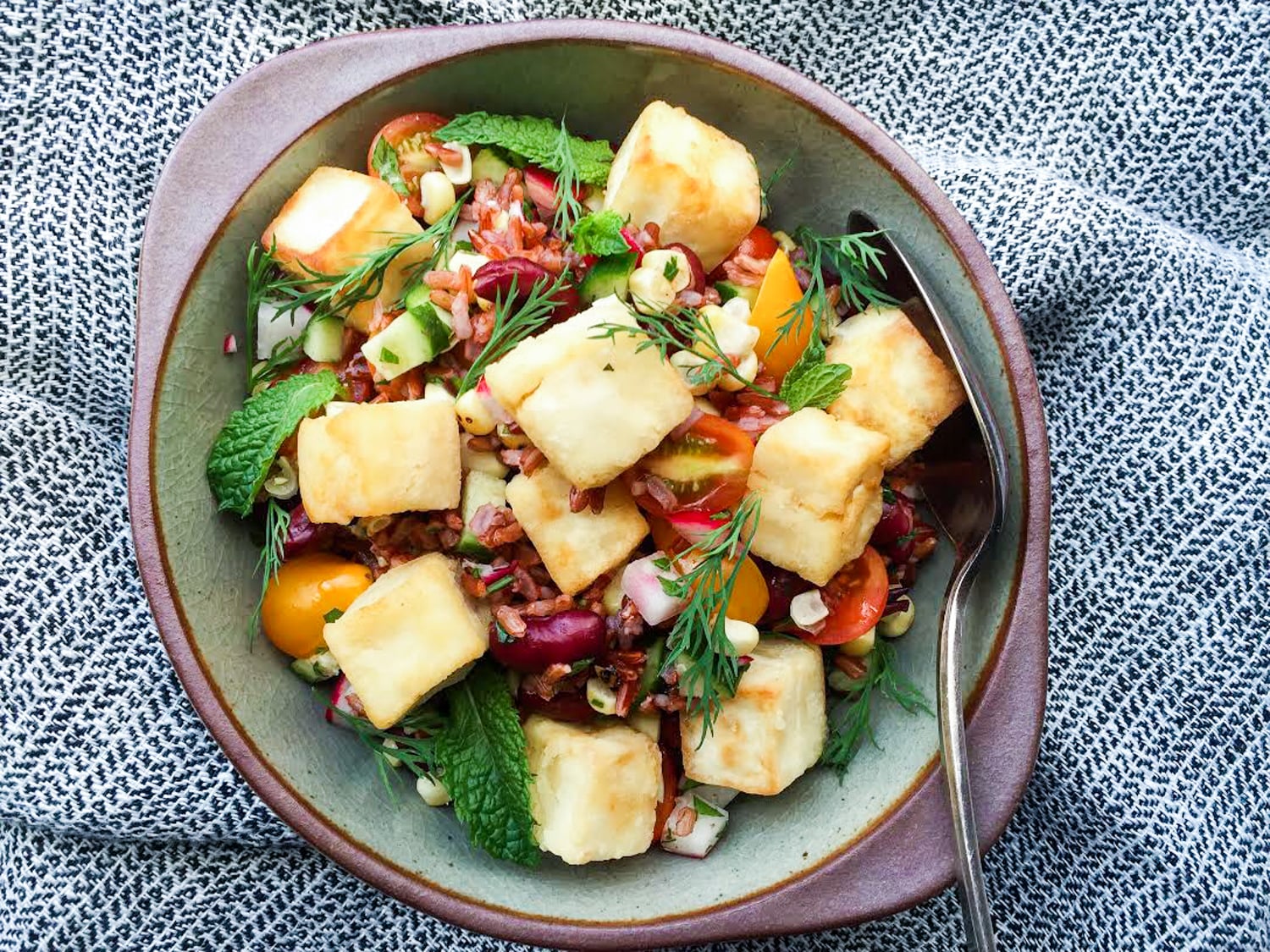 At a recent cooking class we attended with House Foods Tofu, chef Melissa King taught us this delicious red rice salad recipe. With crispy, savory, protein-packed tofu; hearty, fiber-full red rice; and fresh Summer veggies, this vegan, gluten-free salad is super filling, satisfying, and loaded with good-for-you vitamins and minerals.
Although the steps may seem lengthy, I can assure you, this is a supereasy recipe! Those new to the kitchen can still pick up on the simple, straightforward steps, like boiling rice and sautéeing the crispy tofu.
Served up, this salad is colorful and beautiful — perfect for a Summer party! You'll blow your guests away with a delicious, unique, and healthy meal (that definitely doesn't taste like health food), and it's totally beginner-friendly.
Ingredients
For the red wine vinaigrette:
1 cup red wine vinegar
1/3 cup extra-virgin olive oil
1 small shallot, minced
Kosher salt
Fresh cracked black pepper
For the salad:
1 cup uncooked red rice
2 ears corn
Olive oil
1 package firm tofu, drained well, medium diced
1 cup rice flour
1/2 cup cornstarch
1/2 cup cherry tomatoes, halved
1/2 cup English cucumbers, seeds removed, small diced
1/2 cup radishes, small diced (or sliced on mandolin)
1/2 cup kidney beans, canned, drained and rinsed well
1/2 cup chopped herbs of your choice (basil, mint, dill, parsley)
Red wine vinaigrette
Directions
Combine all the dressing ingredients in a small bowl and whisk well. Set aside.
Heat a large pot of unsalted water. Once water is boiled, add the red rice. After 15-20 minutes, the grains will start to split; at this point you can add salt to the water to flavor the rice and continue to cook for 5-10 minutes until tender. Drain well, rinse, and cool the rice for later use. Note: the rice will not be tender if you salt it in the beginning.
Char the corn on the grill until there is color, cut kernels off, and chill (discard cobs).
Heat olive oil in a pan. Toss tofu in a mixture of rice flour and cornstarch, and shake off excess. Sauté for 5 minutes or until crispy and golden brown. Remove onto a paper towel and season lightly with salt.
Get a large mixing bowl; add cooked red rice, grilled corn kernels, tomatoes, cucumbers, radishes, kidney beans, parsley, basil, and enough dressing to absorb well into the rice. Season with additional salt and pepper.
Taste it to make sure it has an even amount of acid and brightness from the vinaigrette and fresh herbs. Garnish with additional chopped basil and parsley if needed.
Top with crispy tofu and serve immediately.
Information
Category

Salads, Main Dishes

Cuisine

North American

Yield

6

Total Time

59 minutes, 59 seconds