Thai Shrimp Swiss Chard Wraps
Try These Protein-Packed, Healthy Thai Shrimp Wraps From a Yogi's Kitchen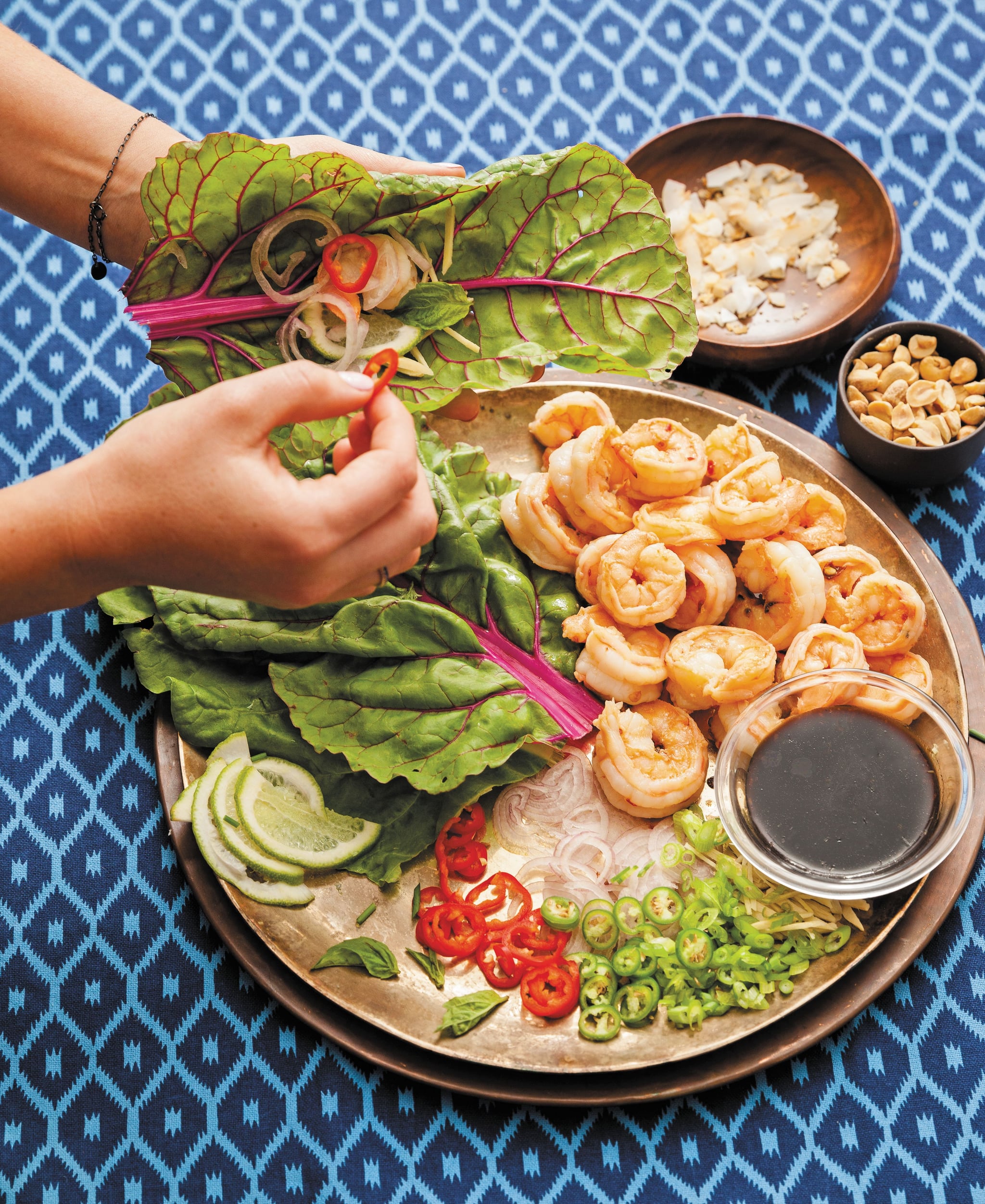 Yogi goddess Kathryn Budig has been influenced by so many cultures in her career, which is reflected in the recipes from her book, Aim True. This tasty, healthy dish comes from Southeast Asia — and can be used as an appetizer or part of a family-style meal.
"These little pockets of joy are traditional snack food in Thailand and one of my all-time favorite things to prepare," said Kathryn. "I normally enjoy these with my girlfriends and several bottles of wine." Sounds good to us!
On that note, we also love Kathryn's ideology of "meals are meant to be enjoyed," as well as her focus on developing a healthy, positive relationship with food. Not only is this wholesome, natural dish nourishing and good for you, but it's delicious, fun, and can be shared with family and friends without feeling like you're "dieting" or limiting yourself.
For starters, shrimp is low-fat, but incredibly high in protein (and BCAAs!); it's also high in tryptophan (it has more than turkey!) which releases serotonin. Shrimp also has a good amount of magnesium and potassium, both of which are great for sore muscles. The spicy component is also a great sore-muscle remedy (which we know now thanks to recent research), and a metabolism booster.
Kathryn also has a tip for streamlining the cooking process in a fun way: "I prep all the ingredients and turn us into an assembly line until every flavorful morsel is wrapped up in its green leaf burrito. The result? A happy dance in your mouth."
She suggests that you "make a ton — these are poppable and go fast!" We won't argue with that.
Shrimp Swiss Chard Wraps
From Aim True by Kathryn Budig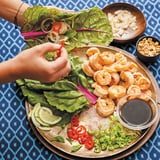 Ingredients
1/2 cup unsweetened coconut flakes
1 stalk lemongrass, sliced
2 tablespoons grated fresh ginger
1/2 cup hot water
1 tablespoon fish sauce
1/2 cup tamarind paste or quince paste
1/2 cup coconut or brown sugar
1 tablespoon coconut oil
10 shrimp
1 teaspoon seasoned or spicy salt
1 bunch Swiss chard, cleaned and torn to hand-size pieces
3 shallots, slivered
2-inch piece fresh ginger, slivered
2 to 3 jalapeños and/or red chili peppers, thinly sliced
1/2 cup peanuts
3 to 4 limes, thinly sliced and cut into small wedges
Directions
In a saute pan over medium heat, toast the coconut flakes for 2 to 3 minutes, or until they are golden brown (watch closely, they burn fast). Transfer them to a bowl.
Add the lemongrass and grated ginger to the saute pan and dry toast them for 2 minutes. Add the hot water, fish sauce, tamarind paste, and sugar and stir until combined.
Reduce the heat to low and cook for 5 minutes. Stir in 1 tablespoon of the toasted coconut flakes, transfer the sauce to a bowl, and set it aside.
Bring the heat back up to medium-high and melt the coconut oil in the saute pan. Add the shrimp, and sprinkle them with the seasoned salt. Cook for 2 to 3 minutes, or until they are curled and pink. Chop them into small pieces.
Arrange all the ingredients within reach in this order: chard, shallots, ginger, jalapeños, the remaining toasted coconut, shrimp, peanuts, sauce, and lime wedges.
Start with a piece of chard, and add a pinch each of shallots and ginger, 1 to 2 pieces of the jalapeños, a pinch of toasted coconut, a few bits of shrimp, 1 to 2 peanuts, a drizzle of sauce, and the juice from a lime wedge. Roll it up (don't try to make them pretty, this is street food!) and pop it into your mouth!
Information
Category

Seafood, Appetizers

Cuisine

Other Asian

Yield

20 bite-size wraps

Total Time

29 minutes, 59 seconds