What the Reggae Marathon Is Like
Proof You Don't Need to Be a Runner to Participate in a 10K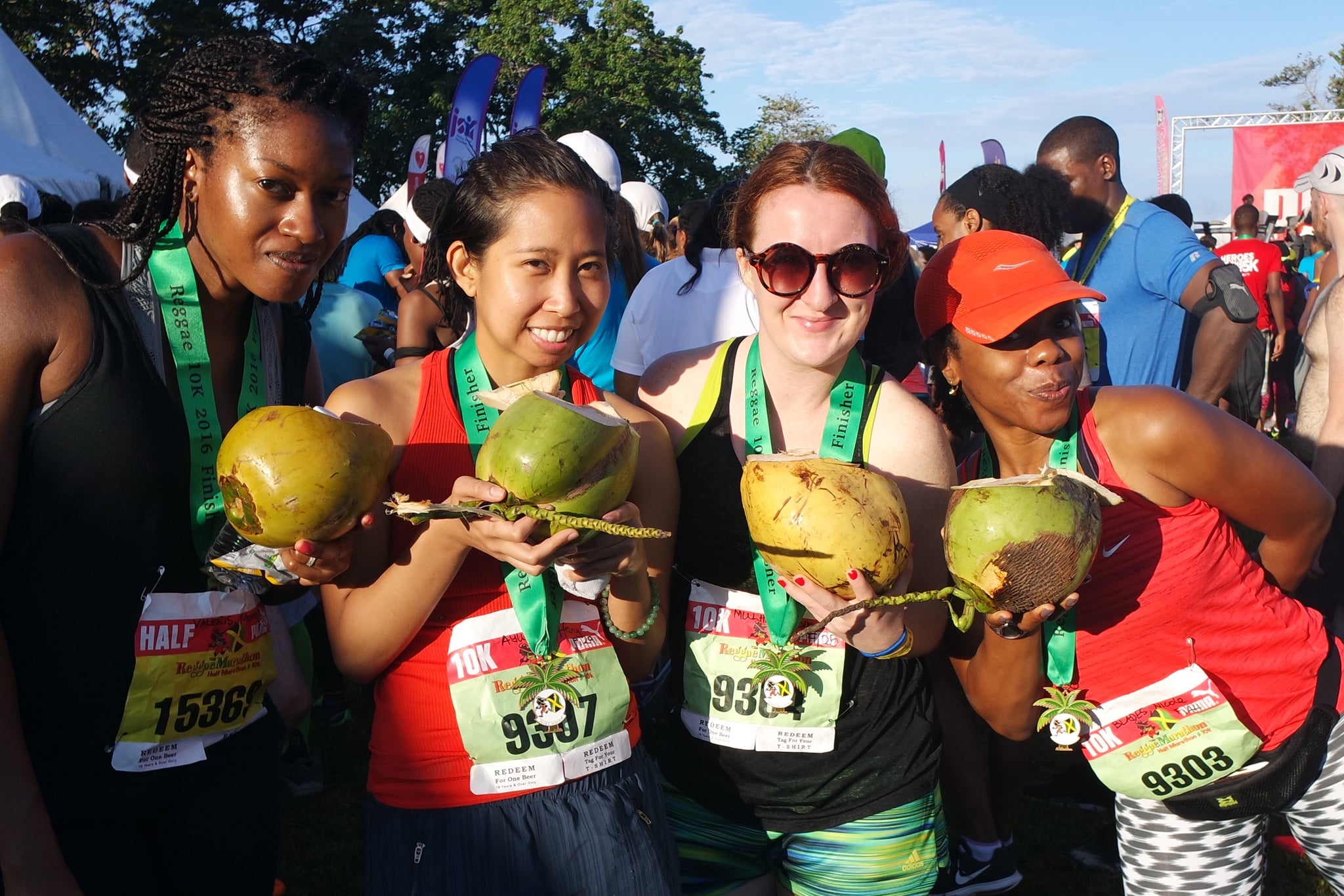 Zumba, Pilates, and cardio kickboxing are just a few of my fitness favorites. I even live for Bodyweb with TRX or Bosu Bootcamp at my local Crunch. And over the years, I've survived many Core Fusion classes. But running? It's never been my speed.
I've always admired the dedicated runners at Prospect Park in my Brooklyn neighborhood with their earbuds intact, wearing the cutest gear. They never seem to be struggling or breaking a sweat at any point during their run. It appears to come easy to them. I, on the other hand, am of the power walking set.
Imagine the mixed emotions I felt when I agreed to walk the 10K portion of the 16th annual Reggae Marathon as a guest of the Jamaica Tourist Board. I was elated to explore Jamaica for the very first time (reggae is one of my favorite genres of music, after all), but there was an undeniable sense of anxiety about not being an avid runner. I felt like an impostor. Just the thought of walking while other participants zoomed past me on the course made me feel defeated. Regardless, I tried my best to ignore my reservations and learned a few lessons about how to achieve a fitness goal.
Confidence Is Everything
Challenges are part of life — even when it comes to fitness. Building the stamina to endure the 10K walk in the Reggae Marathon was far from easy for me. I found it within myself to stay motivated to cross the finish line and took comfort in knowing I've overcome an endless number of challenges in the past. This one was no different. I certainly didn't approach the start line at 5:15 a.m. to fail. The energy from participants who were cheering each other on before the race, smiling with excitement, and snapping photos to document their experience made the event that much more special.
But I'd be lying if I didn't acknowledge a few mental games I had to play to maintain momentum on the course. "You can do it, Monique" and "you're nearly there" were just a few affirmations I rehearsed in my mind to keep moving.
Embrace Your Purpose
Participating in the Reggae Marathon was my way of supporting the event's mission: to showcase long-distance running as a sport in Jamaica, help advance the tourism industry and the country's education system, and indulge in the country's culture filled with great food and music. These were more than enough reasons to sport my bib number proudly.
Be Open-Minded
It pays to let go of expectations when you encounter a new adventure. It was my very first time in Jamaica and I'd never participated in a race. I had no idea what to expect. While I felt like an impostor walking, I came to terms with my reality and ended up connecting with a group of women from Black Girls RUN!, which encourages African-American women in their quest to stay healthy and fit. A few of these women would come to be my walking partners and support system. Along the course, we shared our passion for travel, baking, and shopping abroad, which made the time pass quickly.
Outdoor yoga at the Cliff Hotel in Negril, Jamaica
Remember to Have Fun
What's more fun than working out on a beautiful island? It's a win all around. The Reggae Marathon, which was parallel to the popular Seven-Mile Beach, was the perfect opportunity to enjoy some fun. The route, which was pretty flat, featured a mix of small bands and stereos that played reggae to motivate marathoners along the way. Every point felt like winning the marathon in my book. It gave me the extra boost I needed to walk to the next mile.
Along with the Reggae Marathon, I was able to indulge in the full Jamaican experience during my time in both Negril and Montego Bay. I enjoyed yoga with an ocean view, rafting at Martha Brae River, authentic Jamaican food at Murphy's and Scotchie's, and a few nights of dancing into the early morning hours with the most down-to-earth group of journalists, who also traveled to Jamaica for the very first time. The amount of gut-wrenching laughs we shared together is truly priceless.
Celebrate Your Achievement
There was one instance where I slowed down a bit (the 3 a.m. wake-up call started to hit me), but one of my walking partners from Black Girls RUN! was right by my side to give me the extra push I needed to keep going. Despite my body's need for rest, I kept pushing until I spotted the sign for the 10K turn. I was finally at the halfway mark and it felt akin to winning the lottery (not that I've ever won more than a few dollars from scratch-offs). I finally made it to the finish line after nearly two hours of power walking (my time was 1:51:32 to be exact). I couldn't have been happier.
I celebrated with a few other journalists who came along for the trip, who finished after about an hour of running, by enjoying the vendors and entertainment in Long Bay Beach Park. We drank fresh coconut water, enjoyed jerk chicken, and relaxed on the beach, recapping the day and our accomplishments. It was an amazing experience.
If the opportunity arises next year, I'd love to return to the Reggae Marathon — but, hopefully, this time as a runner. People from all walks of life and ages came together that day for just a few hours, but the memories and lessons I learned during my trip will last a lifetime.
Image Source: POPSUGAR Photography / Barney Bishop