Y7 Yoga Class Review
The Vinyasa Class That Made Me Stop Hating Vinyasa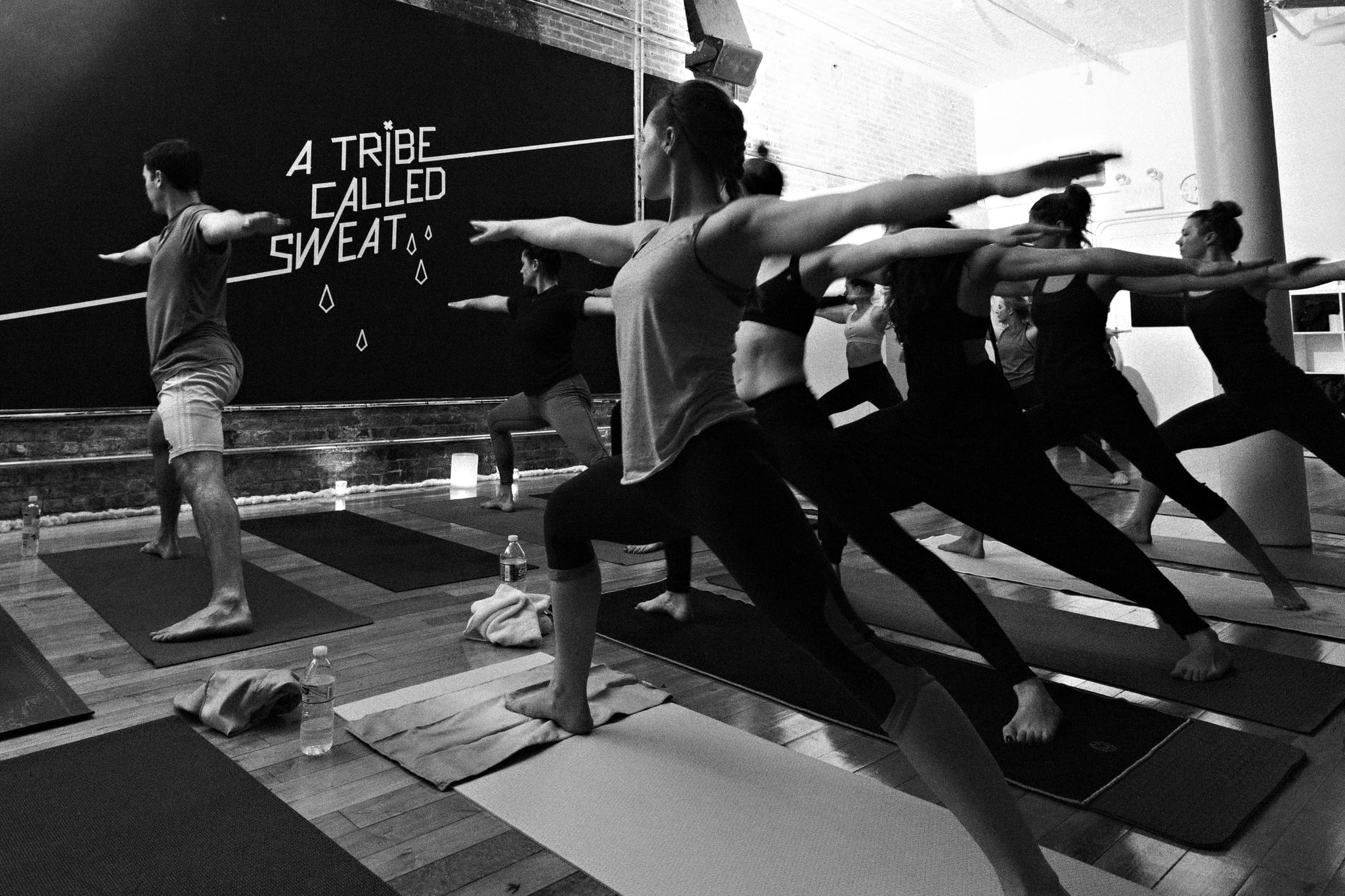 Before finding Y7, I was in a committed relationship with Hatha yoga. In high school, I would skip my free period to catch a noon class, and in college, I would spend a good amount of my holiday breaks on my mat. When I first moved to New York, I knew that finding a yoga studio I loved would help this new city feel like home. I never thought that would be a Vinyasa flow studio fueled by hip-hop music.
I used to hate Vinyasa yoga. After trying it a few times, I had written it off as "not for me" because I found it too easy for my mind to wander off my mat while moving through repetitive poses. But when my co-worker mentioned that she was trying the class that I hadn't stopped talking about since I saw a video of 50 Cent raving about it, I agreed to meet up with her at the noon session the next day.
I'd read online that Y7 starts exactly on time and does not allow late entrance, so I tried my best to be early. But me, being the person I am, made it to class just as they were giving the one-minute warning and rolled out my newly purchased yoga mat in front of the "We Flow Hard" mural in the back of the room.
The instructor shut the door and began to explain the Y7 process as 2Chainz fell into the background. First, she led us through the Sun Salutation that would become the foundation for everything that followed in the next 60 minutes. She explained each pose in depth, emphasizing alignment and offering modifications for those days when we need to pull back instead of push harder. When we landed back in a Downward Facing Dog, we started setting up the first sequence.
Every instructor is different, but every We Flow Hard Vinyasa class goes through the same pattern in an infrared-heated room (around 80-90 degrees) lit only by candlelight. You go through three different sequences that get more complex as you go, one last push of effort, and a well-deserved Savasana at the end. The class goes through each of the three sequences three times on each side of the body.
The beginning of each sequence starts with the instructor moving you through the poses with a focus on alignment, the second round speeds up the pace linking each pose by a single breath, and the third time the instructor leaves it up to you to set your inner teacher free. Add what you need for your practice, and take out what you don't. The classes are fueled by the hip-hop music we know and love, and while that may not seem relaxing, I always leave class sweaty and totally zen.
Y7 has taught me so much about my practice. Now I know that I can still focus on my Ujjayi pranayama breath while Big Sean raps about "all of that ass." Sometimes I even find myself singing along just to make it through that last sequence. I used to think Vinyasa was not for me, but it was really just a challenge I had to face. I had to become comfortable knowing what comes next in the sequence and still holding that plank just as strong the first time in class as I will the last.
Whether you're obsessed with Vinyasa or you just love jamming out to Kanye West, Chance the Rapper, and more, I'd highly recommend giving Y7 a try. The We Flow Hard Vinyasa class is suitable for all levels, and there are currently five locations in New York and one in Los Angeles too! At the very least, you'll break a sweat, and maybe you'll even discover your next favorite song.
Image Source: Image Courtesy of Y7