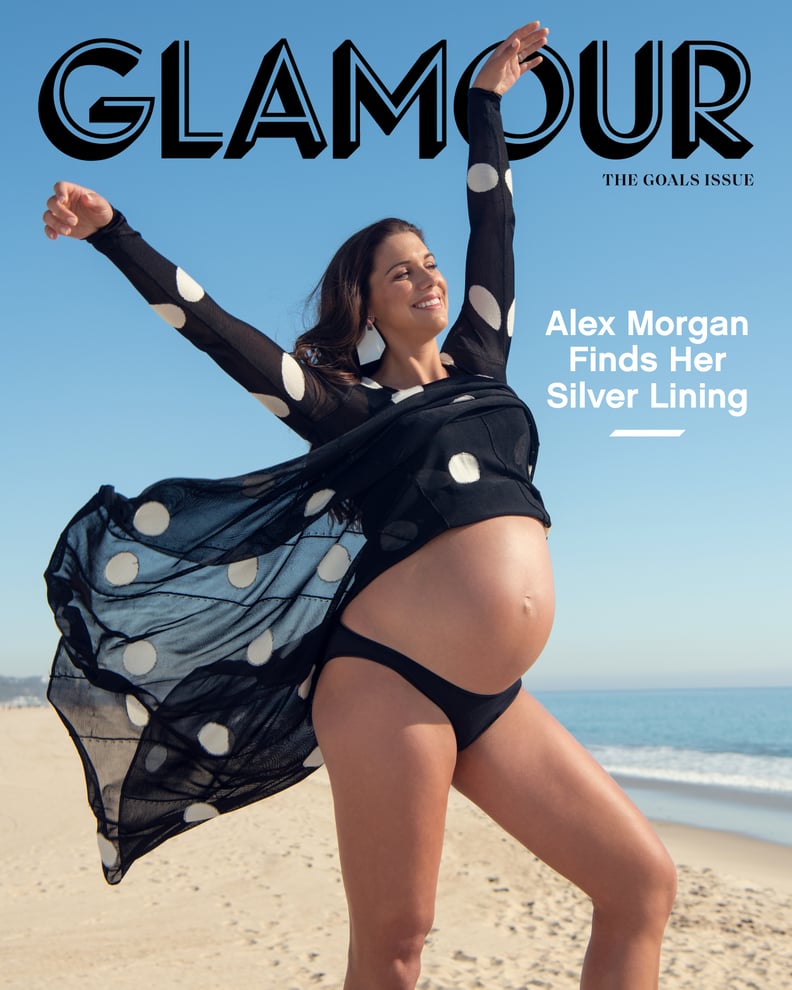 Radka Leitmeritz exclusively for Glamour
Radka Leitmeritz exclusively for Glamour
It's no question that everyone has had to settle into their new normal. Two-time World Cup champion and Olympic gold medalist Alex Morgan saw more than just soccer in her future come 2020 — she and husband Servando Carrasco, a fellow soccer player, were preparing for the arrival of their first child together, a baby girl, this spring (April to be exact). She was planning on doing what some deemed to be impossible: become Olympic roster ready in just a few short months after giving birth. Nothing would stand in her way of trying to get on that team in Tokyo. Then, due to the novel coronavirus pandemic that has become the world's all-too-clear reality, that dream was postponed one full year.
"It's not like women can't do both — our bodies are incredible — it's the fact that this world isn't really set up for women to thrive."
In Glamour's cover story for its Goals Issue, Morgan explained that she believes postponing the Games until the summer of 2021 is the right decision. "I tried to look at it more from a team perspective, but I couldn't help but think of myself with all of the stress that's going on from the coronavirus on top of trying to get back in shape in such a short amount of time." Now, Morgan has over a year to train and raise her daughter.
The initial announcement that Morgan was going for her third Olympics shortly after giving birth was met with skepticism from some people. After all, balancing motherhood with any career, let alone a professional athletic career, is often met with skepticism. "It's not like women can't do both — our bodies are incredible — it's the fact that this world isn't really set up for women to thrive," the 30-year-old with over 100 international goals told Glamour. Women in the WNBA, for example, just negotiated greatly improved (and first of its kind) maternity and family planning benefits in the league's new collective bargaining agreement.
Morgan continued, "I want to be open about my journey because I want women to feel like they don't have to choose one or the other. The more female athletes that are moms in their career, the better — from Allyson Felix, to Serena Williams, to my teammate Sydney Leroux. The more challenged the system, the more it will change."
Morgan, who just re-igned with Nike, said that maternity protections for her include 18 months of guaranteed pay that, as Glamour noted, cannot be reduced even if she isn't competing. (Note: Nike re-examined their maternity benefits after being pushed by athletes such as Felix, Alysia Montaño, and Kara Goucher in 2019.) And, US Soccer, despite recent rising tensions with the US women's national soccer team and an impending court date over a gender discrimination lawsuit, has been supportive of Morgan's pregnancy, she said.
The USWNT already qualified for the Olympics, but the athletes named on that team, at the moment, are still up in the air. As USWNT member Carli Lloyd told POPSUGAR in a previous interview, coach Vlatko Andonovski was tasked with trimming down the final roster to 18 players, including two goalkeepers, and even that wasn't going to be announced until likely early June 2020. Now, Morgan will be training for the same chance to get on that Olympic team. But first, she is focused on transitioning into motherhood.
The prospect of delivering during this pandemic is scary, Morgan admitted, especially because some hospitals are banning visitors to thwart the spread of the coronavirus. She may need to change her plans and have a home delivery if that's the case for her, especially if her husband isn't allowed in the delivery room, she said.
"There are a hundred things that have been going through my mind," Morgan explained. "Now I have more time to deal, and I'll have more time with my daughter without the endless questions. I can figure it out with a little more calm and a little more clarity. I have to look to the positives."