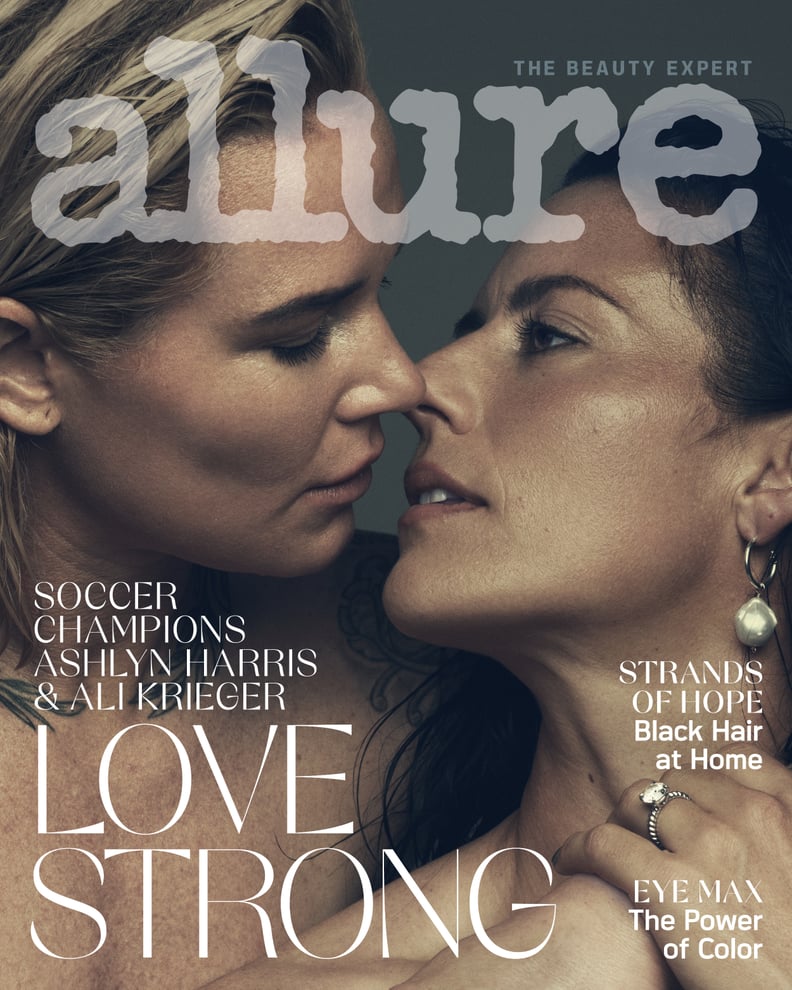 Norman Jean Roy for Allure
Norman Jean Roy for Allure
Ali Krieger and Ashlyn Harris are a powerhouse couple, not just because they've both been a part of two World Cup-winning soccer teams and they fight for pay equity alongside the USWNT — their power also lies in the fact that they are major proponents of LGBTQ+ representation. As Harris told POPSUGAR earlier this year, not seeing people like her on TV made her feel like she had to hide who she really was. "I think, for us, that is something that Ali and I strive to do just to create the visibility aspect in our sport and in our life and show that we get happy endings, too."
Krieger, a defender, and Harris, a goalie, were married in December of 2019 after a decade-plus relationship. In an interview for Allure's August 2020 cover, USWNT teammate and best woman at their wedding, Megan Rapinoe, said, "Ali and Ashlyn live their life in celebration, the way that they want to. They refuse to have anybody tell them how they're going to live or what's going to make them happy or who they are or what they can be." She continued, "Growing up, we didn't have a lot of gay role models. They've made such a huge impact. It's been so cool just to see how much love they've gotten and how happy they are."
Harris told Allure that collectively, as athletes, they're committed to playing the game of soccer, but "what really moves a lot of us is changing the conversation, the culture. You're playing for more than the popularity of your sport. You're playing to impact people's lives across all industries. We're trying to empower people to feel strong enough to stand for something that is important to them."
Krieger echoed that sense of commitment to the game but, more so, to pay equity. "We get on the field and do a job. And do it really well," she said. "But after the 90 minutes, we're back to fighting [for pay equity] again. We do the fighting on the field. And we're very successful, which helps our cause even more."
An update to the gender-discrimination lawsuit filed last year by the USWNT against the US Soccer Federation (USSF) came out in May 2020, when a federal judge dismissed the unequal pay claims. The judge said that allegations of discriminatory work conditions could move forward in court, currently scheduled for Sept. 15. However, USWNT players are still seeking to appeal this dismissal, which, according to ESPN, could take a year or more.
Krieger and Harris, who play for Orlando Pride, admit that soccer will have to adjust with the continued onset of novel coronavirus (COVID-19). Sports in general, Harris told Allure, will be very different moving forward. She and Krieger continue to work out (they're big fans of Peloton, for instance), and the team has modified practices, according to Allure. However, in late June, the Orlando Pride announced its withdrawal from the NWSL Challenge Cup due to positive COVID-19 tests among its players and staff members.
Thinking about their futures even after the postponed Tokyo Olympics coming next summer, the couple talked about wanting kids. And, Krieger envisions herself working in broadcast TV for men's soccer, while Harris isn't quite sure about what her next career move will be. They are aware that "there's a shelf life" with the sport regardless — but whenever they choose to hang up their respective jerseys, they can do so knowing they've left their mark.