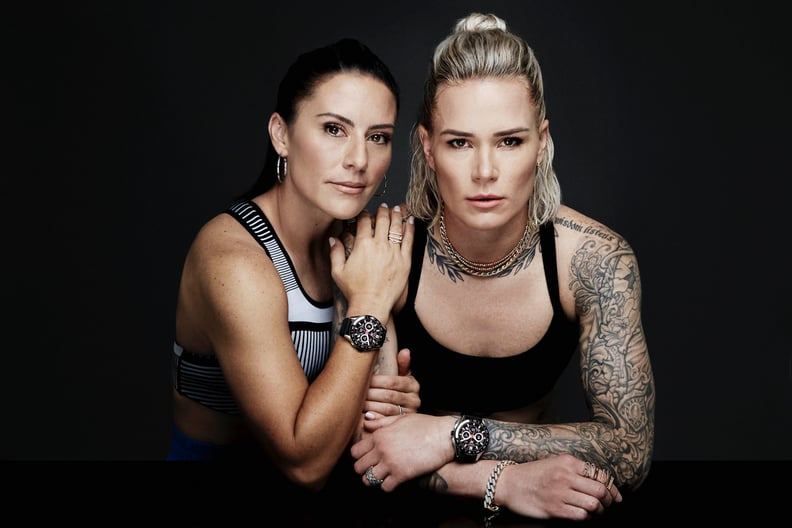 Courtesy of TAG Heuer | Janice Yim
Courtesy of TAG Heuer | Janice Yim
Prior to the nationwide fight against this novel coronavirus pandemic, the US women's national soccer team was fighting a different battle: one against the US Soccer Federation (USSF). In mid March, the Federation's president, Carlos Cordeiro, announced his resignation just days after lawyers defending the USSF in the USWNT gender-discrimination lawsuit filed last year issued sexist claims stating women soccer players are paid less because women's soccer requires less skill than men's soccer. That week, POPSUGAR spoke to married couple and USWNT members Ashlyn Harris and Ali Krieger about the team's response to those claims — they wore their warmup shirts inside out, hiding the US Soccer crest but still showcasing four stars. These four stars represented their four World Cup victories. It was a sign, Harris said, of solidarity.
Harris told POPSUGAR that everything the team does, they do as a collective. The choice to wear their shirts inside out during the final match of the SheBelieves Cup was a group decision. "Most importantly, we were just really disappointed with the verbiage of what was said about this group of fantastic players both on and off the field," she said. "It needed to be done, and we need to move forward now and in a positive direction." Krieger added, "We're not just fighting for women's footballers all over the world and just our team, we're fighting for women across all industries."
Harris and Krieger have both committed to fighting for more LGBTQ+ representation. That's why, when we spoke in March, they were excited to partner with luxury watchmaker TAG Heuer. The brand, Harris said, "understands the importance of visibility and to open magazines and see two women or two men together, or to see trans people."
Harris, a goalie, and Krieger, a defender, are the face of TAG Heuer campaign for its third generation of Connected watches. "It's where luxury meets performance," Harris stated. The women said at the time that they were excited to use the watches for training purposes — data is stored in the TAG Heuer Sports app — though their work to get on the final Olympic roster is at a standstill right now since the Olympic Games are postponed until 2021.
"I didn't see people of my community, and it made me feel like I had to hide, and it made me feel that I couldn't live my truth."
Harris and Krieger, who also play professionally for Orlando Pride, have been in a relationship for over a decade after meeting in 2010 at a USWNT training camp. Despite rumored chemistry, the two only revealed they were a couple last year when announcing their engagement. They were married in December of 2019.
Harris explained that, when she was a child, she didn't turn on the TV and see same sex couples or transgender people. "I didn't see people of my community, and it made me feel like I had to hide, and it made me feel that I couldn't live my truth," she said. "I think, for us, that is something that Ali and I strive to do just to create the visibility aspect in our sport and in our life and show that we get happy endings, too."
Harris added, "We want to build this community where people feel safe, and it starts with brands like TAG Heuer being able to show that this is a safe space, and this is what love is. They celebrate us, and we need that sense of visibility."
Last year was a big year for both women. Krieger describes it as a year of fighting through adversity on and off the field. She and Harris were members of the winning 2019 World Cup team, but Krieger wasn't called up to contend for the roster until two months before the final decision was made public. It was the first time she'd played for the USWNT in nearly two years. Around that time, the USWNT filed that aforementioned lawsuit against USSF, and Harris and Krieger ended that year with their wedding. Both agreed it was magical.
Harris said she found her voice last year particularly on what matters to her: pay equity, mental health, and social change. "I finally started living my truth with my wife and with where I sit in society and what I'm trying to accomplish in the short time I have on this planet," she explained. Pushing for equal pay in the sport, Harris said, seems like a full-time job, and it really can affect your mental health, as can the pressure competing on the biggest world stage.
"Ashlyn always says that you can't create change by staying in your own lane."
Being an activist — let alone an activist and a pro athlete — requires you to be extra stringent when it comes to tending to your mental health, noted Harris, who has worked with mental illness nonprofit To Write Love on Her Arms. Harris has a history with addiction and aggression, but she explained that she knows what her triggers are and has all the necessary resources such as sports psychologists and therapists. Plus, the women on the USWNT keep each other balanced, she said.
Harris and Krieger are fighting for change whether hand in hand on issues they care about or alongside their teammates. (Note: on May 1, a federal judge dismissed the unequal pay claims in the USWNT lawsuit but said allegations of discriminatory work conditions could move forward in court on June 16. Lawyers for the USWNT filed for an appeal on May 8 and also filed a claim to postpone the trial.) "Ashlyn always says that you can't create change by staying in your own lane," Krieger stated. "We're willing to change lanes, we're willing to create change, and we're willing to follow through and continue to fight." Harris said she wants to make this world a better place — one "where we all feel like we fit."