One of my favorite fitness influencers is Whitney Simmons, a YouTuber and Gymshark athlete known for her cheerleader-like charm, down-to-earth life chats, and killer (but achievable!) workouts. Simmons has gained millions of followers since 2015, when she began posting YouTube videos chronicling her gym-going fitness journey, opening up about how weight training helped improve her mental health after some difficult college years. Over time, she's become a virtual BFF to people everywhere looking to not only get in shape physically, but also to feel good mentally.
In January 2020, Simmons launched Alive, a fitness and wellness app featuring workout programs, a progress tracker, and a gratitude journal. Struggling to create some structure in my own fitness routine, I subscribed to Alive and began Simmons's 10-week weight training program, called Alive 2.0. Ten weeks later, I can confidently say I not only built more muscle and lost fat, but I gained an even deeper appreciation for my body and all it can do. Wondering if Alive is the gym (or home workout) companion for you? Here's what you can expect from the app, including the cost.
So, What's the Alive App, Anyway?
Alive offers six different programs ranging from four to 10 weeks, including Alive Beginner, Alive Inside, and Alive 2.0 — the 10-week program I completed, which features five unique strength-training workouts per week, designed specifically for those at a more advanced fitness level.
The app is an ideal gym companion for all skill levels, whether you just started working out or are an old pro. It walks you through your program schedule with video demonstrations of each move, set and rep counts, and a rest timer. You can track your progress in your profile, which includes a folder for progress photos, a place to log your weight, and even a gratitude journal. The interface is colorful, sleek, and simple to navigate.
If you want to supplement the program you're on, or just do your own thing, there's a huge library of workouts divided into categories including abs, warmup and cooldown, HIIT, and home workouts. Simmons is constantly updating the workout library and adding more programs so you can continue progressing in your fitness journey.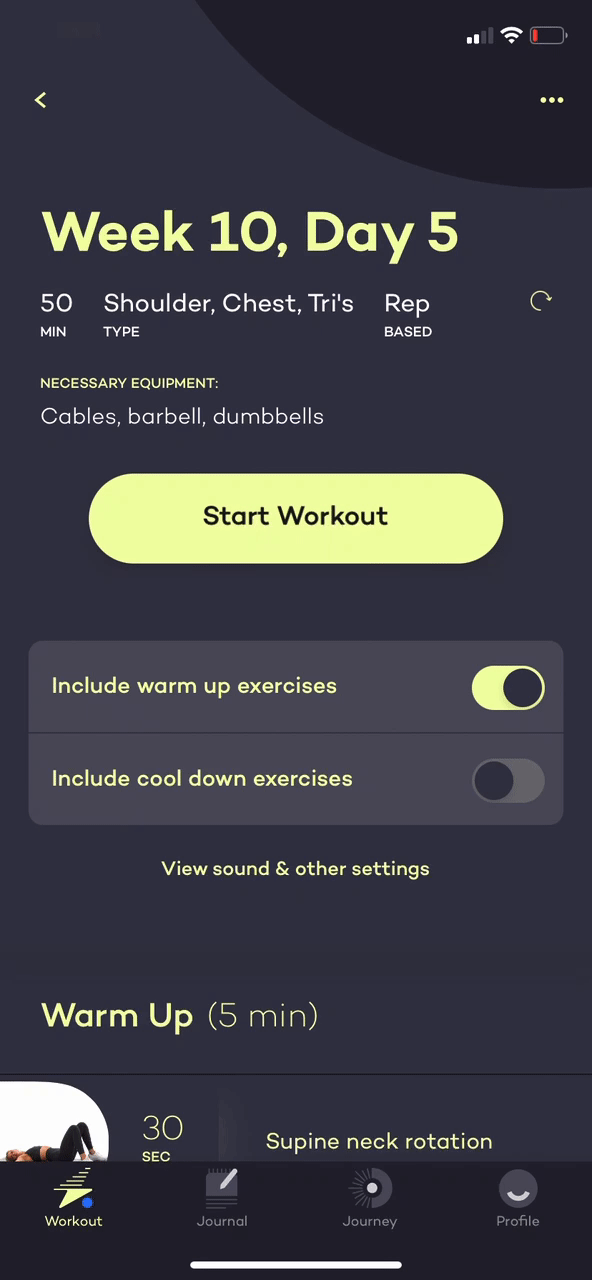 What Are the Alive Workouts Like?
Depending on the program you select, workouts vary in duration and frequency. In Alive 2.0, I worked through five, 35- to 70-minute sessions per week with two rest days. The program includes one full-body workout each week, and then one workout targeting each of these four body zones: glutes and hamstrings; back and biceps; shoulders, chest, and triceps; and glutes and quads. Each workout consists of a variety of moves focused on those muscle groups, incorporating gym equipment like cable machines, barbells, and dumbbells.
The exercises within each workout switch up every couple weeks to prevent boredom and plateaus. It can get dull doing the same moves week after week, and I've found my body responds better when I add more variety, while still targeting the same muscles.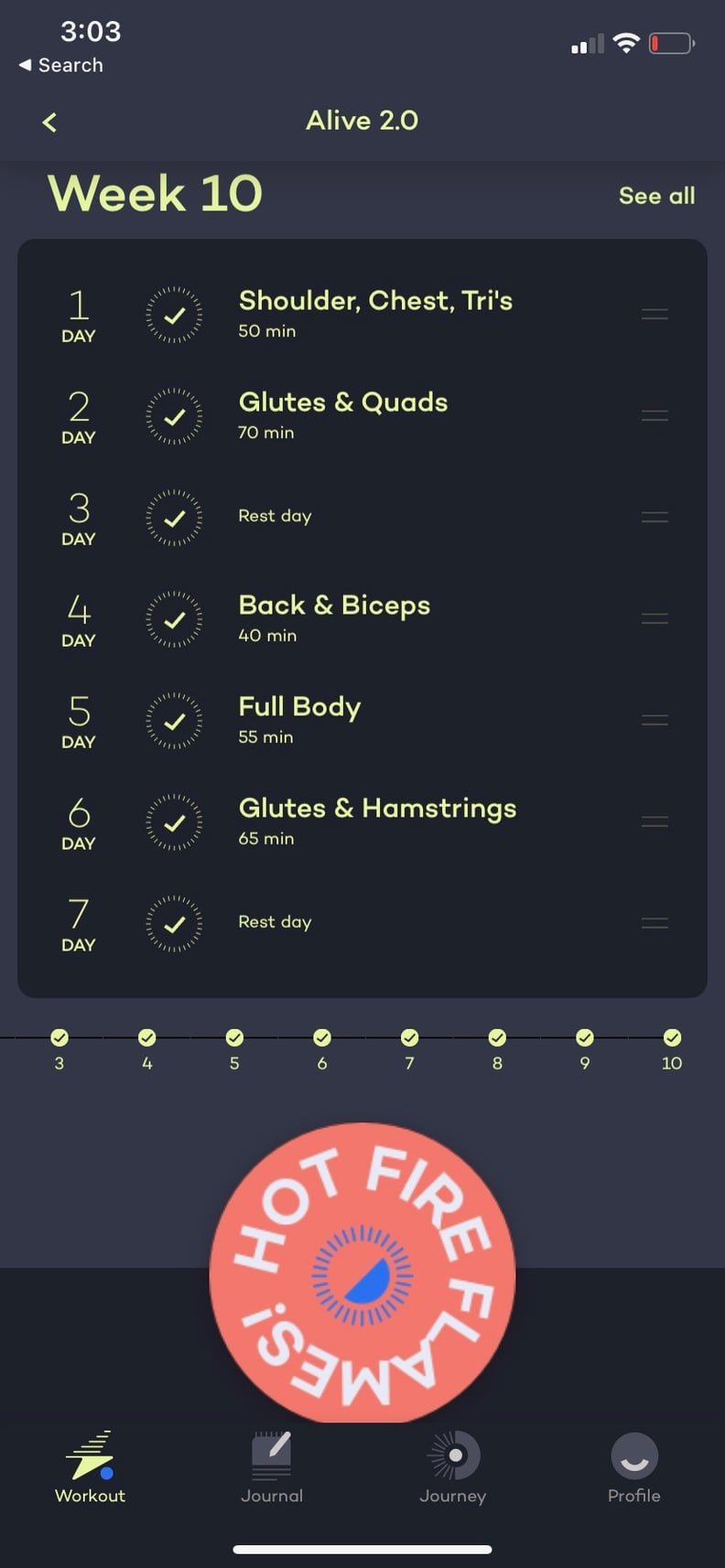 How Much Does the Alive App Cost?
Alive has a monthly and annual subscription option, and both include a free seven-day trial, so you can experience a few workouts before fully committing. The monthly price of $15 is way cheaper than even one class at many boutique fitness studios or three days of Starbucks orders — so for me, it was more than worth it. If you're in love, opt for the $120 annual subscription, which saves you $60 over the course of the year.
My Experience
I decided to start out with Alive 2.0. As an NASM-certified personal trainer, I'm very comfortable at the gym, and my goals were centered around gaining strength and muscle definition. I loved how I saved time and energy by not having to always write out my own workout routine, and I found myself getting excited to hit the gym each day. The app just makes it so easy! But because I typically spend 45 to 70 minutes in the gym, I found myself supplementing the Alive 2.0 program on occasion, using my own repertoire of exercises, adding on a few when I wanted to ensure that I had properly hit a targeted muscle group.
In each program, you're able to customize your weekly schedule by sliding the workouts around on your calendar. I loved this because it gave me the flexibility to listen to my body and give it rest days when necessary. (Leg days on Mondays — no, thank you!) I also chose to cap off each week with a Saturday full-body session with my partner, the only day we could both make it to the gym together. I loved that the app allowed me to enable timer sounds to count down rest periods, hit a switch to prevent my phone screen from sleeping, and take advantage of optional warmup and cooldown routines. It's the customizations for me! The one downside? I do wish it synced with my Apple Watch, so I could ditch my phone in the gym locker room.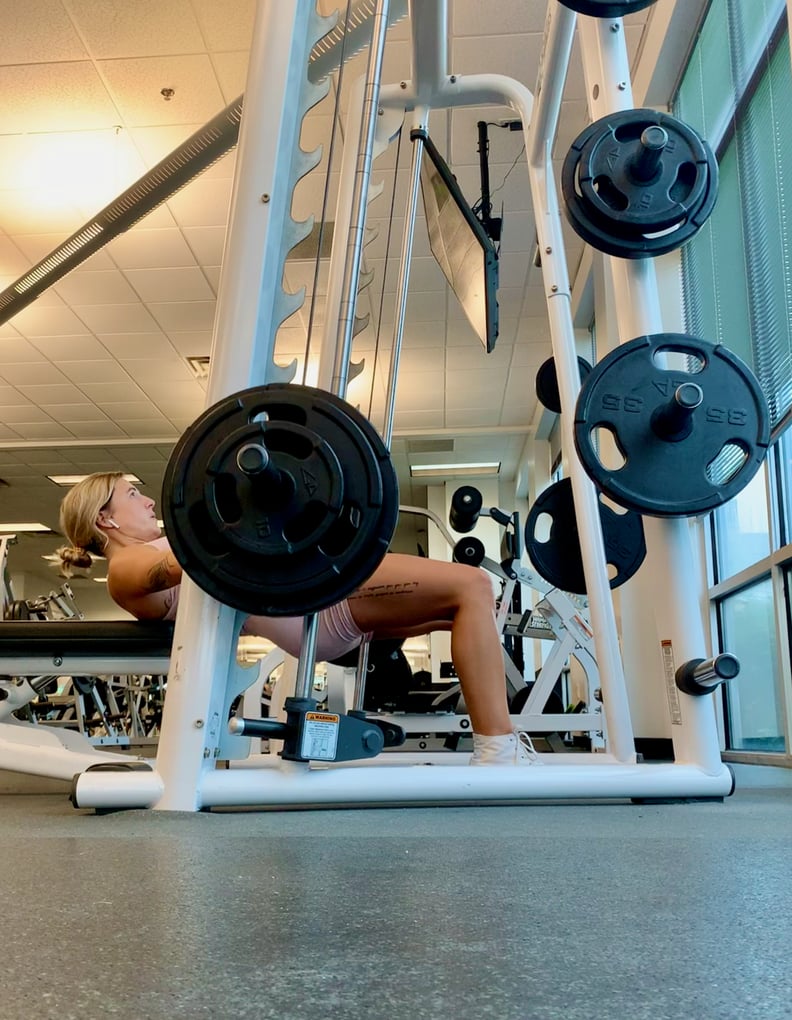 My Results
While sticking to anything for 10 weeks may seem like a challenge, I found myself getting into the groove after Week 3. The gym once again became a healthy habit and my happy place. With a schedule and routine already built out for me, I was less likely to skip a workout. While I choose not to weigh myself, my progress photos told the story. My back was more sculpted, and I noticed greater definition in my arms. I had also increased the amount of weight I was lifting for multiple exercises, from shoulder presses to hip thrusters. My personal bests were more than I had lifted at any other point in my fitness journey. Hello, booty gains!
Physical results aside, I appreciated the gratitude journal feature within the app. I had always heard about the benefits of practicing gratitude, and the daily reminder to keep reflecting on the goodness in my life has allowed me to feel a deeper sense of joy. I extended the practice to my own notebook, writing down a list of specifics at least weekly, and chronicling how I feel in my body, instead of just how I look.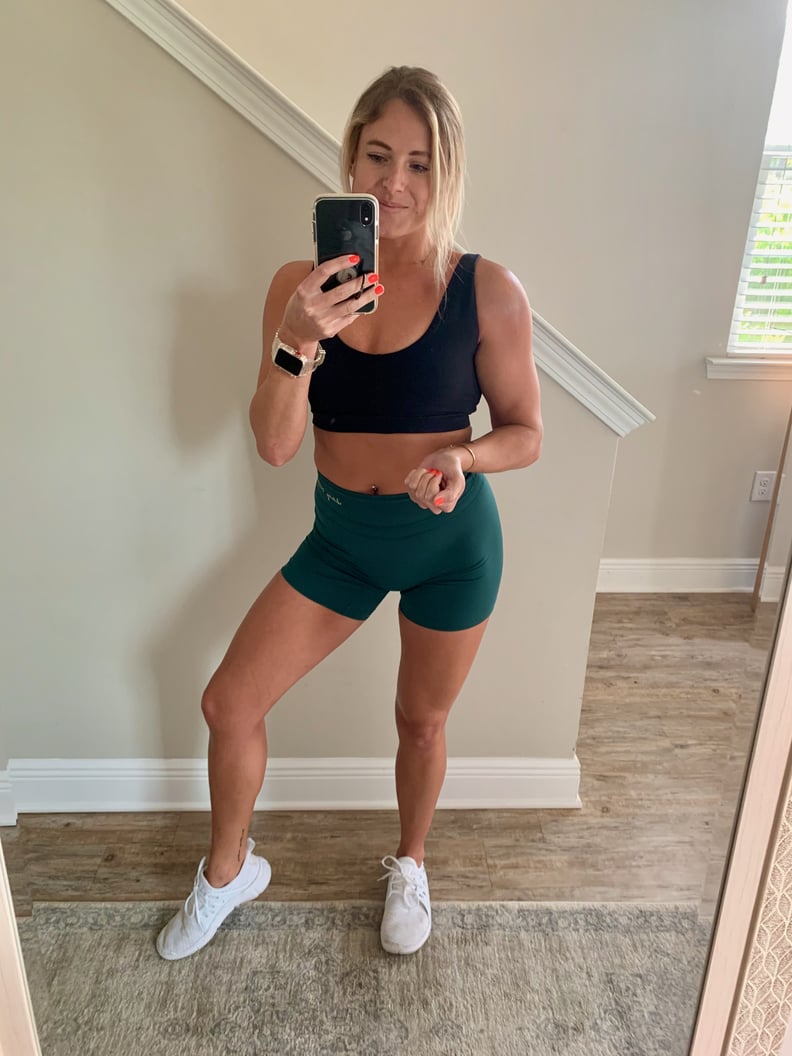 Is the Alive App Worth It?
With its variety of programs for different skill levels, Alive is a great way to discover and stick to a routine, without having to do the work to build your own program or spend lots of money on a trainer to do it for you. I loved that it really did feel like there was something for everyone in the app. If you work out at home, Alive Inside is for you. It's a four-week program with five high-intensity, circuit-based workouts alternating between cardio and strength, with no equipment needed. If you're (finally!) venturing back to the gym, or even heading there for the first time, Alive Beginner helps eliminate the gym-timidation with four unique strength-training workouts per week. With the easy-to-follow video instructions, you'll always know what you're doing. There are also programs for more intermediate levels and for advanced levels — called Alive Strong and Alive 2.0 — to help you keep making progress.
Wherever you are in your fitness journey, if you're in need of some motivation and structure that is budget-friendly to boot, Alive is for you. Give that seven-day trial a go and see for yourself. And trust me — if you stick around all 10 weeks, you're sure to see some stellar results.