Ashley Wagner's Take on Kamila Valieva's Olympics
Kamila Valieva Should Not Bear the Weight of a Broken System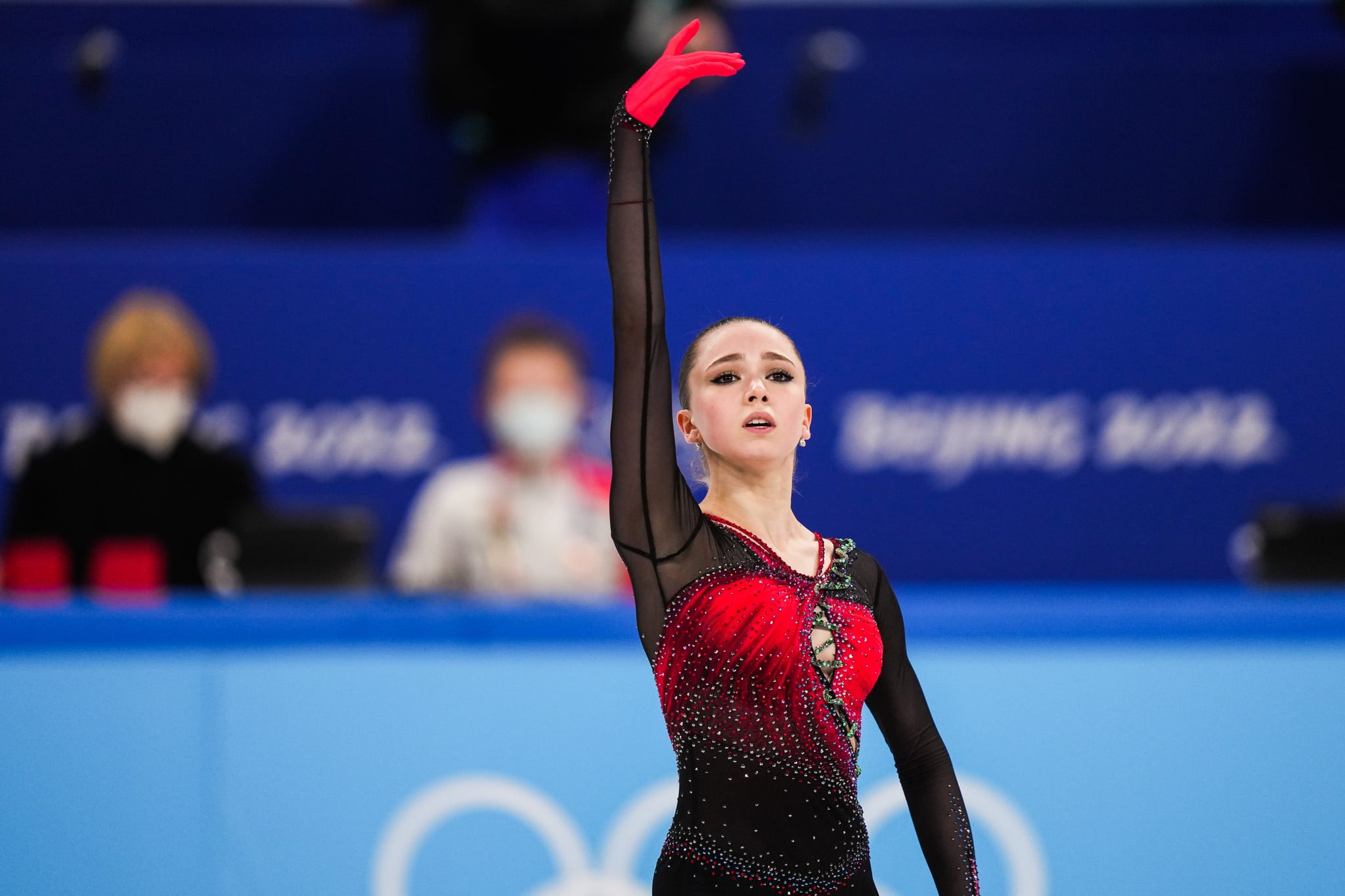 Ashley Wagner is a three-time US champion, 2014 Olympian, and "very" retired figure skater. She's also a host of Peacock's "Olympic Ice." Here, Wagner reacts to the ruling that allowed Russian figure skater Kamila Valieva to continue competing at the Beijing Olympics despite testing positive for the banned substance trimetazidine. The Russian Anti-Doping Agency (RUSADA) temporarily suspended — then reinstated — Valieva, and a Court of Arbitration For Sport's (CAS) panel confirmed that her provisional suspension should remain lifted. On Feb. 17, Valieva came in fourth in the women's figure skating competition after multiple falls.
I remember waking up and looking at my phone. It was 4 a.m., I'd gotten two hours of sleep, and I had to keep reading over my texts with the news Kamila was allowed to compete, because, in my mind, there was no way she could skate. It's the wrong decision in so many ways that it was almost unbelievable. But it isn't about her — it's about everything that has happened to get her to this point and the adults who have failed to protect her from becoming the face of a scandal much bigger than her.
I had a lot of emotions watching Kamila skate: I was infuriated and heartbroken because a 15-year-old girl was at the center of this scandal, and allowing her to compete was just a slap in the face to clean athletes who have had to play the game fair. There have been countless electric, exciting moments that have happened out on Olympic ice, but they've been completely overshadowed by this scandal.
If I was competing, it would be so hard to not only focus on myself, but to feel like anything I did out there actually mattered. CAS argued suspending Kamila would cause "irreparable harm," but letting her publicly crumble under pressure is irreparable harm. I will never forget seeing Anna Shcherbakova standing by herself, holding a teddy bear, stone-faced despite being just crowned Olympic champion. I'll never forget Alexandra Trusova screaming after she realized she didn't win. The chaos following that event was not because these athletes weren't equipped for failure. It was a reaction to a toxic pressure-cooker environment where value is tied to results and nothing else.
Kamila is an extremely talented athlete, though she will never know how good she could have been. I believe she really is one of the best in the world, but now you can't definitively say that, and her team is taking that credibility away from her. We will always look back on her career through the lens of this doping scandal.
I believe she really is one of the best in the world, but now you can't definitively say that, and her team is taking that credibility away from her.
I've been in this sport for 25 years. I competed in Sochi 2014, and when I found out two years later that over a dozen Russian athletes who'd won medals in Sochi were tied to a state-run doping scheme, the entire foundation that sports were built on was shaken. We just had to blindly trust that the people in charge would do the right thing. Now, we were put in a situation where an athlete who absolutely shouldn't have been out on the ice got the green light to compete. To me, it felt like we were prioritizing the promise of one gold medal over the longevity and well-being of this sport.
In the past, if you tested positive for a banned substance, you were out. You didn't get the benefit of the doubt, and if you wanted to challenge it, you had to wait on the sidelines. We have seen that precedent established with many athletes who came before Kamila. In January 2021, American pairs skater Jessica Calalang tested positive for a banned substance (4-chlorophenoxyacetic acid). She didn't understand how it happened, but while they were going through all this jurisdiction, she was not allowed to skate, and she lost months of training. It turns out that it was in her cosmetic preservatives, and she was cleared by the World Anti-Doping Agency (WADA) and US Anti-Doping Agency (USADA) eight months later.
Look at Sha'Carri Richardson, who tested positive for a drug that wasn't even a PED (performance-enhancing drug), and immediately, just like that, she was suspended by USADA ahead of the Tokyo Olympics. USADA and, in Kamila's case, RUSADA are two anti-doping agencies, but the standards at which they hold their athletes are so wildly different.
Though I know what it's like to be 15 in this sport and feel like you don't get to call the shots in your own life, no one knows how much power Kamila has in hers. I also cannot speak to what it's like training in Russia. However, this is a federation that has proven it is willing to participate in state-wide doping in order to guarantee the success of its athletes. I don't quite see what the next move is to bring any believability to its integrity in the sport.
That being said, figure skating always boils down to those who have power and those who do not. It is time to dismantle a culture where the adults in charge value the performance of the athlete more than the well-being of the person. Kamila, at just 15, is in an impossible position, and it becomes really difficult to believe that there wasn't an adult in charge who opened this door for her to walk through. She is now bearing the weight of a broken system, and she is the face of it, and that's not her obligation. That's not her responsibility.
It is time to dismantle a culture where the adults in charge value the performance of the athlete more than the well-being of the person.
How are we still here? It's been eight years since Sochi, and still, we can't completely guarantee everyone is playing by the rules. If figure skating is ever going to move past this, we need to know that athletes are showing up and skating clean. We need to know the people in charge of making the right choices will do so. It's also time to raise the age limit for senior competitors; we can't function under a system where your age allows you to be treated as an adult only when it serves you. The second step is making sure that every single anti-doping agency is functioning under the same set of standards.
I have always been an advocate for women and children in this sport, and I will continue to do so. Unfortunately, we're at this point where in order to advocate for positive change, we have to shine a light on one particular person because she's an example of the flaws that are deeply ingrained in this system.
As told to Sam Brodsky