Kamila Valieva Is Fourth in Beijing Olympics Figure Skating
Kamila Valieva's Olympics Come to a Close With a Fourth-Place Finish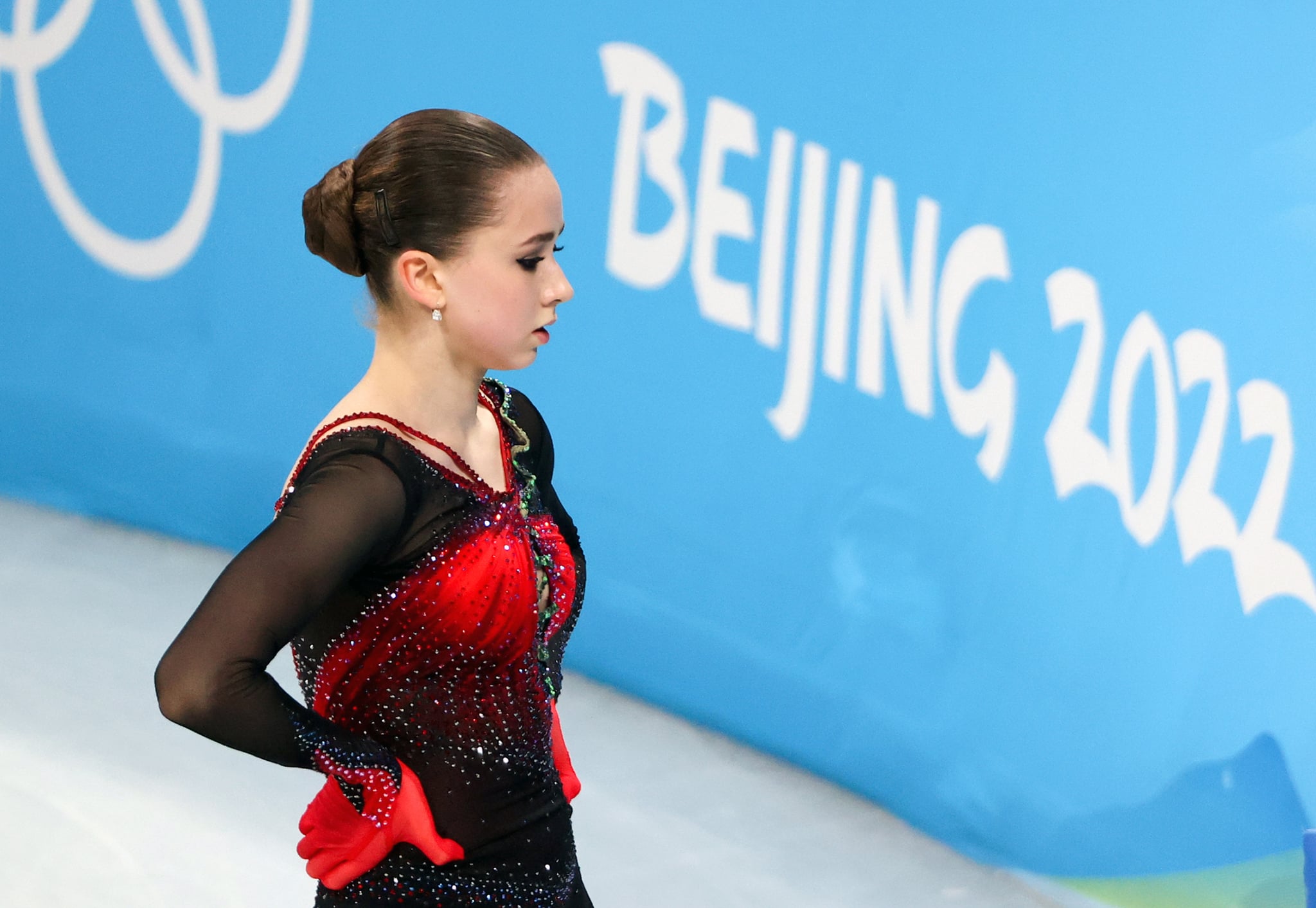 Kamila Valieva finished the women's figure skating competition at the Beijing Olympics in fourth place following a rocky performance in the free skate. Valieva, who is at the center of a doping scandal that has overshadowed the women's individual event, led after the short program and was expected to come out on top. However, a pair of falls on a quad toe and a quad combo with a triple Salchow, as well as errors during other jumps, impacted her score. She earned a 141.93 for a 224.09 total. Fellow Russian athletes Anna Shcherbakova and Alexandra Trusova scored totals of 255.95 and 251.73, respectively, to earn gold and silver, and Japan's Kaori Sakamoto rounded out the podium in third with 233.13.
Valieva, 15, tested positive for a banned substance, trimetazidine. It's typically used to treat heart conditions, but it's been found to help with endurance. Read up on the details about this scandal here, but the gist is that her sample was collected in late December and received on Feb. 8, at which point the Russian Anti-Doping Agency (RUSADA) temporarily suspended then reinstated her. The Court of Arbitration For Sport (CAS), basing their decision solely on "the narrow issue as to whether a provisional suspension should be imposed on the athlete," ruled that Valieva could compete at the Olympics despite an appeal by the World Anti-Doping Agency, the International Olympic Committee, and the International Skating Union.
Valieva was visibly shaken after her free-skate performance (as was her teammate Trusova), and her fourth-place finish meant that there would indeed be a medal ceremony on Friday. Had she finished on the podium, athletes would not have received medals in the event that a full investigation disqualified Valieva and results changed.
During the team event, ahead of her provisional suspension, Valieva became the first woman to land a quad jump at the Olympics. The main argument from figure skating veterans like Adam Rippon, Johnny Weir, and Tara Lipinski is that she shouldn't have been granted permission to continue skating because the issue, they argue, is very cut and dry. The fact that she was allowed to skate, in the eyes of many, tainted the competition and cast doubt on her and the adults in charge of her training.
"My opinions about this entire situation have nothing to do with Kamila Valieva as a person," Sochi 2014 team bronze medalist Ashley Wagner said in an Instagram Story after the women's short program. "It's the situation that she's been put in. It is the position that her team has allowed her to fall into without protecting her, and all at the expense of her. And it has taken away from her talent and everything that she brings to the sport."
Russian Olympic Committee coach Eteri Tutberidze, who has been criticized for her training methods, maintained before the CAS hearing that the figure skater was clean. Specifically, she said, per The New York Times, "I wanted to say that we are absolutely confident that Kamila is innocent and clean." USA Today reported that Valieva's attorney argued in an earlier RUSADA hearing that trimetazidine entered her system accidentally because her grandfather takes it.
United States Anti-Doping Agency CEO Travis Tygart said this argument poses "serious questions," Yahoo Sports reported, since Valieva's sample also included two legal substances that can be used to help the heart. As mentioned before, though, the CAS panel didn't rule on whether or not she was at fault, just on whether or not a suspension at the time was warranted. Questions still remain — and will remain until there is a full investigation.