In their second Olympic Games together, Team USA's Madison Hubbell and Zachary Donohue won ice dance bronze. The skaters finished just off the podium at the 2018 Olympics and came into the Beijing free dance on Feb. 14 (Feb. 13 in the US) in third place following the rhythm-dance portion two days prior. Their combined total of 218.02 ultimately solidified third. France's Gabriella Papadakis and Guillaume Cizeron took home gold. The French pair, who were Pyeongchang 2018 silver medalists, scored a 90.83 in the Feb. 12 rhythm dance, which set a new world record, and they totaled 226.98 points after a breathtaking free dance. The Russian Olympic Committee's Victoria Sinitsina and Nikita Katsalapov took silver with a total of 220.51.
NBC Olympics reports this is Hubbell and Donohue's last Olympics and their last season before retirement. Their rhythm dance on Feb. 12, set to songs from Janet Jackson, scored a personal best, according to US Figure Skating. The pair's free dance, a lovely performance to "Drowning" by Anne Sila, sealed the deal for a podium spot with Hubbell and Donohue showcasing textbook twizzles and emotion-infused choreography.
Hubbell and Donohue are the definition of connection on the ice. The two dated in the past for about two-and-a-half years, but they stayed ice dance partners following their breakup. Hubbell refers to Donohue as her confidant, never her ex, USA Today reports. Her fiancé, Spanish ice dancer Adrián Diaz, finished in eighth place in Beijing with his partner, Olivia Smart.
Team USA's Madison Chock and Evan Bates, whose romantic relationship spans five years and who have been to the Olympics two times prior to Beijing, finished in fourth place on Feb. 14 with a combined total of 214.77; they were eighth in Sochi 2014 and ninth in Pyeongchang 2018. Their Beijing performances featured a Billie Eilish rhythm dance and an out-of-this-world Daft Punk free dance, where Chock portrayed an alien and Bates embodied an astronaut. The free-dance score of 130.63 ended up being a personal best. (Fun fact: Chock designs their costumes, and she told POPSUGAR in a previous interview that the "heart" of each skating program is the narrative they tell.)
The third American ice dance duo, Kaitlin Hawayek and Jean-Luc Baker, finished their Olympic debut in 11th place after the free dance. They told Yahoo! Sports that their precompetition ritual always includes a long hug to calm their nerves and soothe themselves into sync.
Men's figure skating gold medalist Nathan Chen sat in the stands to cheer on the US's ice dance pairs. Team USA — including Chen, Hubbell and Donohue, Chock and Bates, and others — claimed silver in the figure skating team event earlier in the Olympics. However, a positive test for banned substance trimetazidine from the ROC's Kamila Valieva delayed the medal ceremony. Results from a hearing ruled that Valieva, 15, is clear to continue competing in the Beijing Games, though it's unknown at this time if this will impact the gold that the ROC won over the US in the team event, The New York Times reports.
Ahead, check out photos from Hubbell and Donohue's last Olympics together, as well as a look into their final performance on Feb. 14. These snapshots capture moments we're sure they'll remember for the rest of their lives.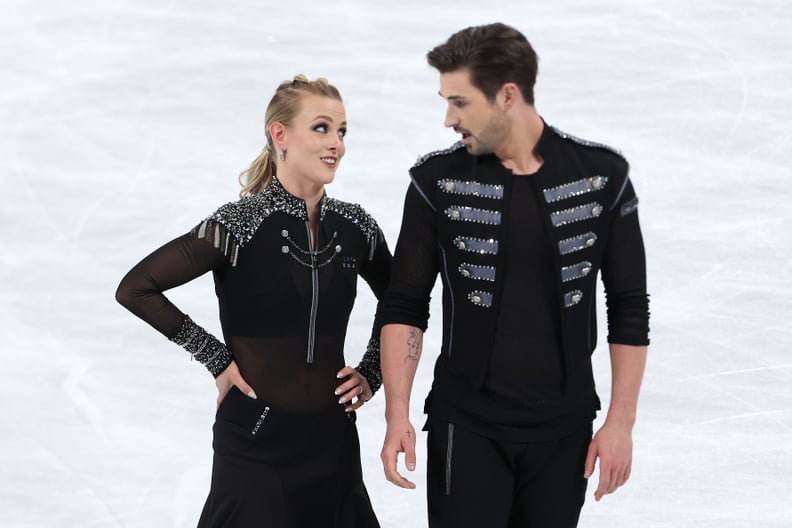 Madison Hubbell and Zachary Donohue's Beijing Olympics Free Dance