Asics Is Releasing Breathable, Quick-Drying Face Masks For Runners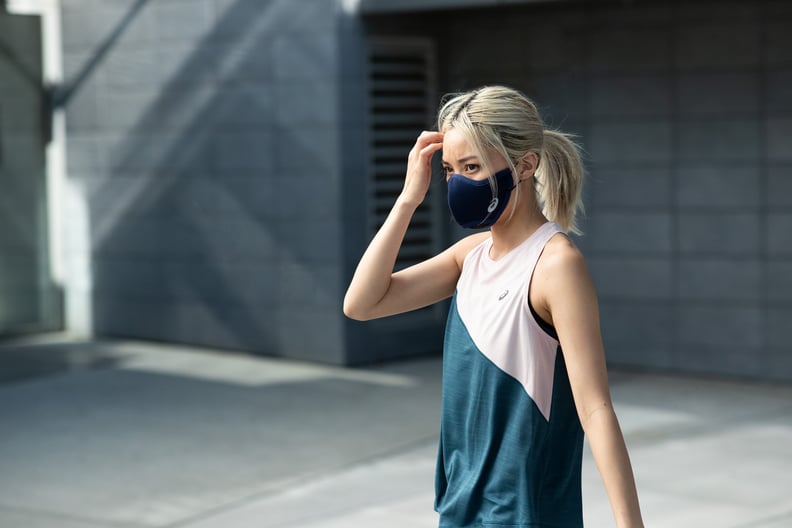 Asics
Asics
Face masks can protect both you and others around you from contracting and spreading the novel coronavirus (COVID-19), which is why it's important that everyone wears them in settings when you're unable to maintain at least six feet of space between yourself and others. Although it may take time to get acclimated to, it's imperative that people wear a face covering during exercise, even if you're training outdoors, as it can also help prevent the transmission and contraction of the virus.

If you're a runner and have been looking for a face mask that is breathable and quick-drying, you've got to check out the new Asics Runners Face Cover ($40) launching globally in mid September. The mask was created by scientists, engineers, and designers at the Asics Institute of Sports Science (ISS) and features air vents, making it easier for you to breathe while reducing the spread of respiratory droplets, according to the Asics press release.
In addition to the quick-drying fabric, the masks are water repellent and washable. ISS tested the masks with runners and said breathability and comfort improved. Test participants also said they felt little to no difference between wearing the mask and wearing no mask.

"We know how important it is for runners to protect themselves and others when running, but also that many find face covers uncomfortable and restrictive," Kenichi Harano, executive officer and senior general manager at ISS, said in the press release. "The innovative design gives runners room to breathe comfortably while performing at their physical peak," he added. September may seem like it's far away but it will be here before we know it! Check out more pictures of the face mask ahead.